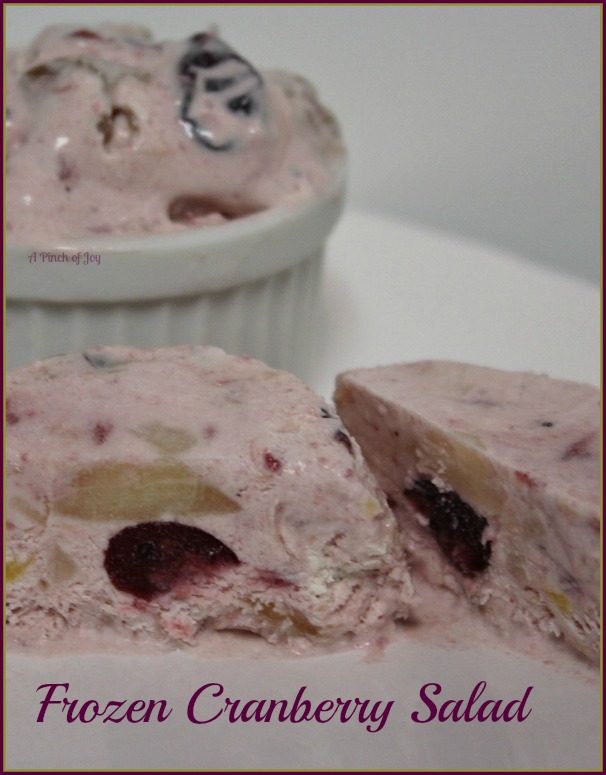 Frozen Cranberry Salad is another recipe from Millie.  It could also be called Cranberry Pineapple Dessert!   Millie was an almost octogenarian who cooked for our youth group when we did flood repairs in Missouri.  Pulling the card in her handwriting out of my recipe box, makes me smile!    Just like the Sunny Broccoli Salad, this was another recipe I did not think would fly.  The kids loved it!  It hit the spot after a day of hot, dirty work with high humidity and hungry mosquitoes.  It is neither sweet nor tart, just a pleasant melding of flavors and textures.  It didn't hurt that it was cold, cold and cold either! 
Unlike the twenty some folks in that church basement, this is a quiet little recipe.  The kids (and adults!) were apt to break into song and dance any minute.  Or run and chase, tease unmercifully  and giggle until they snorted. They were full of unexpected things, just like this salad at a lower decibel level!  I associate cranberries with holidays, but actually they are good – and good for you – anytime.      The kids and the accompanying adults were both hard workers!   So is frozen cranberry salad.  Quick and easy to make, it graces holiday tables in pretty ramekins or slices on a bed of lettuce.  It shows up at summer luncheons and winter showers served in pretty containers, colorful muffin liners or dished into delicate bowls.  It disappears in a flash when frozen in cupcake lines and piled high on the food line for  hot and hungry hard workers.    It's a star!  Not blingy, not flashy, but a classic. 
The number of servings will vary because there are so many different ways of shaping the salad / dessert.  You can count on 9 servings about 2 1/2 inches square in an 8×8 pan.  A 9×5 loaf pan can be sliced with a knife warmed in hot water into 9 1 inch servings or 10 servings not quite an inch thick.  I plan on 12 small servings when I do the muffin cups lined with cupcake papers.  Millie told me she would make a batch in cupcake liners and when they were frozen, would put them all into a large plastic zipper bag.  She kept the bag in the freezer and the grand kids were free to help themselves when visiting.  She thought that was healthier and cheaper than buying individual ice cream treats.

Frozen Cranberry Salad
A refreshing summer treat or a surprising variation on a holiday tradition
Ingredients
6 ounces cream cheese, softened
2 tablespoons Mayonnaise
2 tablespoon sugar
1 cup crushed pineapple, drained
1 16 ounce can whole cranberry sauce
½ cup walnut pieces
1 cup whipped topping
Instructions
Blend cream cheese, mayo and sugar.
In a separate bowl, mix cranberry, pineapple and nuts.
Add to cream cheese mixture and stir well.
Gently add whipped topping.
Choose one of the following to shape the frozen mixture: A) Pour into a 9x5 inch loaf pan OR 8x8 inch pan and cover with foil B) Divide into 12-16 cupcake liners placed in muffin cups, number depending on size C) Divide into small ramekins, 8-12 depending on size.
Place in freezer until solid, overnight is best.
Serve depending on method used to shape the salad. For loaf pan, cut into slices and place on a bed of lettuce. 8x8 inch pan, cut into squares. Frozen in cupcake liners, let diners help themselves and remove wrapper before eating. Small ramekins can be set at each place or on a buffet, with contents eaten from the ramekin.
Notes
Charlene @ A Pinch of Joy
I'm so glad you stopped by today!   Be sure to follow A Pinch of Joy so you don't miss a thing! 
Subscribe by email  on the sidebar or follow on Facebook, RSS feed, bloglovin' or twitter   using the links here or the blue buttons on the header!   Follow  my pinterest boards here.    If you found this helpful, please share on your favorite network using the buttons below!