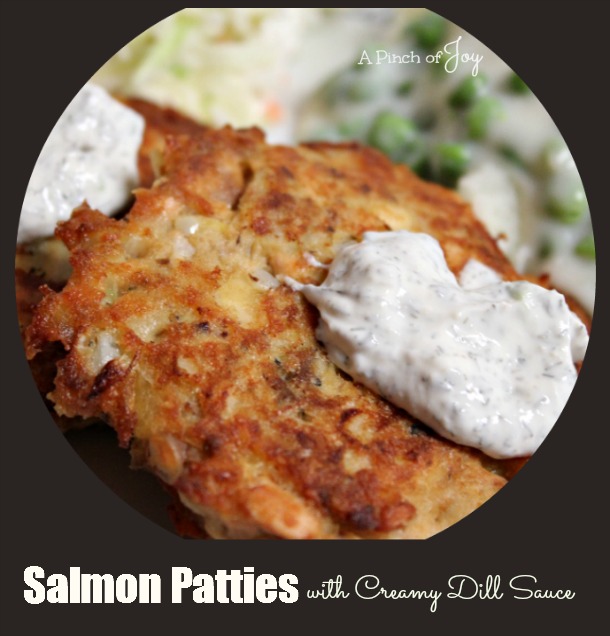 Salmon patties are a favorite way to take advantage of  excellent nutritional value offered by salmon, especially  Omega 3 and protein.  While fresh salmon is available in many areas only on a seasonal basis, canned salmon is available all year round and also wins over fresh or frozen cost wise.   Removing the bones from canned salmon is an option, however leaving them in will add calcium and up the Omega 3 fattty acids available.  The canning process softens the bones which makes them edible.   It is also not necessary to drain canned salmon – just mix all the ingredients together.    Make patties in your left hand (if you're righthanded).  Just scoop salmon mixture into the slightly cupped hand and shape with spoon.  Add more salmon mixture as needed to make patty uniform depth.  Gently slide salmon patty into hot pan.   Salmon with creamed green peas over mashed potatoes and sweet coleslaw are the expected – no, demanded – side dishes at our house. 
Alaska is a major source of salmon.  When we vacationed there a while back, we learned there are five kinds of salmon.  You can remember them by the fingers on one hand:
            Chum – rhymes with thumb
            Sockeye – index finger because you can "sock" someone in the eye with it
            King – second finger because it is the biggest and therefore king sized!
            Silver – Ring finger because you can wear a silver ring on it
            Pink – Pinkie finger, of course, the smallest finger and the smallest salmon.
Native Alaskans depended on salmon to feed themselves and their dogs year round.  When the salmon begin running in great quantities for spawning, fishing villages would sprout up alongside the river.  They used an ingeniously water powered fishing wheel like the one below to catch great quantities of fish, which were then dried and/or smoked for future meals.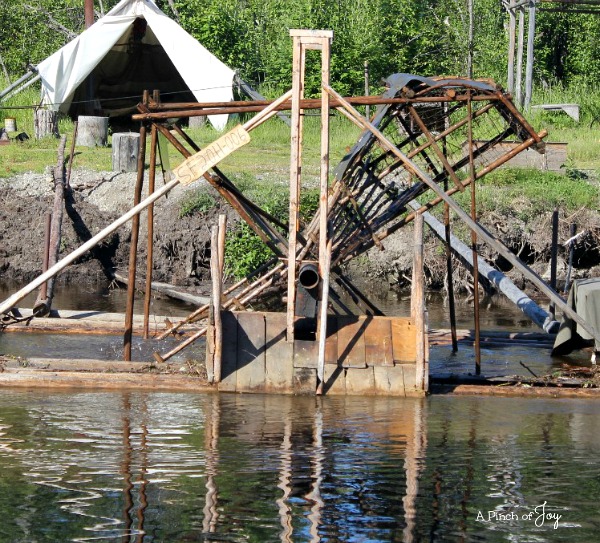 Salmon Patties with Creamy Dill Sauce
Salmon patties topped with a creamy dill dip - nutritional and tasty rock star! Traditionally served with creamed green peas atop a buttery mound of mashed potatoes and crisp sweet cole slaw.
Ingredients
1 14 ounce can Pink Salmon
1 cup crushed saltine Crackers
1 medium onion, finely chopped
3 eggs beaten slightly
2 teaspoons lemon juice
1 Tablespoon chopped parsley
¼ teaspoon garlic salt
3 tablespoons oil for frying
Creamy Dill Sauce
¼ cup sour cream
1 teaspoon dill weed
¼ teaspoon garlic powder
1 teaspoon lemon juice
2 Tablespoons plain yogurt
1 green onion white, thinly sliced optional
Instructions
Mix dill sauce up to one day ahead of time and set aside for flavors to meld.
Open salmon and empty everything in the can into medium mixing bowl. Flake salmon apart using two forks.
Add remaining ingredients except oil.
Mix well. Mixture should be moist, but still able to cling together.
Heat 10 inch skillet with 2 tablespoons of oil until oil sizzles when a bit of salmon is added.
Reduce heat to medium and add four 2 ½ inch diameter shaped patties. Cook 3-4 minutes until golden brown on the skillet side of patties, turn each one with wide spatula and cook the other side -3-4 minutes until golden brown. Repeat until salmon is all cooked.
Notes
Nutritional values are approximate
Nutrition Information
Serving size:
2 patties
Calories:
213
Carbohydrates:
3 g
Protein:
25 g
Please Pin!
Welcome to A Pinch of Joy!  I'm so glad you stopped by today!   Follow A Pinch of Joy using the icons on the teal bar at the top of the page so you don't miss a thing!   I'd love to have your company on this venture!!  Share: if you found this helpful or inspiring please click one of the buttons below!  Your support of A Pinch of Joy is appreciated!
Shared with these awesome link parties here