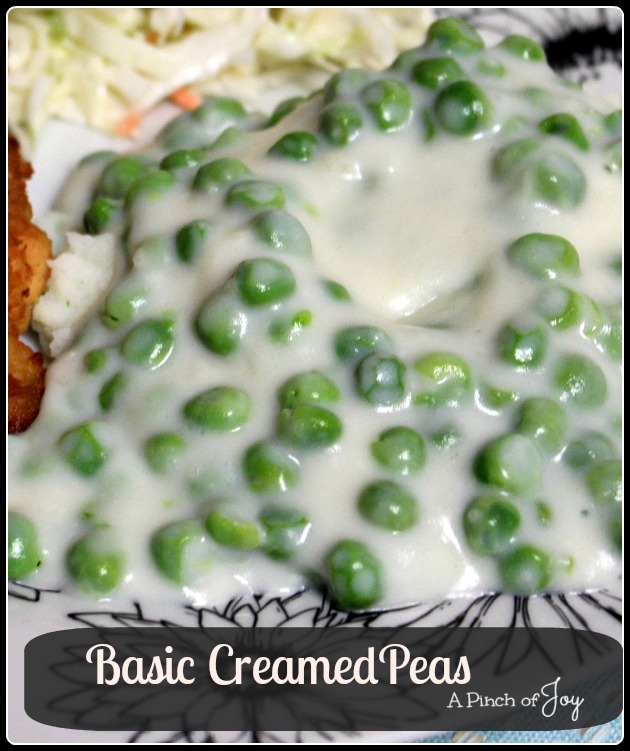 Creamed peas are good on their own but  they are also very versatile.  You can dress them up with onions, mushrooms or small new potatoes.  Creamed peas are one of those traditional family dishes that are rarely given a thought.  Some families add to the basic sauce.  Things like a spoonful of sugar — or a dash of nutmeg, a bit of crushed garlic, a couple slices of crumbled bacon, some cheese.   Just one or two from the list to lift the dish from bland to memorable.  My own preference is butter — LOTS of it!    Creamed peas served over mashed potatoes are a traditional accompaniment to salmon patties – along with sweet coleslaw.     
The sauce is a basic white sauce.  Not only does it make a great sauce for creamed peas, but making a good white sauce is a basic and versatile cooking skill that will serve you well!    I like it thick for creamed peas, but you can add a bit more milk to make it thinner, if desired. Canned peas can also be used and the liquid substituted for an equal amount of milk.   I use the steam in a bag peas and only microwave them for half the time specified, then let them finish cooking in the sauce.  If using fresh peas, cook as usual before adding to the white sauce.  I use 2% milk because that is what I keep on hand, but any milk or light cream can be used. 
Basic Creamed Peas
A basic and versatile side dish! Serve as family comfort food or dressed up for company.
Ingredients
1 package frozen peas
2 tablespoons butter
2 tablespoons flour
1 cup milk
Salt and pepper to taste
Instructions
Cook peas half the time specified on package directions. I use steam in package peas.
Melt butter in medium skillet or saucepan.
Add flour and stir until just blended with butter.
Whisk in about ¾ cup of milk and then add remaining milk until desired consistency is reached. If you want a thinner white sauce, add more milk one or two tablespoons at a time
Add peas and let simmer gently for about two minutes.
Season to taste
Options -- choose one
Saute ½ cup very small whole onions in additional two tablespoons of butter and then add to creamed peas.
Scrub 1 cup small (thumb sized) new potatoes. Do not peel. Cover with water and boil until they can be pierced easily with fork. Make creamed peas, but double the ingredients for the sauce. Mix together before serving.
Serve over buttered mashed potatoes as a traditional accompaniment to salmon patties.
Saute ½ cup mushrooms in 1 tablespoon butter and add to creamed peas before serving. Can substitute small jar of mushrooms for fresh sauted mushrooms.
I'm so glad you stopped by today!   Be sure to follow A Pinch of Joy so you don't miss a thing!   Subscribe by email  on the sidebar  or follow on Facebook, RSS feed, bloglovin'  twitter  and check out my  pinterest boards.   If you found this helpful or inspiring please share below!  Your support of A Pinch of Joy is  appreciated!