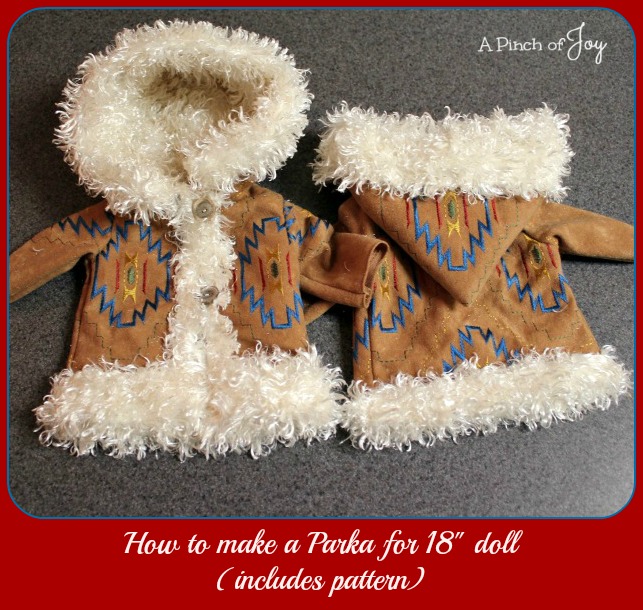 We visited Alaska a couple years ago.  Along the way we visited a replica of a native village where high schoolers demonstrated the ways of their ancestors.  I was fascinated by the clothing.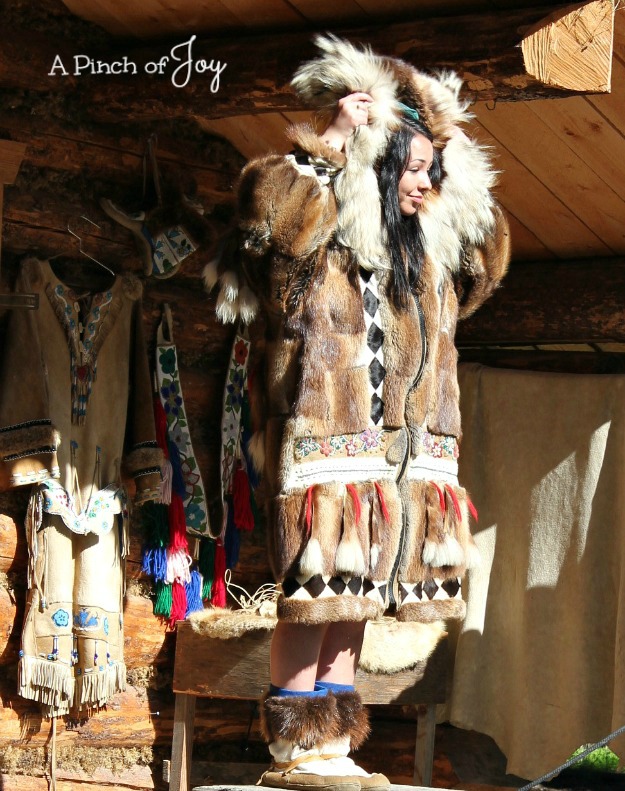 It was a very warm day in June when this beautiful young lady modeled this very warm and very heavy fur coat.  It was fully lined, long and fitted at the sleeves, all of which help hold the heat — good for cold weather.  The hood is weather protective but also is made very full.  The fullness combined with the length of the coat helps make the wearer more visible in the snow and also larger in appearance so smaller predators will leave them alone.  The boots are broad to make walking on /in snow easier.
As soon as I saw this, I knew what my next American Girl sewing project would be!  Clothing styles are a fun way to help children relate to different places and different cultures. I bought the reindeer antler buttons at a gift shop during our trip.  Shortly after we returned home I found this faux suede embroidered in bright colors at JoAnns.  Down a different aisle was faux furriness for the lining. Perfect for a coat intended for actual play!
Your hooded coat can be made of any fabric you choose and lined with any appropriate fabric. Some possibilities would be wool with a silky lining, quilted nylon with matching lining, denim with faux fur or anything else your imagination creates!
Parka Pattern for 18″ Doll — A Pinch of Joy

Cut the coat shell according to the pattern.  Adjust the lining pattern according to the fabric chosen.  I wanted the white fur to make a fairly large edging that showed on the outside along the bottom and up the front.  the lining was also bulky so I opted to skip lining the sleeve and instead handstitched the lining to the shell around in the inside of the sleeve opening.  It needed to fit snugly under the doll's arm so I followed the pattern to the notch and then cut the lining about a quarter inch wider.  This left enough ease in the fabric so that it did not pull and let the finished garment hang smoothly. Note: If you don't want the lining to show on the outside, and it has no significant thickness,  cut it according to the pattern.
Not only did I skip the lining in the sleeve, I laid the pattern so the edge of the sleeve was on the selvedge. No folding or hemming.  Not usually recommended in fine sewing — but this is a doll garment intended for playing.  Shortcuts are good!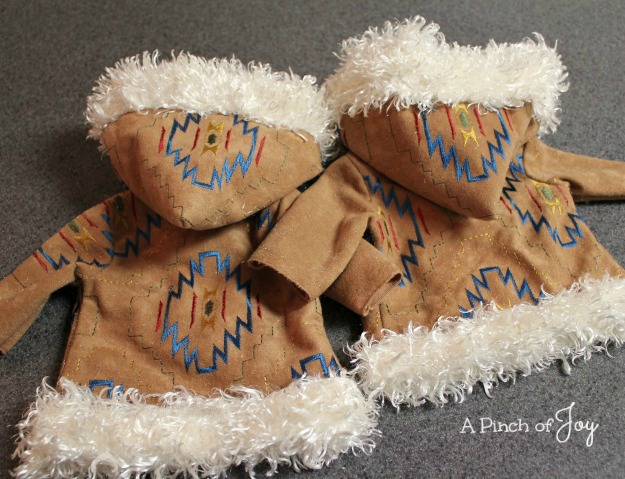 Steps in construction:
1. Sew outer garment at shoulders, with right sides of fabric together.
2. Stitch gathering thread into sleeve top between notches, leaving a long thread on each end.  Gently gather sleeve until it fits in armhole and matches notches on garment.  Stitch sleeve in place around armhole.
3.  Place right sides of garment together and stitch side of garment and sleeves together in one continuous seam. Repeat for other side.
4.  Add hood to neckline with right sides of fabric together, matching notches.  Stitch.
5.  Repeat for lining.  Omit step two if you are not adding bulky lining to sleeves, and only stitch sides of lining.
6.  Place lining inside the coat with insides together and so that seams are aligned with like seams.  For bulky or fur lining, hand stitch the lining in place.  For thin lining  fold both the coat and the lining in about one fourth inch, press and then top stitch together.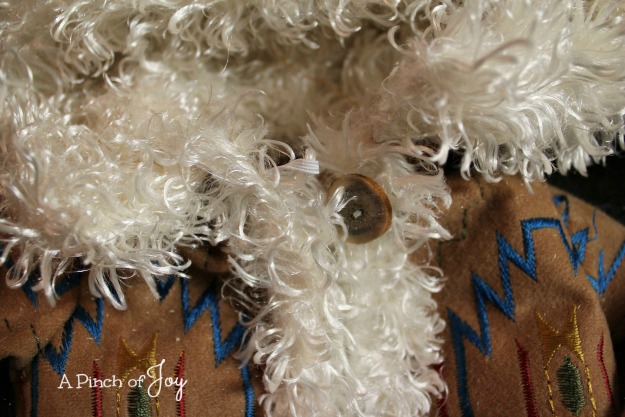 Stitch button in place.  The ones I used were about 3/4″ in diameter.  Cut a piece of thin elastic long enough to slip over the button easily and add a quarter inch for stitching.  Fold in half and stitch in place opposite the button.  Add a second button about 1 1/2 to 2 inches below the first.  I have not made this with a zipper and the pattern may require some modification.  You are on your own for that!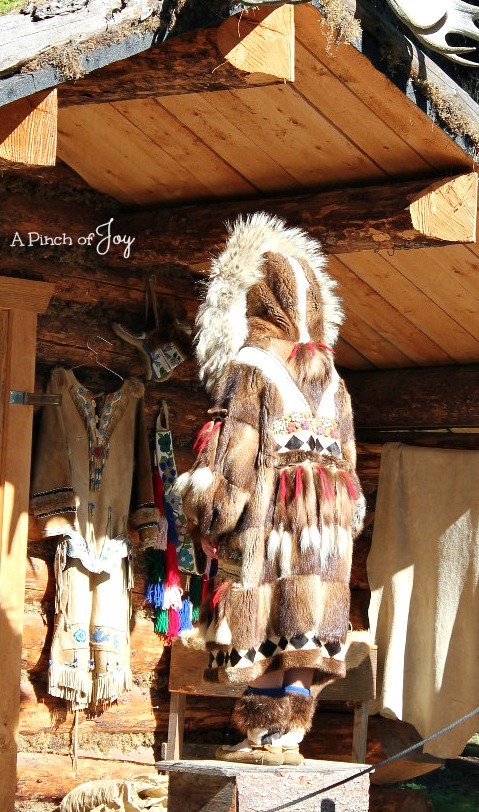 Back of the inspiration coat.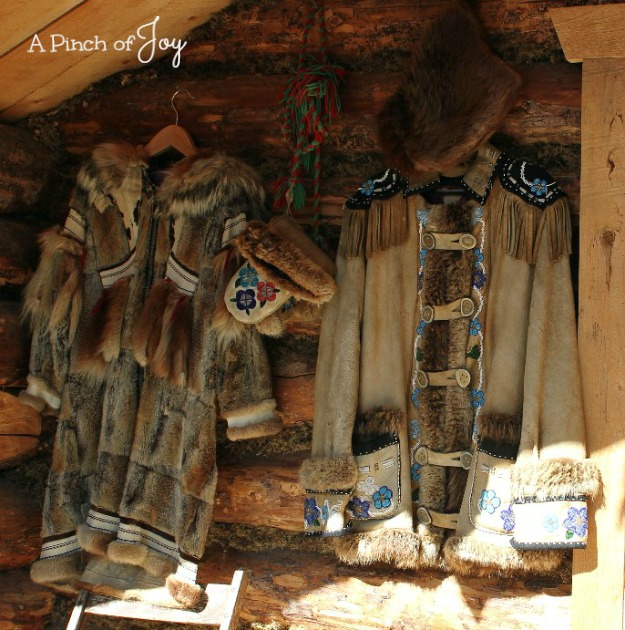 A couple more Native Alaskan coats.
Other 18″ doll projects:
Sleeping Bag for 18 inch doll
Jacket, Hat and Scarf from Dollar Store purchase  with jacket pattern
Pillowcase Dress for 18″ Doll with pattern
Party Dress for 18″ Doll
Fiesta Skirt for 18″ Doll made from a fat quarter
I'm so glad you stopped by today!   Be sure to follow A Pinch of Joy so you don't miss a thing! 
Subscribe by email  on the sidebar  or follow on Facebook, RSS feed, bloglovin'  twitter  and check out my  pinterest boards.   If you found this helpful or inspiring please share below!  Your support of A Pinch of Joy is  appreciated!
Linking up to these awesome parties here