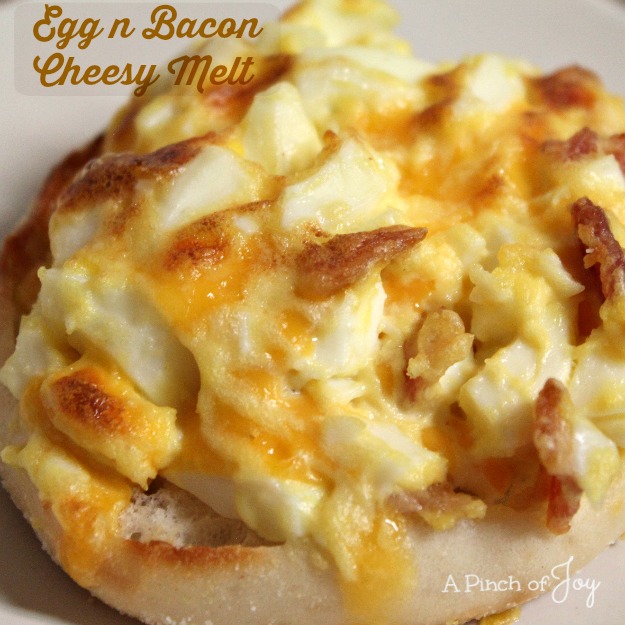 Hmmm. . . hot egg salad sandwiches, I don't know . . . it does have bacon in it though. I clicked over to the blog source with uncertainty. I should have known better. My girl, The Pioneer Woman, came through again. It's divine, she said. And she is right!
Of course, I had to try it to be absolutely sure that it was divine as promised. Her enthusiasm propelled me forward. And we all know, even things divine get changed a bit in my kitchen. The first time I made this I only made half the egg recipe, but spread it over the same number of English muffins. Mmmmm. We savored them this way several times. Then one evening, I made them for a quick supper. I hardboiled the entire dozen eggs, thinking I would be one up to make another half recipe again later in the week. Well, it was such a hectic day and peeling those eggs was so therapeutic that I peeled the whole dozen. In my hypnotic state I measured out the ingredients and mixed a full batch. Horrors! There were only eight muffins. I could have put half the mixture back in the refrigerator for another time. But I piled the egg mixture on fourteen English muffin halves – there wasn't room for the last muffin on the baking sheet although there was enough egg mixture left to cover– and finished them in the broiler. Things had gone from Mmmm to Divine!
I can tell you that a bit more bacon doesn't hurt the recipe at all. 🙂  Dijon mustard is the one to use – not the same as mustard from the yellow bottle. Don't forget the garlic powder for a bit of depth. Use mayo, not a spread. Any kind of yellow or yellow mix cheese works – cheddar, Colby, Colby jack. Tinkering with the number of muffins, led to more serious fiddling. In my rebellious way, I over rode her stern warning to use Worcestershire sauce. And I'm not going to include it here, either. So there. (If you want, go see the Pioneer Woman here. )   You can use Worcestershire sauce, if you like, and divide the egg mixture over six muffins (twelve halves) as Ree recommends. You can make it ahead, you can halve the recipe. But do try it! It's . . . divine.

Egg n Bacon Cheesy Melt
A hot breakfast -- make ahead, heat and eat! Sooo good, you'll want it for lunch and dinner, too!
Author:
A Pinch of Joy by Charlene Vance
Ingredients
12 hard boiled eggs, peeled and chopped
2 cups shredded cheddar cheese
1 cup mayonnaise
12 slices bacon, cooked and crumbled
1 tablespoon Dijon mustard
½ teaspoon garlic powder
8 English muffins, halved
Instructions
Combine all ingredients gently.
Cover and store in the refrigerator until needed (or overnight)
Divide mixture among halved English muffins, spreading evenly to cover entire muffin half.
Broil for 3-5 minutes until mixture is hot, cheese is melted and edge of muffins are slightly browned.
Serve hot
I'm so glad you stopped by today!   Follow A Pinch of Joy using the icons on the teal bar at the top of the page so you don't miss a thing!   I'd love to have your company on this venture!!  Share: if you found this helpful or inspiring please click one of the buttons below!  Your support of A Pinch of Joy is appreciated!
Shared with these awesome link parties here