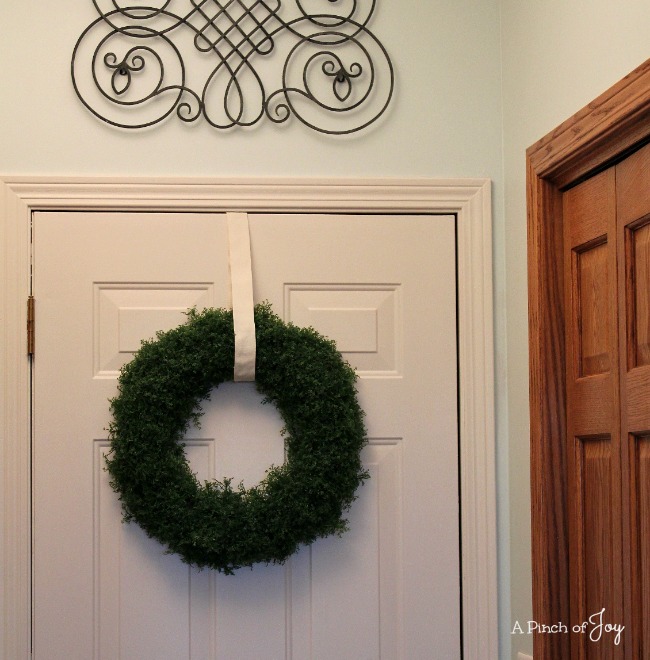 A new coat of paint — well, several coats actually — changed that shiny, yellow faux oak but really metal fire door between the house and the garage into this.  I love it!  Although it may get a darker, grayer coat eventually because it does get a lot of traffic.  We'll see how it holds up.  It makes the real oak wood closet doors look better too. Thanks, Chris, for the suggestion to paint the frame!  Lots more changes coming to this small space!   It's where we enter our home most frequently and is quite visible from the living area.  I see the wreath drifted off center —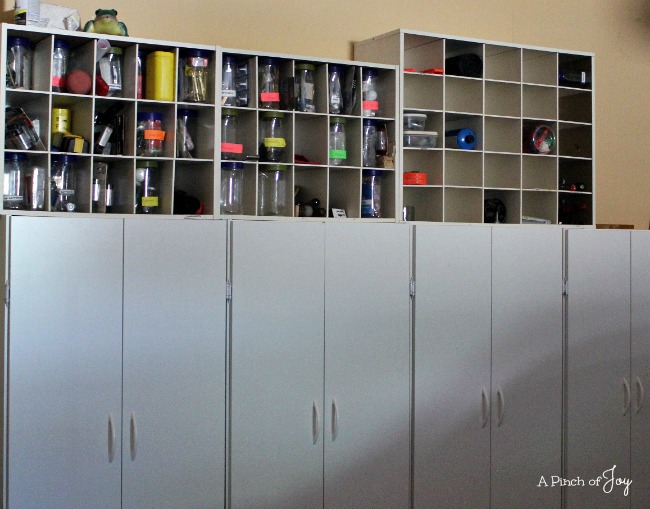 We added four new cabinets to the garage for storage.  Second from right has painting equipment.  So glad to have it out of the house and organized!!  We topped the four cabinets with the three cubbies we brought with us.  Wheels was exulting over all the storage space — won't be empty long.  Here's the story behind the works for him and works for her cubby storage.  Needs black and white labels.  That's Deputy Frog on top of the cabinet; walk past his motion sensor and he goes "ribbett, ribbett."  Bytes and his brother delighted in hiding that thing in the most unlikely places just to see me jump.  At least it is over my head now so I can walk by without setting it off.  I thought it was long gone, but seems he surfaced in time to make the move.  Be afraid, Deputy, be very afraid.  One ribbett and the trash can is just six feet away!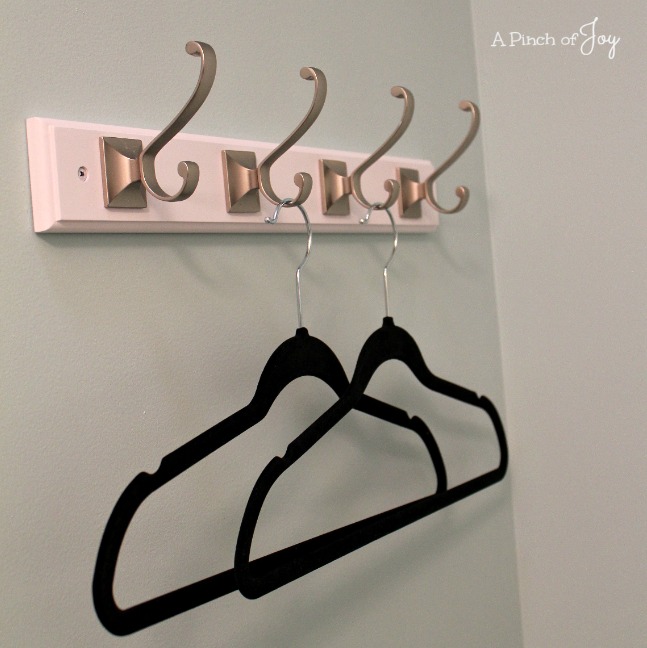 We added a rack of hooks across from the washer and dryer in the laundry room.  Works great to hang clothes right out of the dryer.
I added a utility backsplash behind the laundry room sink.  This sink gets used for dirty jobs and we anticipate that use will increase.  There was a lot of splashing on the wall and this seemed the most effective way of dealing with it.  Today the spider plant is getting emergency therapy.  Yesterday the furnace registers got a scrubdown.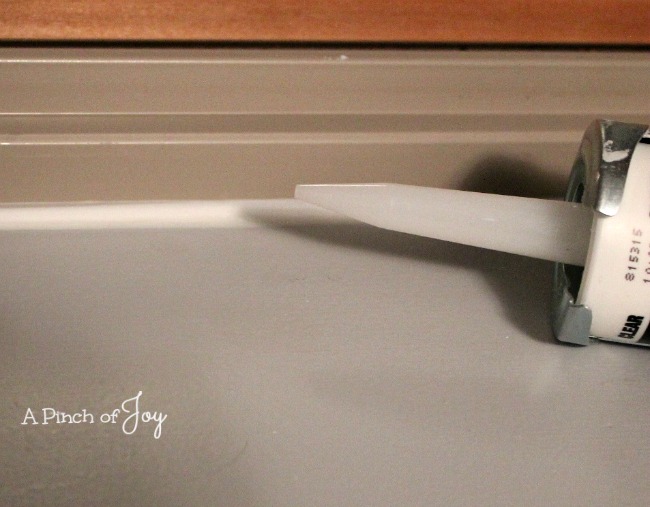 We've done mundane things like caulk all the windows where ever they needed it .  . .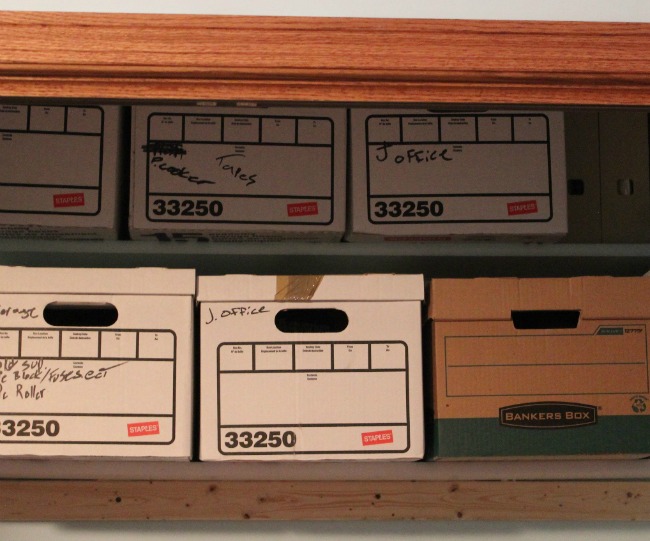 remove too high  hanging rods and add a shelf.   A new rod is waiting to be installed here, once the support is painted.  We'll do this to all the closets.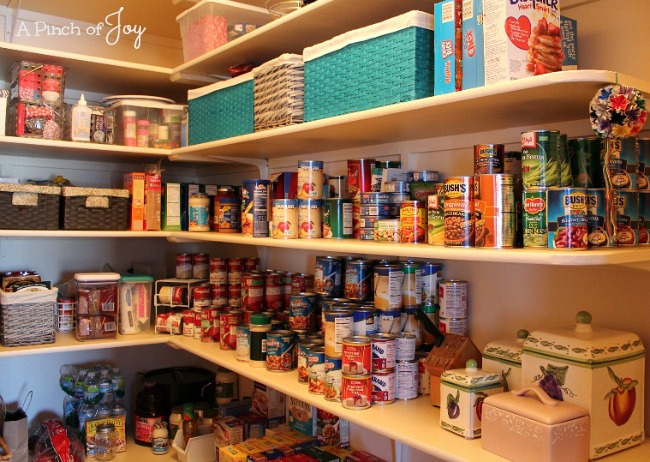 It took two days to organize the pantry.  I was disappointed to find that the shelves are not only NOT adjustable, but, in fact, the supports are glued to the wall.  Just did not want to add drywall replacement to the list right now so I worked with the way it is.    I reworked the things in kitchen cabinets and basement storage, putting some things in the pantry and putting  things I had in the pantry in cabinets or storage.  That is definitely still a work in progress.  I like the way the pantry finally pulled together though.  I stock up at sale time so its nice to have enough space to see what we have at any one time.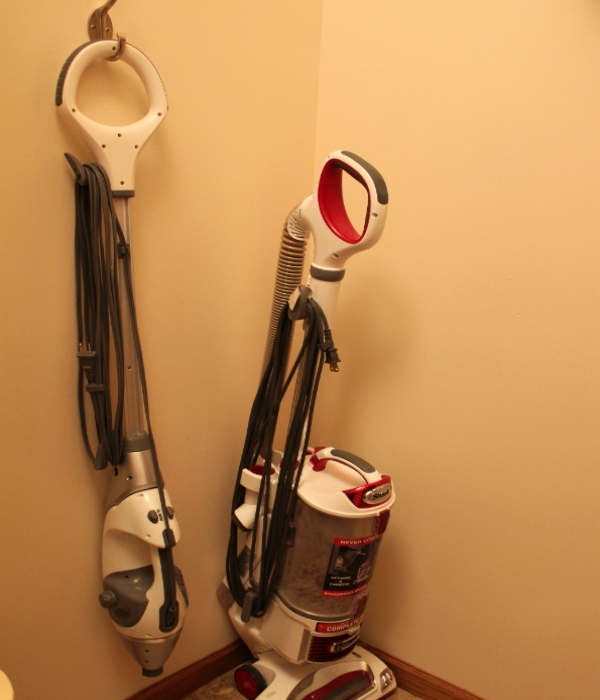 We made a Shark Tank behind the pantry door.   I'm thinking of hanging a plaque to my sister Vee, who recommended the Shark vacuum and steamer.  Love, love, love them both. Never been able to find a light weight machine that really worked before.  These are great!  Should I be annoyed that the last person to use the vacuum didn't empty it?  I'll just be glad they vacuumed!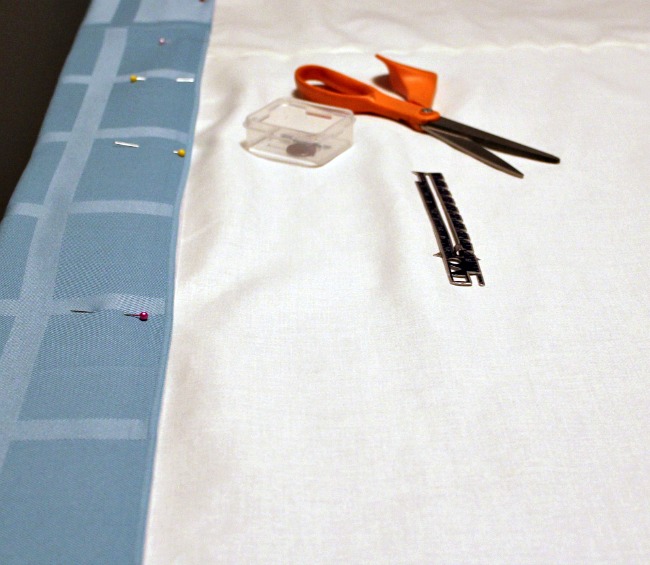 We brought the big outdoor table into the basement game room so I could spread out for this big project.  I may have bitten off more than I can chew this time, but stay tuned I'll show you the results and how I did it in a future post.  If it works out — .  I hope you've enjoyed these little peeks at our new home while we are settling in and making it "ours".   Thank you for your patience  while we do!!!  I can't leave today without a couple of these pics . . .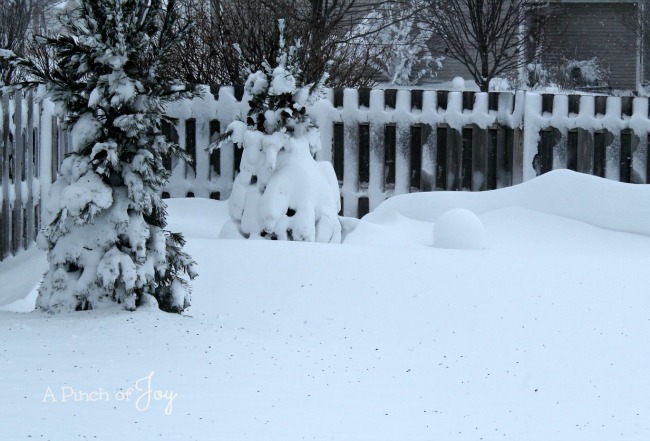 The Blizzard of 2016.  Eighteen inches of snow and gusts of fifty mile an hour wind.  Severe snowstorm with winds over 35 mph and visibility of less than a quarter mile for more than three hours — that's the definition of blizzard.  We had that, for sure!  This photo was about halfway through the storm Tuesday.  That's a six foot privacy fence!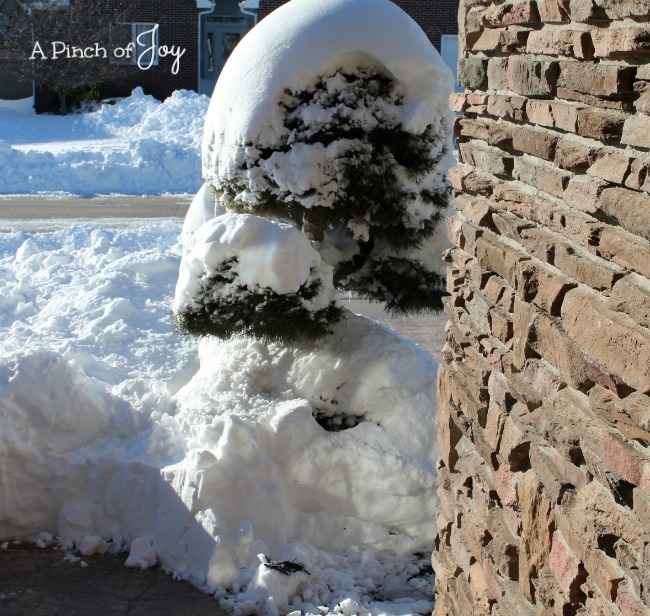 The view out the front door this morning.  That's an almost eight foot tall tree.  Three neighbors came over to help Wheels and Bytes shovel out early Wednesday morning.  Front end loader, snow blowers and snow shovels made really quick work of the four foot deep snowdrift that filled our entire driveway.  Welcome to the Great Plains!
New Home updates:  Changing colors      Solar tubes    Painting Progress     Home Update Week 7    Home Update Week 11    Week 19 Painter's Progress   New Home Update Week 22  
I'm so glad you stopped by today!   Be sure to follow A Pinch of Joy so you don't miss a thing!  Subscribe by email  on the sidebar  or follow on Facebook, RSS feed, bloglovin'  twitter  and check out my  pinterest boards.   If you found this helpful or inspiring please share below!  Your support of A Pinch of Joy is  appreciated!