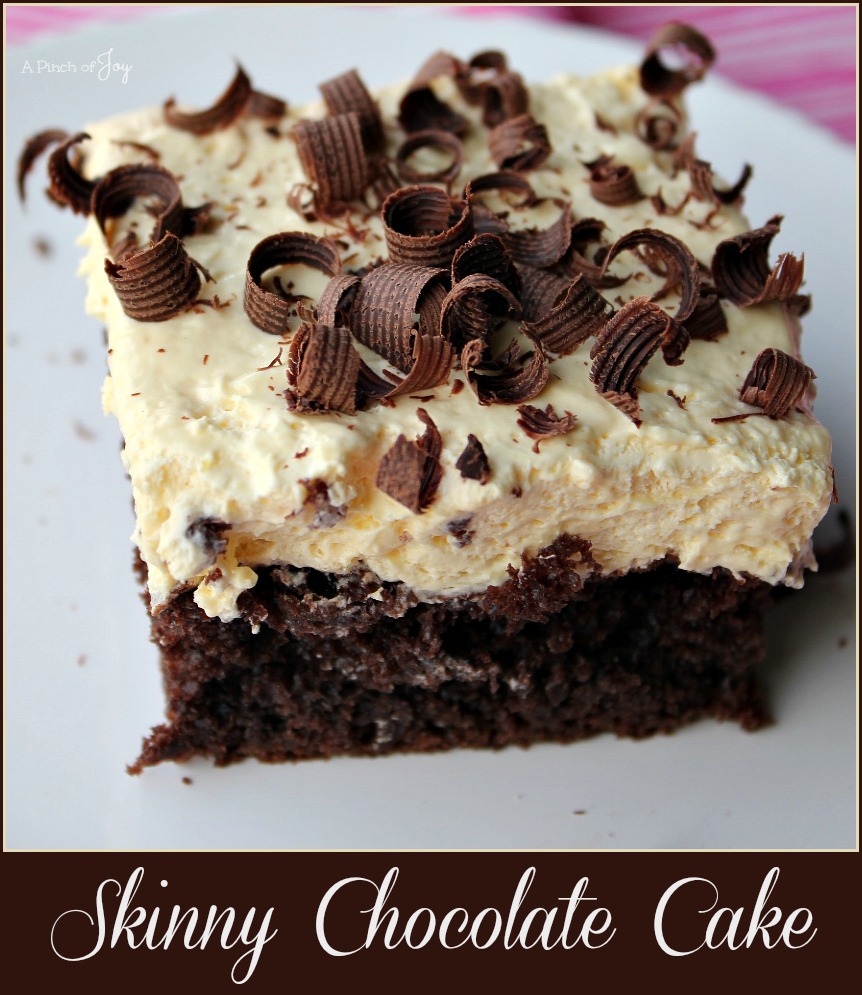 Super moist Skinny Chocolate Cake is a quick to make decadent dessert.  Five minutes and it is in the oven and twenty five minutes later the cake is cooling on the rack.  That's the longest part of the process — waiting for it to cool down.  You can pass the time by stirring up the frosting — another couple of minutes — and setting it in the refrigerator until the cake is room temperature to touch and you can spread the frosting without making it separate into liquid and less liquid.  Most recipes say the cake should be cool — but this is a cake that was in a hot oven and is setting in a room that is somewhere in the 70  degree range.  It's not gonna be cool!  🙂
I used a dark chocolate cake mix with 24 carbs per serving, water is zero carbs.  Dump both in your mixing bowl,  Add Greek yogurt.   It comes in various sized containers so measure out one cup of your favorite vanilla.  I used Dannon Light and Fit Yogurt  which is about 12 carbs per cup divided by 12 servings, so that adds 1 carb to each serving.  Stir until well mixed.  A long handled wooden spoon is easy to handle and will keep the bottom and sides scraped so that dry and wet ingredients are efficiently mixed together.  Sugar free pudding has about 6 carbs per serving while skim milk (or no fat milk) has about 8 carbs per cup.  Vanilla and whipped topping are carb free.  Total carbs per generous 3 inch square piece is about 33 carbs per serving.  Not exactly low carb but very reasonable for a special occasion.  And if you are a hard core carb watcher you know you can cut the piece in half and have just 16 carbs to keep you satisfied — and on track!
Garnish with  shaved Dove chocolate squares.  Just take your vegetable peeler and curl away.  Of course, the centers you are grasping to shave the chocolate will have to be disposed of properly – I've heard there are no calories in those.
Skinny Chocolate Cake
No added sugar for a quick and easy decadent dessert
Author:
A Pinch of Joy by Charlene Vance
Ingredients
Cake
1 15.25 oz box chocolate cake mix
1 cup vanilla Greek yogurt
1 cup water
Frosting:
1 package sugar free instant chocolate pudding mix
1 cup skim milk
1 tsp vanilla extract
1 8 oz container fat free whipped topping, thawed
Instructions
Preheat oven to 350 degrees. Spray a 13x10 inch baking pan with cooking spray and set aside.
In a large bowl, mix together the cake mix, Greek yogurt, and water. Mix vigorously for 1 minute. Pour mixture into prepared baking pan and bake in the preheated oven for 25-35 minutes. Mine was ready at 25 minutes. Cool completely on a wire rack.
In a medium sized bowl, stir together the pudding mix, milk, and vanilla extract until thickened. Fold in the whipped topping. Spread frosting over the top of cooled cake and add mini chocolate chips if desired. Enjoy!
Nutrition Information
Serving size:
3"x3"
Calories:
199
Fat:
6 grams
Carbohydrates:
33
Protein:
4 grams
I'm so glad you stopped by today!
Follow A Pinch of Joy using the icons on the teal bar at the top of the page so you don't miss a thing!   I'd love to have your company on this venture!!  Share: if you found this helpful or inspiring please click one of the buttons below!  Your support of A Pinch of Joy is appreciated!
Shared with these awesome link parties here