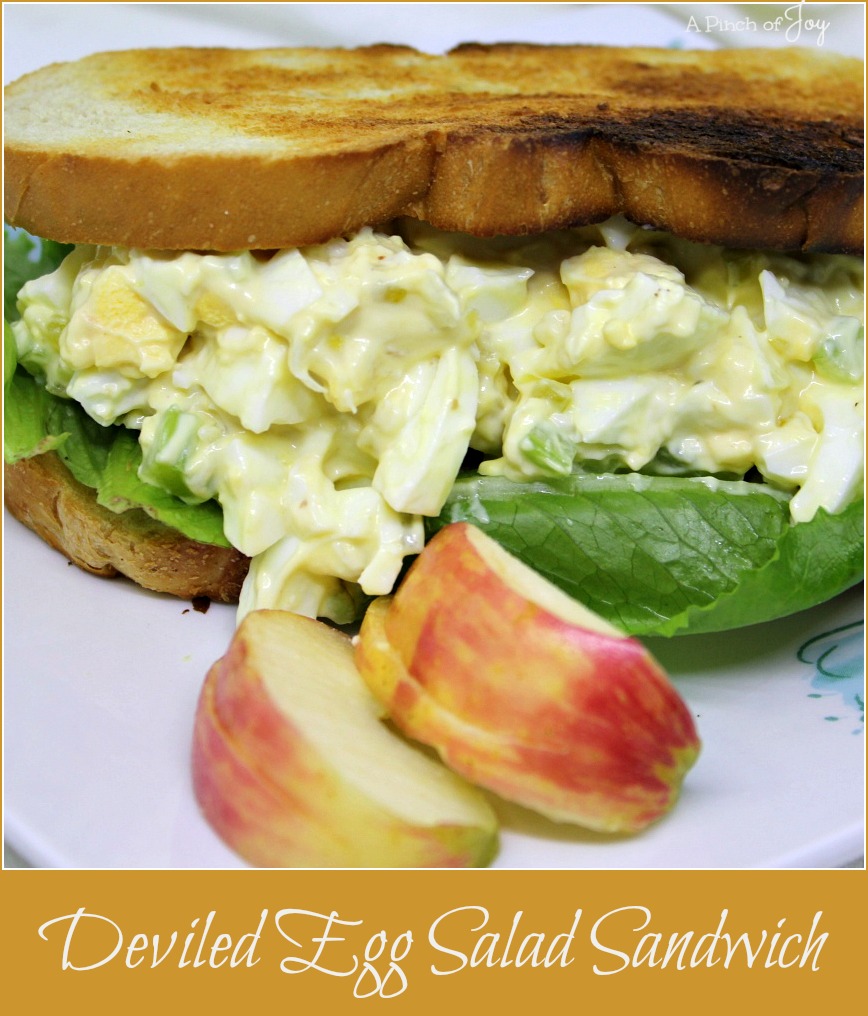 What's for lunch?  Today it is Deviled Egg Salad Sandwich.  Egg salad is my favorite sandwich . This one has a couple of twist that make it special.  First, toasting the bread takes it to a new level.  Ordinarily I wouldn't bother.  But since we are trying to treat ourselves nicely with what we have – staying at home and all –, I did.  And it was worth it!  The mustard and pickle relish add the devil to the egg salad for a tasty change.
The recipe makes four generously filled sandwiches.  If you don't need that many sandwiches, the recipe will divide in half easily.  OR make the whole batch, make the number of sandwiches you need.  One?  Two? Pop the rest of the egg salad into the fridge immediately, where it will keep,  tightly covered, for use within 3-5 days.  The best way to boil eggs is found here.  What does diced celery look like?  See below: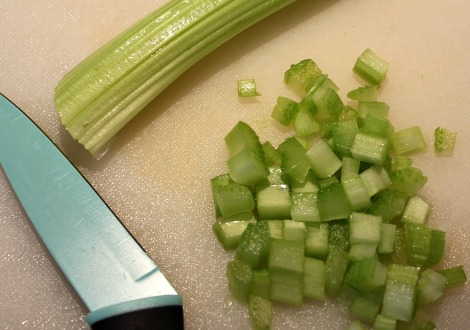 The egg salad itself has 195 calories, 3 carbs and 10 grams of proteins.  If you are really keeping tabs on carbs – ya know what I am thinking.  Skip the bread and you will still have a delicious lunch.  The bread is the big variable in the carb count.  Check the serving size (1 or 2 slices) and carb count on the bread package and add to the numbers above.   I used sourdough artisan bread as sour dough may have a bit more carb but is lower on the glycemic index  (meaning blood sugar will rise more slowly).  The loaf was small, so rather than repeatedly toasting until I found perfection, the photo is real life.  A bit too brown on one end and a bit pale on the other end where it did not fit in the toaster.  Feel free to make your own imperfectly perfect toast!

Deviled Egg Salad Sandwich
Quick and easy, this creamy, nutritious sandwich makes a great lunch anytime!
Author:
A Pinch of Joy by Charlene Vance
Ingredients
6 hard boiled eggs
¼ cup chopped onion
¼ cup finely diced celery
3 Tablespoons mayonnaise
2 teaspoons Dijon mustard
2 teaspoons pickle relish
8 slices bread, whole wheat (or your choice)
½ cup greens (baby spring, lettuce, etc)
Instructions
Boil eggs and set aside to cool.
Chop onion and dice celery.
Mix together in medium bowl mayonnaise, mustard, and pickle relish.
Peel and chop eggs, add to mayonnaise mixture.
Toast the slices of bread. Lay out greens on one slice of bread, scoop egg salad onto toasted bread and greens. Top with a second slice of toast. Repeat until all sandwiches are made.
Notes
Nutrition figures are estimates only. For this recipe, they apply only to the egg salad filling. Bread values will depend on the bread used. Check the package label for values.
Nutrition Information
Serving size:
1
Calories:
193
Carbohydrates:
3 grams,
Protein:
10 grams,
Want to try a hot egg salad sandwich?  Check out t
his
recipe — It's divine!
Welcome to A Pinch of Joy!  I'm so glad you stopped by today!   Follow A Pinch of Joy using the icons on the teal bar at the top of the page so you don't miss a thing!   I'd love to have your company on this venture!!  Share: if you found this helpful or inspiring please click one of the buttons below!  Your support of A Pinch of Joy is appreciated!
Shared with these awesome link parties here