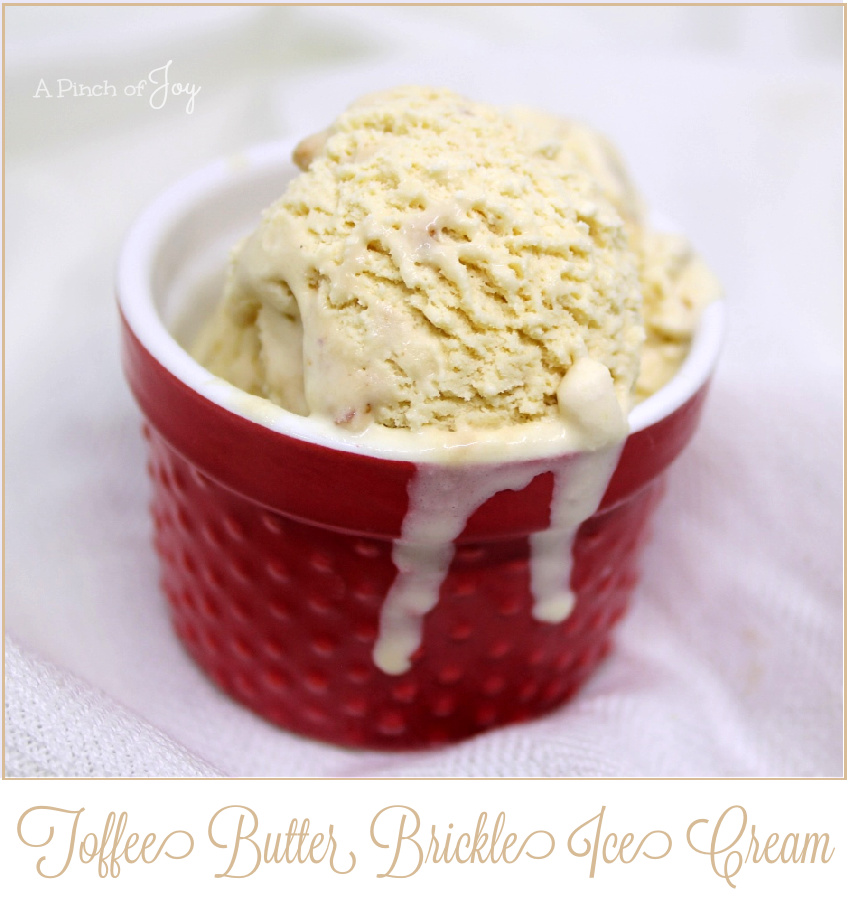 Toffee Butter Brickle Ice Cream – a perfect way to celebrate almost anything.  This year it was the star of the ice cream spread on Independence Day.  Every  July 4, sister Bee and family host a Big Bash.  Family, friends, neighbors start trooping up the drive in early evening laden with food and drinks.  Pete has a pile of things for the grill and plenty of fireworks on hand.  Then a friend roars up with another pickup load in his specially made fireworks launcher.  The neighbor across the street is in competition with them both.  After potluck dinner, they will be lighting up the sky for hours.  Until 11:55.  Everything comes to a halt, brooms and containers roll out of the garage and everything is cleaned spick and span before midnight.  It is truly a festival!
Somewhere in the middle of the fireworks, for intermission,  Bee runs in the house and lines the kitchen island with containers of a variety of home made ice cream she made ahead of time.  Everything comes to a halt as people stream in for their favorite, and/or a sample of them all and a new favorite.  Enter Toffee Butter Brickle Ice Cream.
We almost missed out this year.  Thanks, Covid 19.  The party was smaller.  And we had to stay home.   I called Bee and offered to trade a fruit bouquet for a sample of the each of the ice creams.  She agreed!  And we got to taste a new flavor  every night for almost the whole next week!!  They were all wonderful!  This creamy, buttery delight was our favorite though.  So glad she agreed to also share the recipe with all of us.  Here ya go . . . . . enjoy!!
Want a go-with dessert for your ice cream?  Try Blushing Peach Pie.  Or Cowboy Cookies.

Toffee Butter Brickle Ice Cream
Creamy ice cream swirled with buttery toffee sauce and chunks of crushed candy. What could be better?!
Author:
A Pinch of Joy by Charlene Vance
Ingredients
Butter Toffee Sauce
1 ½ Tablespoons butter
⅓ cup light brown sugar
¼ cup heavy cream
½ teaspoon vanilla
Butter Brickle Ice Cream
3 cups half and half
¼ cup butter
1½ cups light brown sugar
⅓ cup Toffee Sauce (above)
3 cups heavy cream
1 ½ cups Heath Bits
Dash of salt
Instructions
Butter Toffee Sauce:
In medium saucepan, stir butter, brown sugar, cream and salt until the butter melts.
Turn heat to low and simmer without stirring for three minutes.
Remove from heat and stir in vanilla extract. Cool.
Ice Cream:
Warm butter, brown sugar and half and half over medium heat until the butter melts and ingredients are thoroughly mixed. Add Toffee Sauce and vanilla.
Chill at least 4 hours; preferably overnight.
Add heavy cream and process in ice cream maker, according to directions.
Stir in toffee bits at the end of process.
Ripen in container for at least four hours before serving.
Notes
Nutritional guidelines are an estimate. Size of serving is estimated at one ice cream scoop the equivalent of ¼ cup. Time for processing varies according to directions for your ice cream maker. Bee substituted evaporated milk for the heavy cream - worked well and tasted great. Carb counts are approximately the same for evaporated milk and heavy cream.
Nutrition Information
Serving size:
1 scoop
Calories:
177,
Carbohydrates:
22 grams,
Protein:
1 gram
Welcome to A Pinch of Joy!  I'm so glad you stopped by today!   Follow A Pinch of Joy using the icons on the teal bar at the top of the page so you don't miss a thing!   I'd love to have your company on this venture!!  Share: if you found this helpful or inspiring please click one of the buttons below!  Your support of A Pinch of Joy is appreciated!
Shared with these awesome link parties here