Welcome! Let's enjoy the sunshine out here for a minute because it won't last long!  We hang wreaths with red ribbons  from every window and  spotlight the house every night.   The red and green really stands out against the gray and white house so we decided to keep everything simple and coordinated this year.  The rolly polly snowman that sometimes stands in the corner is  lounging in Fairbanks this year. . . well deserved vacation.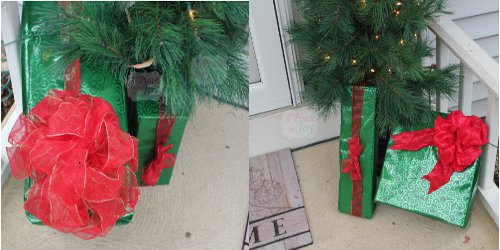 The wrapping paper already been through two really heavy rains . . . can't even tell it!  You're right — those two long packages are edging bricks.  The big package is a mini bale of hay I found at HobLob on Halloween clearance.  Didn't know where to store it so I postponed it for a while!
Our neighborhood does a luminaria every year.  It is gorgeous to see the lights lining the streets!   When the weather is nice, everything takes on the air of a festival as babies are pushed in carriages with older sibs marching along side.  If the weather is snowy, cars drive slowly through the area with headlights dimmed or off, the better to admire the sparkling beauty of falling flakes.
Even the fairies  decorated their door.   I'd love to see inside — it's probably all cool cottage to go with the shabby chic vibe they've got going on the outside.  They're  good neighbors except they have this thing going with the paper delivery guy.    He puts that paper just under the people door every morning at 4:30.   They must have put a spell on him. . . he couldn't hit the exact maximum thunderous boom spot 365 days a year otherwise.  🙂
More Christmas house tour:  Mantel , Porch,  Banister garland,  Christmas Tree ,  Dining Room

Don't miss a thing! " Like" A Pinch of Joy on facebook for access to exclusive downloads including recipes, ideas for stocking stuffers and more!  You can also sign up for email, follow us on bloglovin' or RSS or twitter!