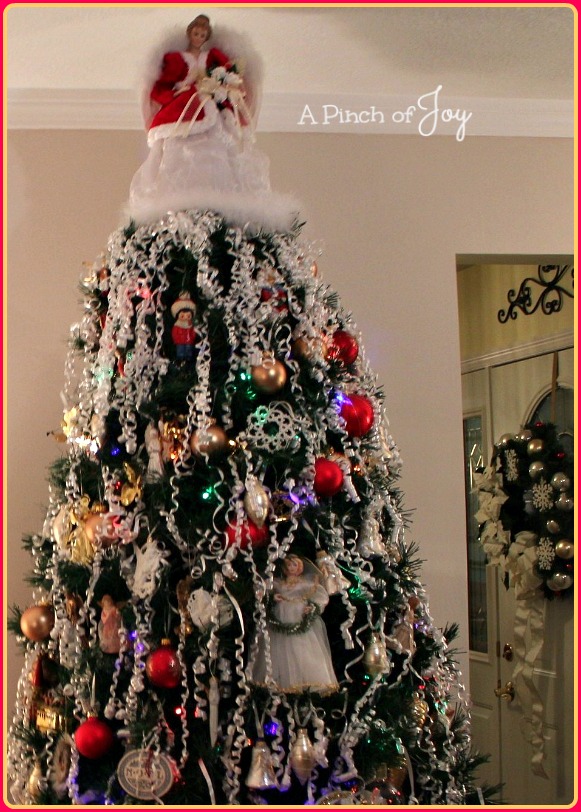 Angels we have heard on high . . . and everywhere else.  White, red and gold.  Curly ribbon to "tie" it all together.  I made the ribbon streamers one year when I was not physically able to do much else.  We liked the look so much that we've done it ever since.  When we take the tree down, the curlies go in a couple of shoe boxes until next Christmas season.  It is a mystery why some years they cover the tree like frosting and other years they look more like Swiss cheese. Same tree, added more curlies two or three times but still a mystery!    Sorry you caught a Swiss cheese year — but we still like it.  Hope you do too! 
We didn't know when we bought this  French honey  with  heavy blue eye shadow  from a street vendor in Paris that we were starting an angel collection.  That's a candle in her hand, btw!
We lived in Germany the first year we were married and this paper angel has been on every tree since.  That first tree was so tiny it made Anjelica seem huge as she spread her wings over top!  We decorated it with snowmen made from one package of marshmallows!    She came from the Christkindl Markt in Nuremberg.
I  love the expression on the first one below!!   The two vintage angels on the right were from one of my awesome Secret Sisters who searched out unique angels for me at flea markets all one summer.   A joy angel from a raucous ornament exchange, Alaskan native, wood shavings, music box, glowing globe from an even wilder ornament exchange, pink pom pom from a craft club where I was a member, straw angel and Sunbonnet Sue.  So diverse  — just like the friends and family associated with them!
A few from other times and places.  The green one is from Wheels grandmother, the others from places special to us.
Reminder of a babe — not so long ago.  But also the One who came as promised so very long ago.
May your Christmas bring you memories of special people, places and experiences.
May your holidays bring you happiness  and joy, like little curlies,  threading though year after year.  May there be peace in your heart today and always. . .
More Christmas house tour:  Mantel , Porch,  Banister garland,    Dining Room
   Christmas Tree

I'm so glad you stopped by today!   Be sure to follow A Pinch of Joy so you don't miss a thing!  I'd love to have your company on this venture!!

Subscribe by email  on the sidebar  or follow on Facebook, RSS feed, bloglovin'  twitter  and check out my  pinterest boards.   If you found this helpful or inspiring please share below!  Your support of A Pinch of Joy is appreciated!