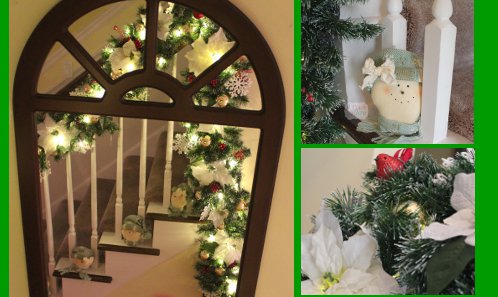 Snowflakes and white poinsettias and little red surprises garland their way down the banister.  White lights make a warm glow in the hallway and in the heart.  Five little snow girls and boys parade down the stairs.  You can tell the girls because they have bows on their hats!
We changed the colors in the hallway so I made a new garland to go with the new scheme.  I used the classic white, gold and red colors and the white poinsettia, snowflake/angel theme that our decorations have going.   Of course, this is just the beginning.   I've already added some things to the garland after this photo was taken yesterday!
The wreath on the inside of the front door marches to the same drummer. Poinsettias, snowflakes, red white and gold.   It's another wreath I made once upon a time.  Even made the bow!   Hope your Christmas preparations are looping into a nice bow of memories. . . .
More Christmas house tour:  Mantel , Porch,  Banister garland,   Dining Room,        Christmas Tree        Linking up to some of the awesome parties found here