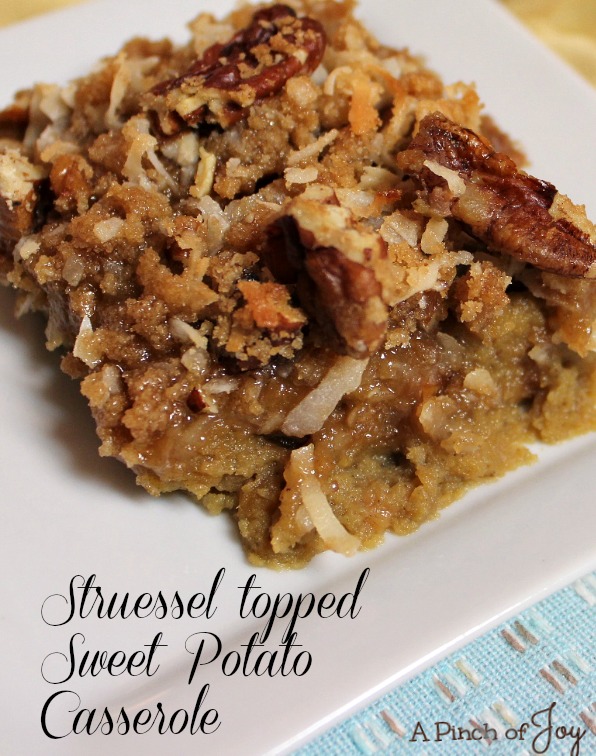 Sweet potato casserole is good anytime of year . Dressed up, it's the perfect accompaniment to any holiday meal. This sweet potato recipe has no marshmallows. Just a crunchy Struesel topping to contrast with the deep sweet potato flavor! No sweet, sticky marshmallows fans in our house 🙂
Cook and mash the sweet potatoes before measuring. If you are in a hurry (or can't get fresh sweet potatoes, as they are not always available), use a 40 ounce can and drain before mashing. If you use yams, remember they are a bit sweeter than sweet potatoes so you might want to reduce the sugar a bit. You can add coconut to the topping of this traditional dish.  I usually don't, but when I made this I had a bit of coconut hanging out and lonely in the pantry.  So I added it.   Baking time will vary a bit depending on the size and depth of your casserole pan. I use a 9×13 glass baking dish because it makes serving easier for pot lucks, but a casserole pan is nicer looking for family style! A light sprinkle of nutmeg across the top before sliding into the oven adds a bit of color and notches up the flavor a bit – optional.  This can be made ahead and refrigerated for a day before baking. It also reheats well – or you may even like it cold!
Looking for something a little less sweet? Check this recipe for Holiday Sweet Potatoes.
Struessel Topped Sweet Potato Casserole
Crunchy topped creamy sweet potato casserole -- no marshmallows!
Author:
A Pinch of Joy by Charlene Vance
Ingredients
3 cups sweet potatoes, cooked and mashed
¾ cup granulated sugar
¼ cup butter, softened
2 eggs, beaten
1 teaspoon vanilla
1 teaspoon cinnamon
⅓ cup milk
Topping
¾ cup light brown sugar
½ cup flour
⅓ cup butter, softened
1 cup pecans, chopped
½ cup coconut -- optional
Instructions
Preheat oven to 350 degrees.
Mix together the ingredients for the casserole.
Spray a 9x13 glass pan (or large casserole dish) with cooking spray and pour the sweet potato mixture into the pan.
Mix the brown sugar and flour in a small bowl, then cut the butter into the mixture until small crumbs are formed. Stir in pecans and sprinkle the topping evenly across the sweet potato mixture.
Bake for 25 minutes or until table knife inserted into middle comes out clean.
Please Pin! 
I'm so glad you stopped by today!   Follow A Pinch of Joy using the icons on the teal bar at the top of the page so you don't miss a thing!   I'd love to have your company on this venture!!  Share: if you found this helpful or inspiring please click one of the sharing buttons below!  Your support of A Pinch of Joy is appreciated!
Shared with these awesome link parties here  
Save