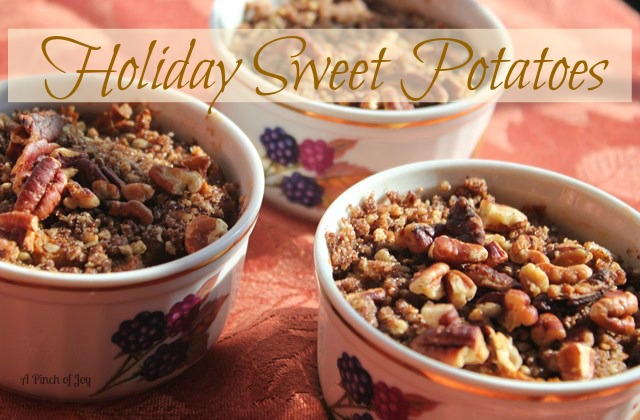 Rich tasting, topped with a crunchy pecan topping Holiday Sweet Potatoes are a great side dish for those special dinners.  No one will know they are a low carb option!
Sweet potatoes are one of the oldest known foods, cultivated by Native Americans for centuries.  They were a major source of nutrition for early colonists – so very appropriate for Thanksgiving! —  and later soldiers during the Revolutionary War.   Often  called yams from a similar African tuber, sweet potatoes are much more nutritious.   They are an excellent source of calcium, vitamins A and C, potassium and manganese among other nutrients.  They are low on the glycemic scale and are often recommended to diabetics for blood sugar control.   There is an enzyme in sweet potatoes that converts the starches of the young plant into sugars as the potato matures.  Sweetness increases during storage and cooking.
If using fresh sweet potatoes, choose ones that are firm, dark and blemish free, then store in a dry cool place, where they will keep up to a month.  Wash well before cooking with the skins on.  Many of the nutrients are near the skin so leaving it on during cooking helps preserve them.  The skins are very easy to pull off when cooked – much easier than peeling raw. Sweet potatoes can be boiled, steamed, baked,  roasted or microwaved.
Or made into yummy, festive dishes like this one!  I found those cute little ramekins at a tag sale.  They hold about a half cup which is perfect for "have one of every dish" holiday dinners.   (Secret portion control!)  The sweet potatoes are made richer with cream and egg and are perfectly complemented with the pecan topping.  A delectable, healthy treat even when it is not a holiday!
For your holiday menu, you might also like Sunny Broccoli Salad, (or Cauliflower Bacon Salad) Fruity Cranberry Relish. (or Frozen Cranberry Salad) Blushing Peach Pie, or Spiced Pineapple Carrot Cake.  Here are some Thanksgiving games for the kids  and check out Thanksgiving Tablesetting with some more menu suggestions! 

Holiday Sweet Potatoes
Holiday Sweet Potato, a lower carb, fabulous flavor side dish option topped with pecans for those special holiday dinners.
Ingredients
Ingredients
40 ounce can of sweet potatoes or yams
OR 3 lbs fresh sweet potatoes, cooked and peeled.
⅓ cup sugar or sugar substitute equivalent
2 tablespoons half and half OR milk
¼ cup butter
1 teaspoon vanilla
1 teaspoon cinnamon
¼ teaspoon nutmeg
½ teaspoon salt
¼ teaspoon pepper
1 egg
Topping
1 cup pecans plus ½ cup
1 teaspoon cinnamon
¼ cup sugar or sugar substitute equivalent
2 Tablespoons butter
Instructions
Prepare topping by pulse 1 cup of pecans in food processor until it forms a coarse meal.
Add sugar, cinnamon and butter and process until blended.
Pour into small bowl, add remaining pecans and set aside.
Put sweet potatoes in food processor with butter and seasonings. Process about 30 seconds and taste. Add sugar according to sweetness of sweet potato and adjust seasonings, if needed.
Add egg and process until smooth and well blended.
Use cooking spray to oil 8 ramekins and pour mixture into prepared pan.
Bake at 375 until topping browns, about 30 minutes for ramekins.
Eight servings. About 20 carbs per half cup serving, 4 grams of protein
Please Pin! 
I'm so glad you stopped by today!   Follow A Pinch of Joy using the icons on the teal bar at the top of the page so you don't miss a thing!   I'd love to have your company on this venture!!  Share: if you found this helpful or inspiring please click one of the sharing buttons below!  Your support of A Pinch of Joy is appreciated!
Shared with these awesome link parties here  
Save