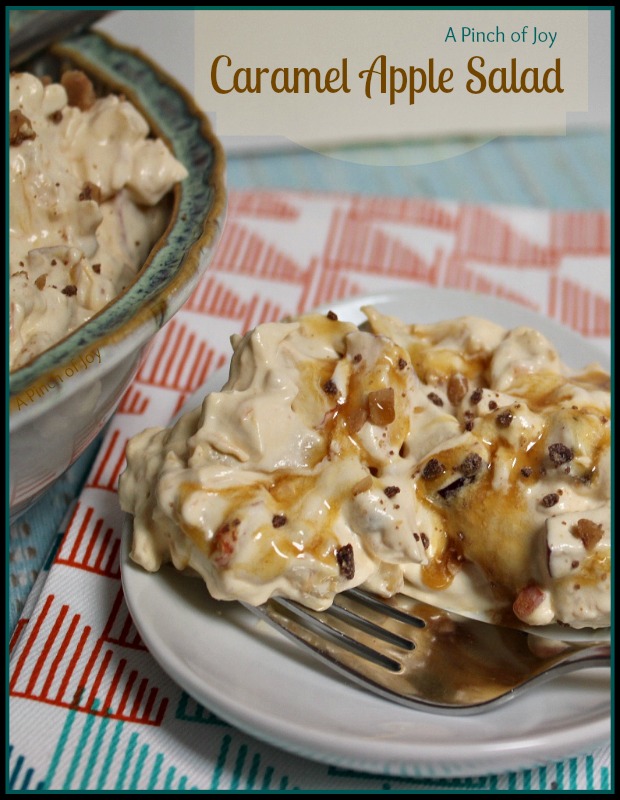 Wheels is a big butterscotch fan, but I'm not.  So I was more than a little skeptical when this recipe for Caramel Apple Salad came into my hands.   Butterscotch pudding??  And pineapple??   This is really good,  you'll like it , my friend urged.   She was right — I liked it!  Of course, I had to tweak it a bit – can never leave a recipe as is! 
This is one of those so good it's like dessert salads that are always a hit at potlucks and gatherings.  I use sugar free pudding mix to cut back on the total carbs, but you can use any instant butterscotch pudding mix.  For the same reason, I only use half the crushed pineapple called for in the original recipe.  You do NOT taste the pineapple at all in this recipe.  It provides the moisture for the dry pudding mix and a bit of texture.    Cool Whip or other whipped toppings have negligible carbs/calories.  And, of course, the apples and nuts are healthy carbs/calories.   
 You can peel the apples, but it is not really necessary.  I wash and quarter the apples and core them.  Then I slice each quarter into four or five slices – but stop just before reaching the  end so they are still fastened together.  Quickly cut evenly across and the full length of the slices.  You'll end up with long even bits of apple with just a tiny bit of peel on one end. Not worth the time to peel for me.   Mix the dry pudding mix directly into the apples, coating them well.  Add the pecans.  You can also used dry roasted peanuts when there is a shortage of pecans and prices are sky high – or just because you like them.  We prefer pecans.   Add the crushed pineapple and its juice, just as it is in the can, to the pudding coated apples and nuts.  Stir thoroughly.  Be sure there is no dry pudding visible anywhere.  Then fold in the whipped topping, cover and refrigerate,  overnight is best but at least two hours, before serving.  I thought the bowl looked a little plain the first time so I added a bit of caramel sauce drizzled over the top and sprinkled a couple of tablespoons of toffee bits over it all.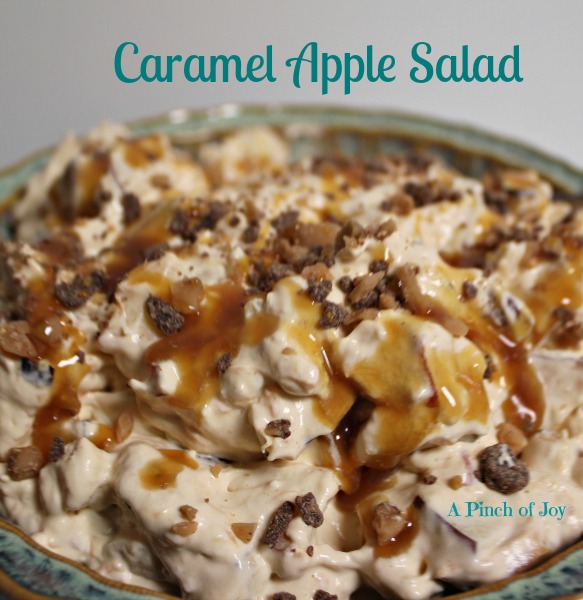 In honor of National Salad Month here are a few more salads you might want to try:   Layered Salad,  Chicken Curry and Fruit Salad, Fruity Cranberry Relish and Bacon Potato Salad.
Caramel Apple Salad
A creamy, caramelly salad starring fresh apples and pecans!
Ingredients
4 medium apples, diced
⅔ cup pecans
1 pkg instant sugar free butterscotch pudding mix, dry
1 8 ounce can crushed pineapple with juice
8 ounce container of frozen whipped topping
1 tablespoon caramel sauce for drizzling on top, optional
2 tablespoons toffee bits for sprinkling on top, optional
Instructions
Peel apples, if desired. Quarter and core, then dice or chop.
Add dry butterscotch pudding mix to chopped apples. Stir thoroughly to coat apples.
Add pecans and crushed pineapple. Mix well.
Fold in thawed whipped topping.
Cover and refrigerate overnight.
Garnish with caramel sauce and/or toffee bits, if desired
Notes
Charlene @ A Pinch of Joy
Be sure to follow A Pinch of Joy so you don't miss a thing!  Subscribe by email or RSS, follow on facebook or twitter using the blue buttons on the header!    If you found this helpful, please share on your favorite network by clicking one of the buttons on the bottom of this post.  I'm so glad you stopped by today!
Linking up to these awesome parties here 
~~~~~~~~~~~~~~~~~~~~~~~~~~~~~~~~~~~~~~~~~~~~~~~~~~~~~~~~~~~~~~~~~~~~~~~~~~~~~~~~~~
Save