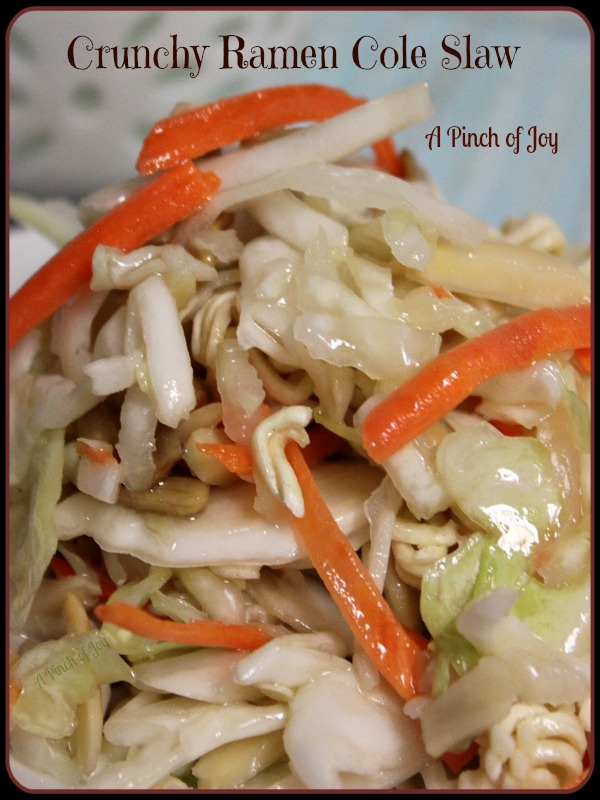 Asian Coleslaw, Ramen Slaw, Crunchy Ramen Slaw.  Not a big identity crisis, but there are alternative monickers  — as the old movie detectives would say out of the corner of their mouth.   For me, the mystery isn't the name;  nor do I wonder whodunit.  The mystery is why?  Why did someone decide to crunch up a square of uncooked ramen noodles and add it to a coleslaw mixture that already had unusual ingredients like almonds and sunflower seeds?  Surely there must be a story behind this!   Whatever it is, I am glad they did.  Because this is a very good slaw! 
Yes, I may have produced a mini rant about vinegar and coleslaw in a previous recipe.  And with good cause, I might add!  However, this exceptionally fine flavored slaw tucks that bit of vinegar into a full bodied dressing with such finesse that you won't notice that it is there.  Nor will you recognize the chicken flavor packet.  All the dressing ingredients meld together to enhance the crunch and flavor of the salad itself.   Make the dressing ahead of time and let it set in the refrigerator overnight.  However, don't add it to the salad until mealtime is close or the salad will begin to lose its crunch.  I used Manurchan noodles, but whatever brand you choose, make them also a last minute addition before serving.   The green onions I used were about the thickness of my index finger.  If smaller than that, use four. 
In honor of National Salad Month here are a few more salads you might want to try:   Sweet Pepper Fiesta Salad,   Berry Melon Fruit Cup,  Chicken Pasta Salad with Poppyseed Dressing and Caramel Apple Salad.

Crunchy Ramen Cole Slaw
A cole slaw full of satisfying crunch from ramen noodles and sunflower seeds, tossed with a light, yet full bodied dressing.
Author:
Charlene - A Pinch of Joy
Ingredients
1 16 ounce package shredded coleslaw and carrots
3 green onions, sliced thinly
¼ cup (4 ounces) sunflower seeds
½ cup slivered almonds
1 package Chicken Ramen Noodles
Dressing
½ cup vegetable oil
3 Tablespoons vinegar
3 Tablespoons sugar
The flavor packet from Chicken Ramen Noodles
Instructions
Make dressing by whisking together all ingredients. If making ahead store in capped jar in refrigerator until needed.
Combine all slaw ingredients in large bowl and toss lightly.
When ready to serve (or up to one hour ahead of time), add dressing to slaw mixture and stir to coat.
Just before serving, break ramen noodles into small bite sized pieces. Add to dressed salad.
Any remaining salad can be covered and stored in refrigerator up to two days. Noodles will, of course, become soft over time.
Notes
Charlene @ A Pinch of Joy
I'm so glad you stopped by today!
Follow A Pinch of Joy using the icons on the teal bar at the top of the page so you don't miss a thing!   I'd love to have your company on this venture!!  Share: if you found this helpful or inspiring please click one of the buttons below!  Your support of A Pinch of Joy is appreciated!
Shared with these awesome link parties here