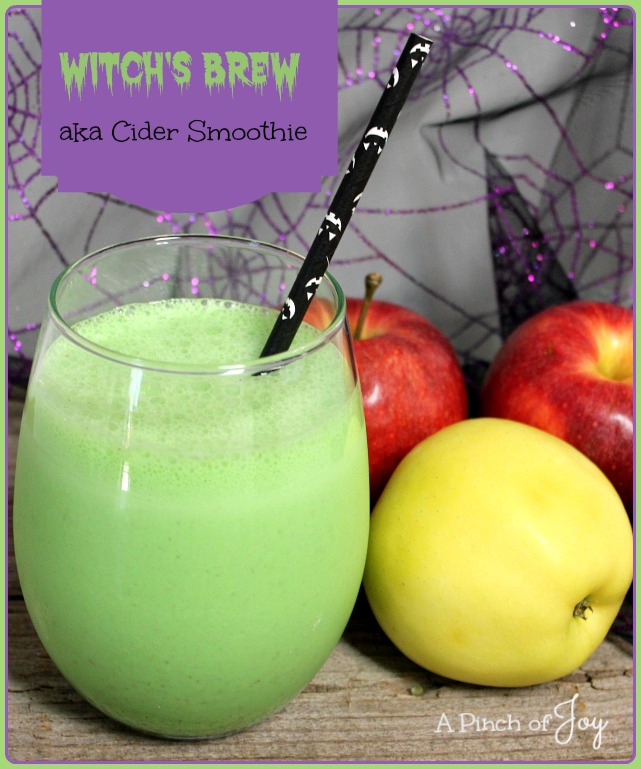 Witches Brew tastes like – well, think apple pie and ice cream through a straw – perfect autumn goodness.  Without the food coloring, it is worth serving at a gathering such as a fall shower or small get together. Add red, orange or green food coloring and it's Halloween without a doubt.  A two son mom is always looking for gross – but not too gross and definitely not gory – Halloween ideas. Food that looks gross but tastes great – that's a win-win! Hence the choice of green food coloring 🙂
Costume ideas – no problem. There are very definite ideas, usually decided weeks in advance. Sometimes it is a challenge to make those ideas come to life, like the cartoon character that must look exactly like the tv show.  Other years, easy peasy, like the soldier which means pulling dad's Army fatigues out of the closet, pinning to fit and adding an eyebrow pencil beard. Yeah, I know no facial hair, but I'm not going to tell an eight year old that. And I wouldn't tell him that this isn't ghost buster ectoplasm or green monster breath either – if that's what he wants to call it. Halloween is all about suspending reality for a while. Isn't it?
Witch's Brew aka Cider Smoothie
Cider smoothie tastes like apple pie and ice cream through a straw – perfect autumn goodness. Color it green -- instant Halloween witch's brew!
Ingredients
2 cups apple cider
2 cups vanilla ice cream
½ teaspoon cinnamon
½ teaspoon nutmeg
Green food coloring, optional
Instructions
Put all ingredients in blender and blend until smooth and well mixed.
Red or orange food coloring may be substituted for green if desired. Or food coloring may be omitted altogether.
Need more Halloween ideas?  Check these links:  Preschool Party Snacks and Games      How to Make Pom Pom Spider   How to Make a Halloween Wreath  Elegant Halloween    Fun Foods for Kids Halloween Party    Grasshopper Guts     Smashed Frogs    Zombie Brains   Candy Corn Fudge   Dirty Bones
Shared with these awesome link parties here  
I'm so glad you stopped by today!   Be sure to follow A Pinch of Joy so you don't miss a thing!  Subscribe by email  on the sidebar  or follow on Facebook, RSS feed, bloglovin'  twitter  and check out my  pinterest boards.   If you found this helpful or inspiring please share below!  Your support of A Pinch of Joy is  appreciated!