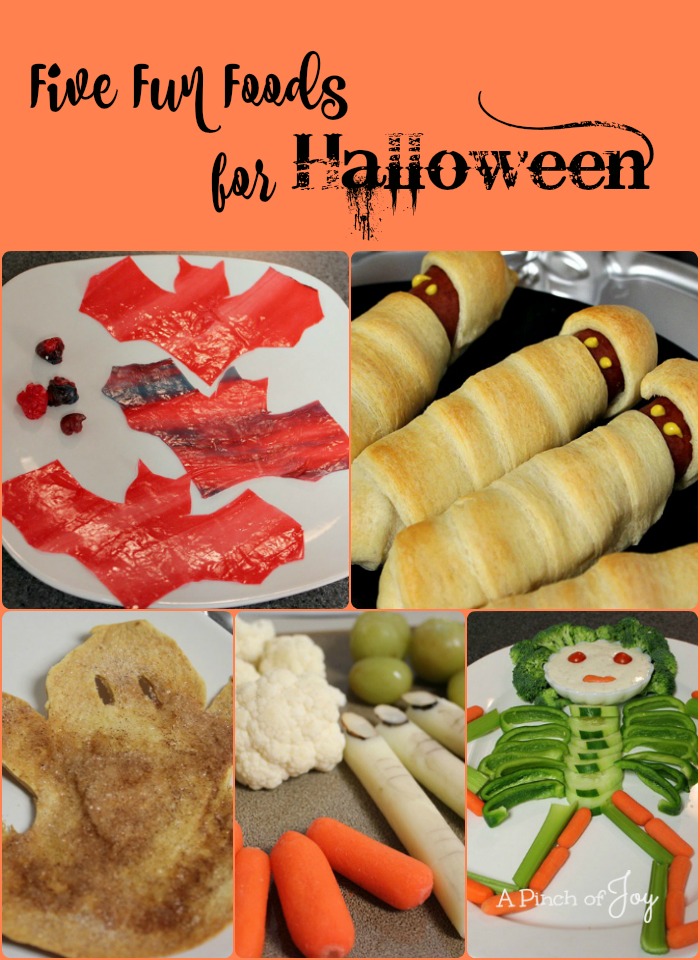 Younger kids like things on the spooky side — but not too spooky.  They still have fun with plays on words and things that are not quite what they seem.   Imagination sells so you can slide in some healthy food with fun names!  Here's a few winners from the snack table: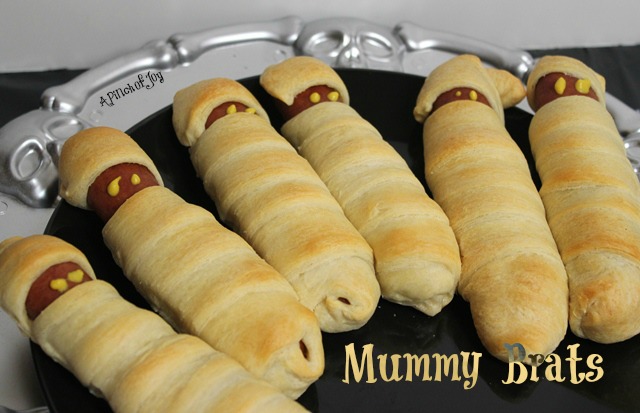 Above are precooked brats (or hot dogs) baked in a dough mummy wrap!  Recipe below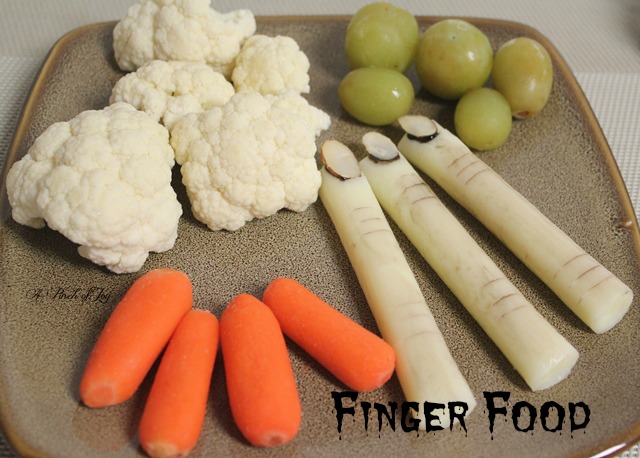 Ghost brains, Goblin Gizzards, Troll Toes and Witch Fingers!   Label each item for maximum impact.  I had a hard time with the "easy" witches' fingers!  The knuckles creases wouldn't show up and the fingernails kept falling off.  A little black frosting gel solved both problems.  A bit under the sliced almond  helped it stay in place on the string cheese.  I made the knuckle creases with the back of a table knife and used a very tiny bit of gel wiped down the finger to make the creases visible.  It also helps to shave off a bit of the fingernail end of the cheese to make a flat indent for the "fingernail."    Ghost brains are raw cauliflower florets.  Goblin Gizzards are frozen green grapes and the Troll Toes are raw baby carrots.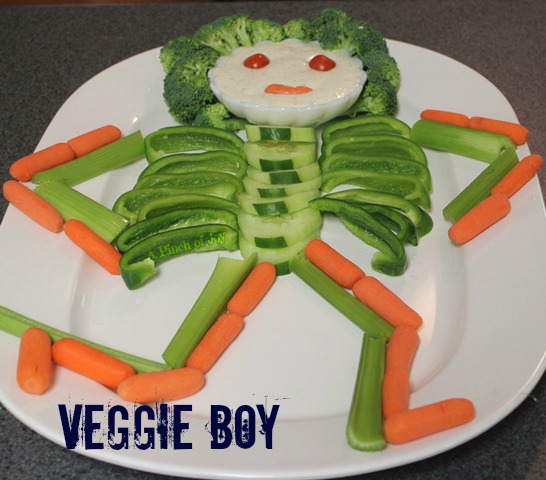 Veggie Boy is a skeleton made with a variety of vegetables. Sliced cucumbers with some peel left on make the spine and pepper slices make the ribs.  I used green but you can also use red or yellow pepper slices.  His face is a bowl of ranch dressing with cherry tomato eyes and a carrot for lips.  Hair is raw broccoli florets.  Use any vegetables you like that will fit into the skeleton shape.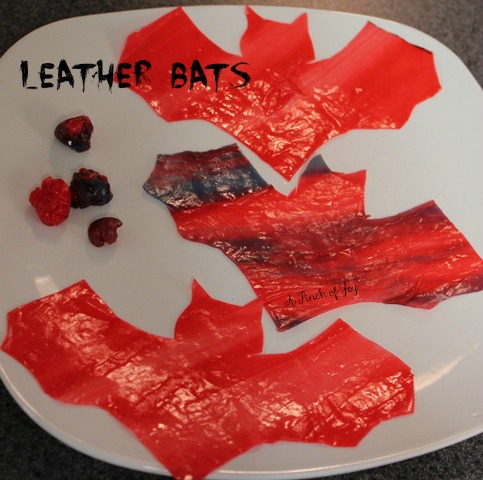 Cut bats from fruit leather.   Unroll the fruit leather but don't remove the waxed paper.  Cut through both paper and fruit leather at the same time.  The top of the leather will dry somewhat so it won't stick so readily to other snacks and the waxed paper keeps it from sticking to the plate.  Roll up (or wad up) the leftover pieces and let them dry for  "insects".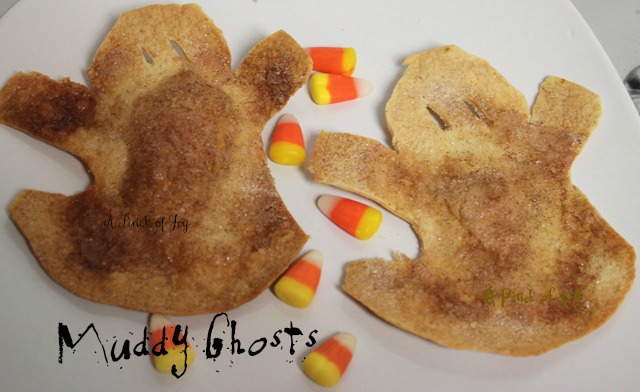 Cut ghosts from 6 inch tortillas.  Spread with melted butter or a margarine spread and sprinkle with cinnamon and sugar.  Bake at 350 degrees for about 10 minutes until slightly puffed and crisp.  You can use cookie cutters for the bats and the ghosts.  If you prefer, click here for patterns that will fit a piece of fruit leather for the bats and a 6 inch tortilla for the ghost.  I used kitchen shears to cut the bats and a sharp knife to cut two ghosts at a time.
happy halloween!
Mummy Brats
Ingredients
6 precooked brats or hot dogs
1 can crescent rolls or crescent dough sheet
Mustard for eyes
Instructions
Preheat oven to 375 degrees.
Unroll crescent dough. If using crescent rolls, press dough together to remove perforations.
Cut dough lengthwise into sixths.
Wipe excess moisture off brats or hot dogs. Place one end of dough strip on one end of brat and fold slightly to make a pocket that covers the end of the meat.
Wrap dough around the brat, overlapping slightly. Let dough stretch as you work with it. Skip about half an inch of the brat at the "head" and tuck the end of the dough under the brat.
Place each finshed mummy on ungreased cookie sheet.
Bake for 15- 20 minutes until mummies are golden brown and the bottom is just beginning to become a darker brown.
Add mustard dots for eyes. Serve hot.
Need more Halloween ideas?  Check these links:  Preschool Party Snacks and Games      How to Make Pom Pom Spider   How to Make a Halloween Wreath  Elegant Halloween    Fun Foods for Kids Halloween Party
Grasshopper Guts 
Smashed Frogs 
Zombie Brains
Candy Corn Fudge
Dirty Bones  
I'm so glad you stopped by today!   Be sure to follow A Pinch of Joy so you don't miss a thing! 
Subscribe by email  on the sidebar  or follow on Facebook, RSS feed, bloglovin'  twitter  and check out my  pinterest boards.   If you found this helpful or inspiring please share below!  Your support of A Pinch of Joy is  appreciated!
~~~~~~~~~~~~~~~~~~~~~~~~~~~~~~~~~~~~~~~~~~~~~~~~~~~~~~~~~~~~~~
\
Save
Save
Save