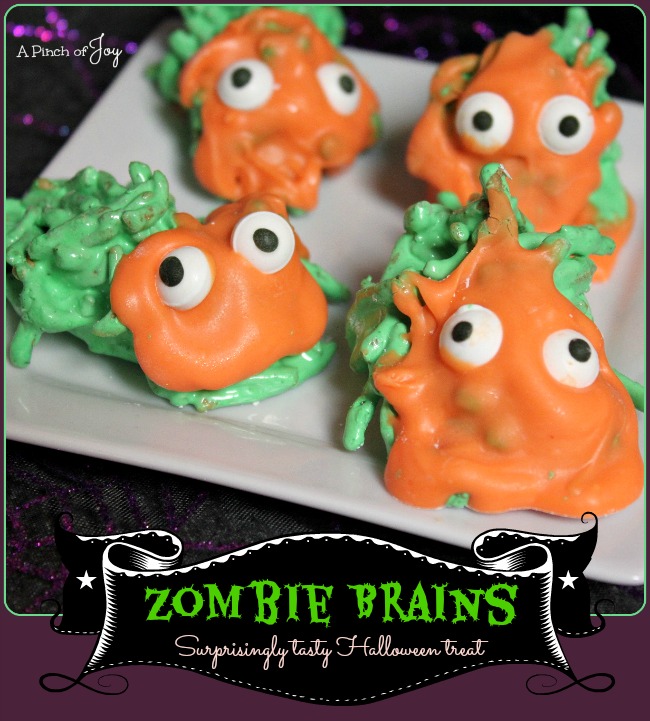 Zombie Brains are surprisingly tasty Halloween treats!  Bwhahahaha!    They are sorta cute – but the name gives them the eeewww factor that makes little boys growl with delight.  (And I would be delighted if you would pin the photo above!  Thanks!)
This is a very easy Halloween treat. The biggest problem I had was that it was very rainy day and the bottom of the brains were still sticky after setting an hour. (Now THERE is a sentence I never thought I would type!) A little sprinkling of powdered sugar on a new piece of waxed paper to which I then moved the candy pieces before adding the candy melts seemed to solve the problem. You can dip the chow mein brain into the candy melt, coating about half of each piece.  But given my record with dipping candy here and here, I just spooned the soft candy melt into place over half the brain and skipped the dipping.  You could use chocolate chips or a squeeze of chocolate frosting to make the eyes, but the candy eyes are a great touch!
Zombie Brains
A surprisingly tasty Halloween treat!
Ingredients
1 7 ounce container marshmallow crème
1 6 ounce bag chow mein noodles
1 cup orange candy melts
Green food coloring
Candy eyes
Approximately 1 tablespoon confectioner's sugar for sprinkling on waxed paper, if needed
Instructions
Prepare ahead of time because you will be working quickly: Line baking sheet with waxed paper, sprinkle lightly with confectioner's sugar and set aside. Pour chow mein noodles in medium mixing bowl.
Scoop marshmallow crème into microwave safe bowl. Add food coloring without stirring. Microwave for approximately 30 seconds and stir. Marshmallow should be easy to stir. Microwave an additional 10 to 15 seconds, if needed.
Quickly pour marshmallow over chow mein noodles and stir well.
Drop by spoonful on prepared waxed paper.
Let set until firm about 30-60 minutes.
Melt orange candy melts in microwave according to package directions.
Dip each candy half way into the orange candy coating. OR spoon candy melt over half the candy.
Let set approximately five minutes to slightly firm the candy melt and add two candy eyes to each piece. Let set another 10-15 minutes till firm to touch.
Need more Halloween ideas?  Check these links:  Preschool Party Snacks and Games      How to Make Pom Pom Spider   How to Make a Halloween Wreath  Elegant Halloween    Fun Foods for Kids Halloween Party    Grasshopper Guts     Smashed Frogs    Zombie Brains   Candy Corn Fudge   Dirty Bones
I'm so glad you stopped by today!   Be sure to follow A Pinch of Joy so you don't miss a thing! 
Subscribe by email  on the sidebar  or follow on Facebook, RSS feed, bloglovin'  twitter  and check out my  pinterest boards.   If you found this helpful or inspiring please share below!  Your support of A Pinch of Joy is  appreciated!
Shared with these awesome link parties here 
Save