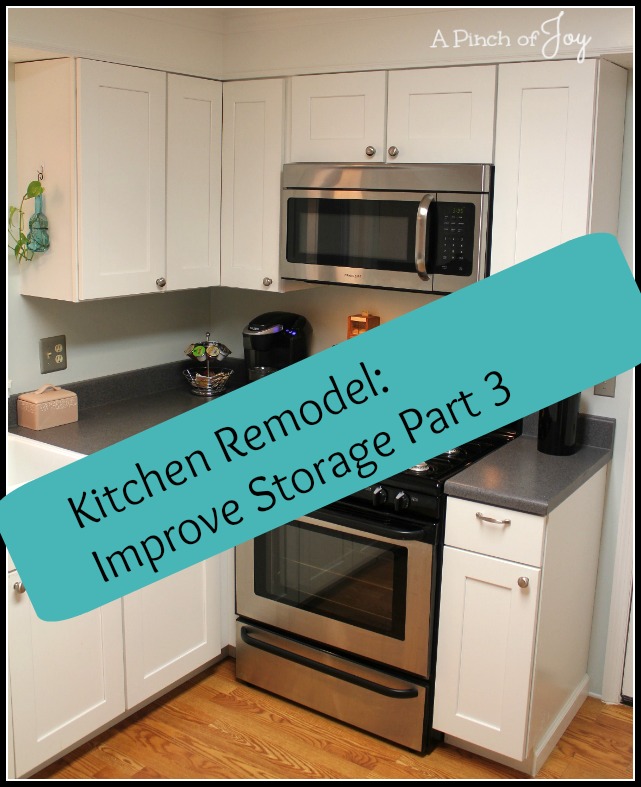 Just a peek into the rest of the cupboards in our new kitchen.  Plus a few more takeaways for you to consider in making over your kitchen!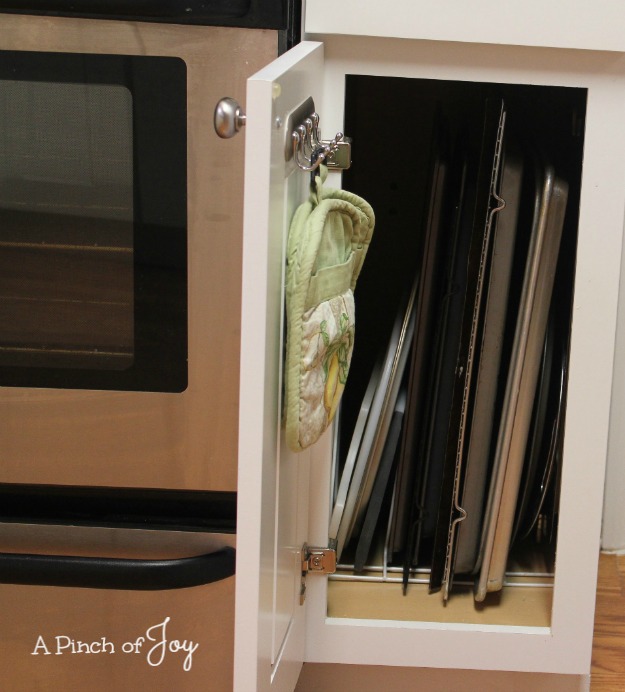 This cupboard is only 15 inches wide, but it is worth its weight in gold.  Cutting boards, cooling racks, pizza pans, trays, jelly roll pans and various sized cookie sheets are stored here.  I can take one out with ease and not have to move more than one or two pieces to do so.  Previously these were all in one pile in the garage storage!  Plus more.  I got rid of six jelly roll pans.  SIX!  I have never made a jelly roll and have no plans to ever make a jelly roll.  I use the pan once or twice a year for big sheet cakes.  I have no idea how I accumulated six!!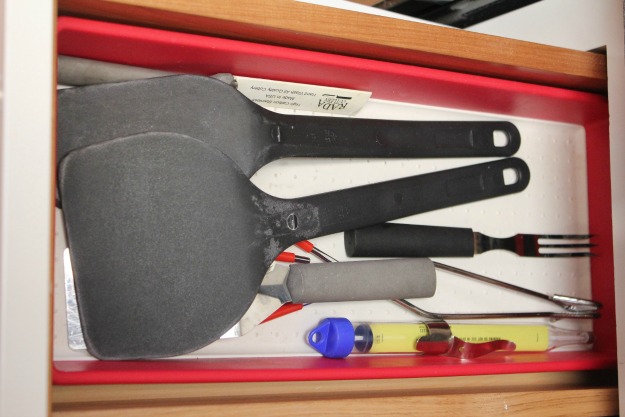 This little drawer is the other 30 percent of the drawer space in the kitchen.  It is next the stove and holds essential equipment for grabbing a tool quickly without moving away from the stove.  There might be a few more items that are normally stored here.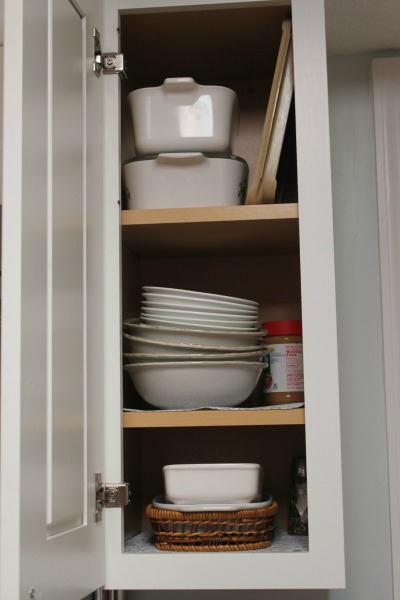 Above them, is the microwave cupboard.  The items stored here are used mainly in the microwave for such things as hot cereal or reheating.  Except someone has to keep his peanut butter stashed here because it "gets lost" in the pantry.  I like him — a lot —  so the peanut butter stays 🙂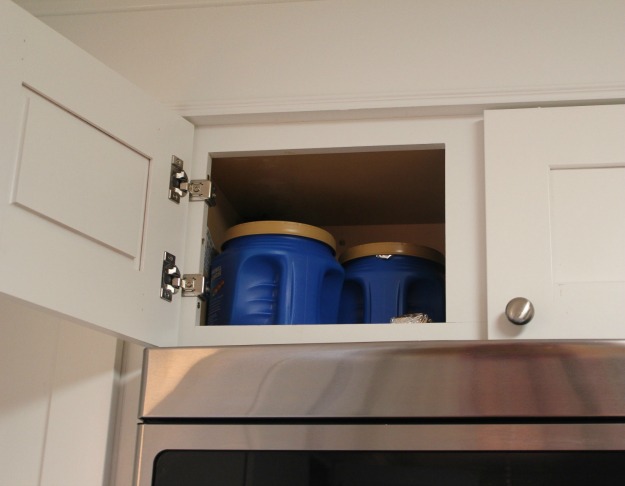 Above the microwave, is the cupboard for storing coffee.  The reason behind this storage choice is very simple.  I don't drink coffee.  I can't reach anything in the cupboard because I am too short.  Therefore the tall coffee drinkers get to put whatever they want in this cupboard.  You don't want to know what is in the other half!!!  I don't want to know.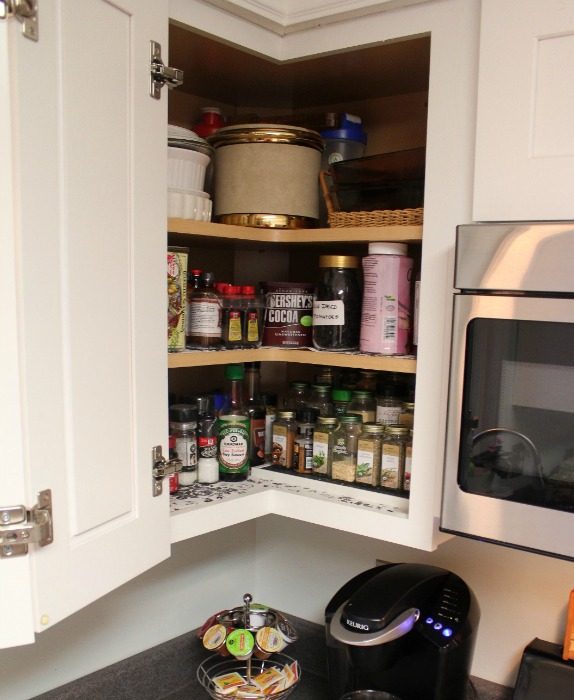 There was a blind corner cupboard in this space before.  Total waste of space!  Just look at what can be stored in this easily accessible space!!!!  The herbs used in cooking are here.  I'm working on reducing the number of containers.  When things are stored helter skelter it is easy to buy duplicates because you can't keep track of what you already have!  The tall jars are gummy vitamins that won't fit in the medicine cabinet.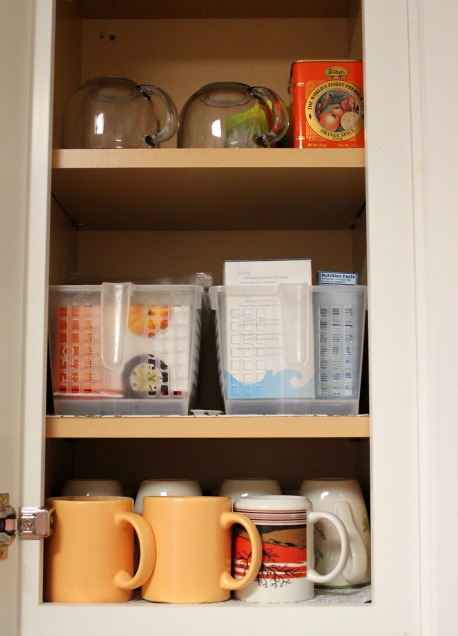 The beverage cupboard.  The guys are big coffee drinkers, I like tea.  There is quite a variety of drinks that go in and out of this cupboard.  No K- cups because the supply officer (me) forgot.  I'm in the doghouse — but they like to eat so I see forgiveness on the horizon.  The bottom shelf holds exactly a dozen mugs.  We had to reduce the number a lot — let's just say this is not even half of what used to be in the kitchen!  The top shelf has two dollar store glass mugs that have become a favorite because they are huge! 
Takeaway:
Good design will help maximize the storage space and functionality in any kitchen.
Adequate storage space will allow you to keep track of what you own so you can use it.
Getting rid of duplicates and unused items will simplify your life enormously and reduce the amount of storage space needed.
Your kitchen should fit your unique needs!
Have a reason for storing things where you do.  Don't just look for an open spot, think things through.  Store like with like.
  Begin the Kitchen Remodel   Transition Kitchen   3 Reasons to Remodel Your Kitchen 
  Kitchen Storage Part 1   Improve Kitchen Storage Part 2    Improve Kitchen Storage Part 3 
I'm so glad you stopped by today!   Be sure to follow A Pinch of Joy so you don't miss a thing! 
Subscribe by email  on the sidebar  or follow on Facebook, RSS feed, bloglovin'  twitter  and check out my  pinterest boards.   If you found this helpful or inspiring please share below!  Your support of A Pinch of Joy is  appreciated!