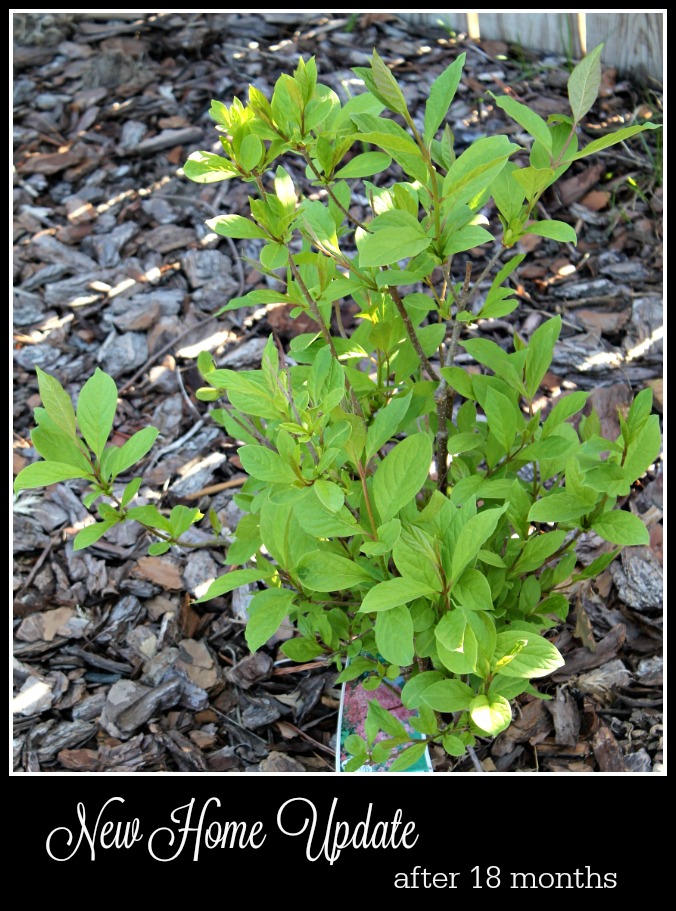 It's been a while since I last updated the changes we've accomplished in the new to us house.  Here's a quick peek at some of the things going on.  Like the new lilac on the east fence, we are growing where we are planted.  Like the plant, we don't quite look like the picture yet — full of blooms — but the promise is there and flourishing!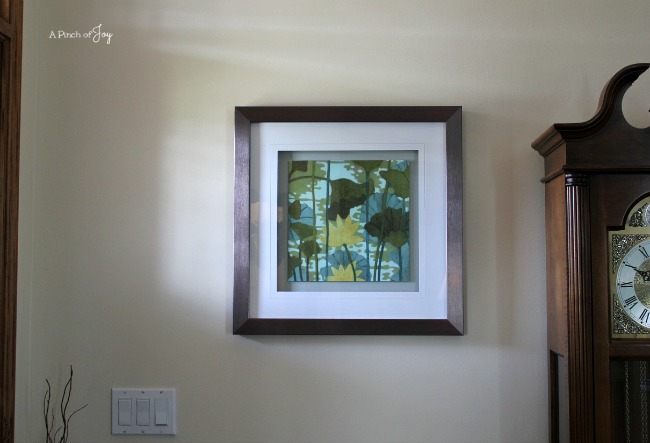 Finally found some artwork to fill in the empty space in the front hallway between Grandfather Clock and the front door.  A garage sale in the neighborhood 🙂  The price was right.  At first I thought it would be a placeholder, but it is growing on me for several reasons.  And yes, you noticed!  The wall color is different than what I showed you almost a year ago.   We've gone from Before to After to After II.   When everything in the hallway is completed, I'll do a post that shows them all.  Big difference!  Love the lighter, happier color!!!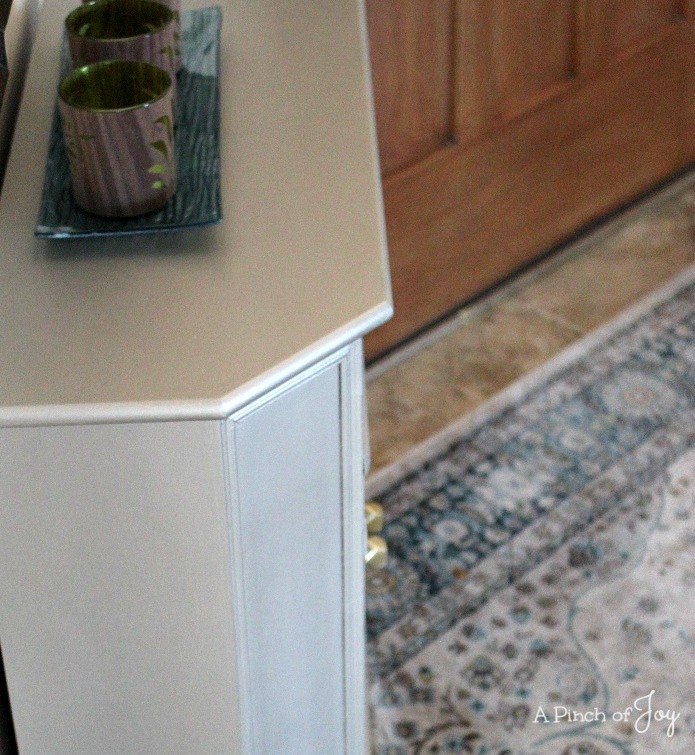 To go along with the lighter, happier color the little hallway chest by the front door got a makeover too.  From expresso to silver.  And new knobs.  I'm still pondering what to do about the mirror above it.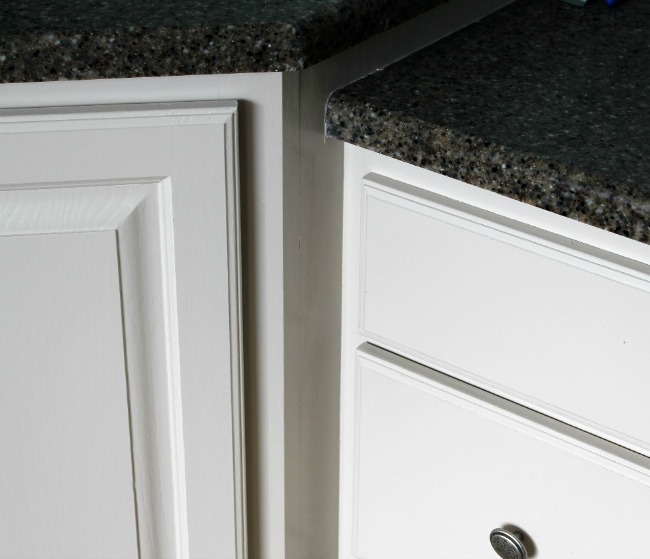 The master bath vanity went from black and yellow striped oak to a soft gray that enhances the black and gray countertop.  Makes the whole bathroom look less busy and cramped.  Lots of other changes going on there too.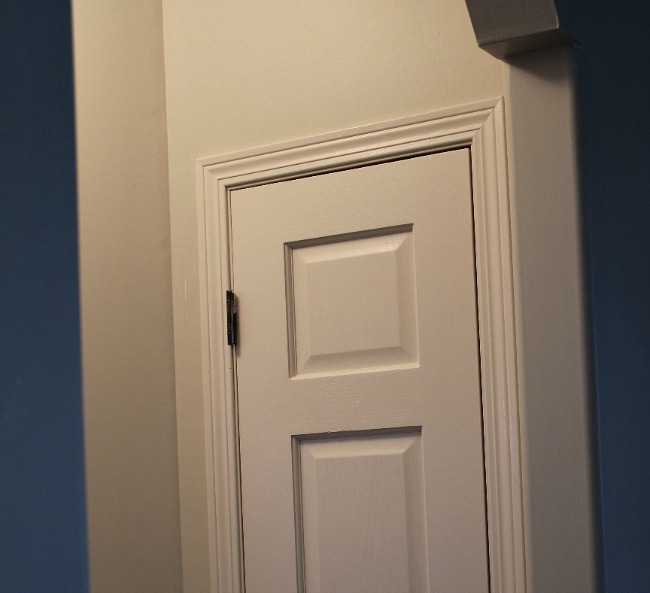 The linen closet door got several coats of creamy white paint.  That was a fevered decision 🙂   It is visible from the living room – specifically the chair where I sat when I was sick with the flu this winter.  You can expect to be sick when you move long distance from one place to another, said the doctor.  Really??  He might have been right.  I never get sick but ended up in bed for two whole days and was still woozy, so it was the chair for another several days.   The skinny oak door in the shadows looked like a person standing in the hallway every time I opened my eyes.  I couldn't get well fast enough to get that sucker painted!    Lot of changes already in the adjacent bedroom and more coming throughout the first floor.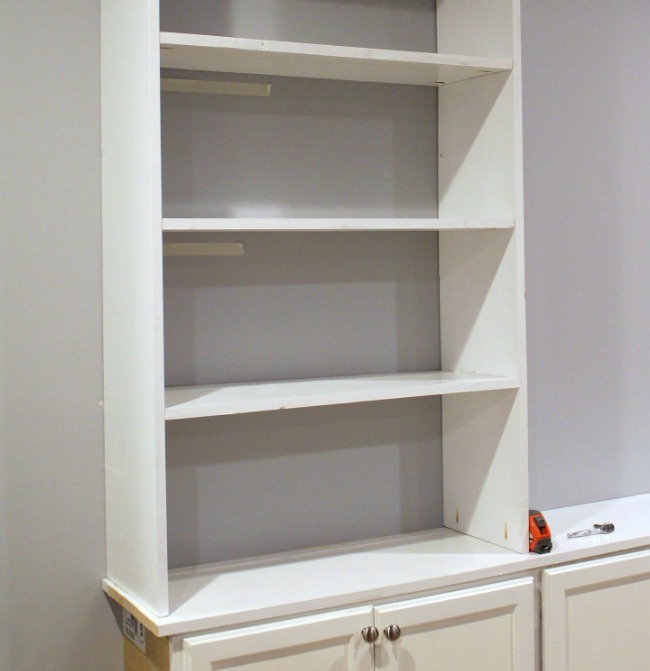 This is the project that has me the most excited at the moment.  Finishing the storage and shelving built- in for the huge basement "media" room.  So called on the house plans — the media currently is a 22 inch tv set in front of the treadmill.  At any rate, the bottom of the storage unit has been installed and in use for several months.  The top part has been aging in cut-to-length pieces on the floor.  It is eleven feet long and six feet tall and how to get it properly screwed together and in place was a dilemma.  However the problem was solved with the purchase of one new small tool and things are moving right along!!!  Stay tuned . . . .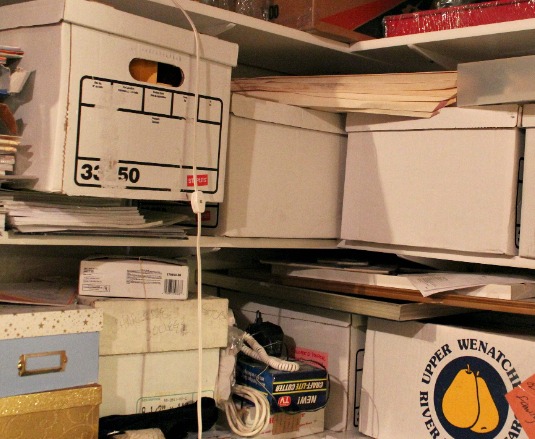 Here's why I am so excited for more storage!  There are at least two dozen unpacked boxes stashed around the house.  It will be so lovely to have them unpacked but also to be able to use our belongings since we will be able to find them!!!  Well, that might be hoping for too much — finding things immediately when wanted, that is.  But at least they will be on a shelf and there is more chance of finding them there than in a box that looks like all the others.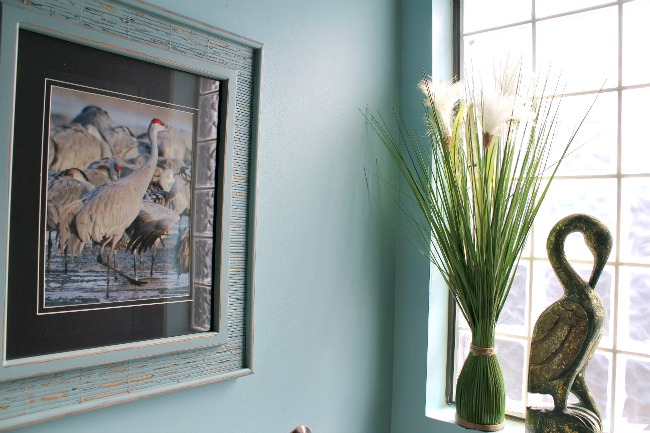 The guest bathroom got a new piece of art that celebrates our involvement in our new community as well as being "arty".  The picture come from the Nebraska Museum of Art, where we visited as part of a class we were taking this winter.  The sandhill cranes migrate through the area each year and we've made a point to go observe them as thousands come into the nearby river to roost at night.  The window ledge holds a representation of the blue heron that hung around our old neighborhood.  A blending of old and new . . .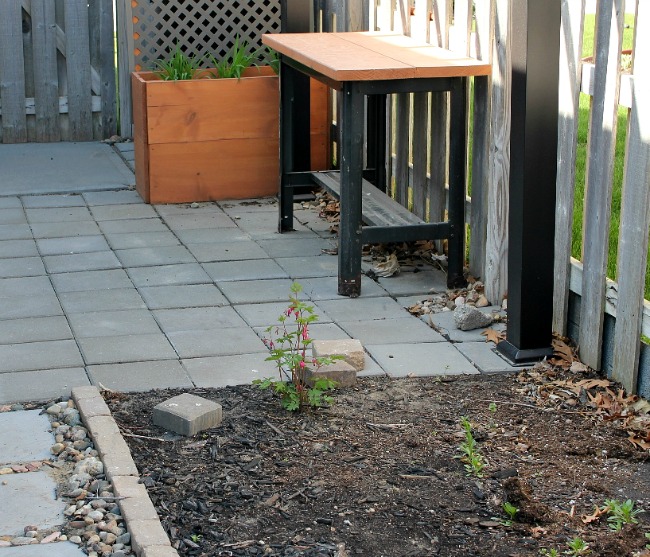 The small work patio outside Wheel's garage door was the biggest disappointment of last summer.    There was a leak in the underground sprinkler system, that apparently was there for a very long time.   It took  digging down several feet to drain the area and figure out what was causing the problem, losing many new plants over the course of several weeks.  I hurt my back and had two months of physical therapy — and that is why I haven't been blogging as planned.  Still hard to set for very long.  However, the sprinkler problem is fixed, we've added some features to the patio and as soon as the weather cooperates, Bytes will replace the plants and add more and we'll be back in business.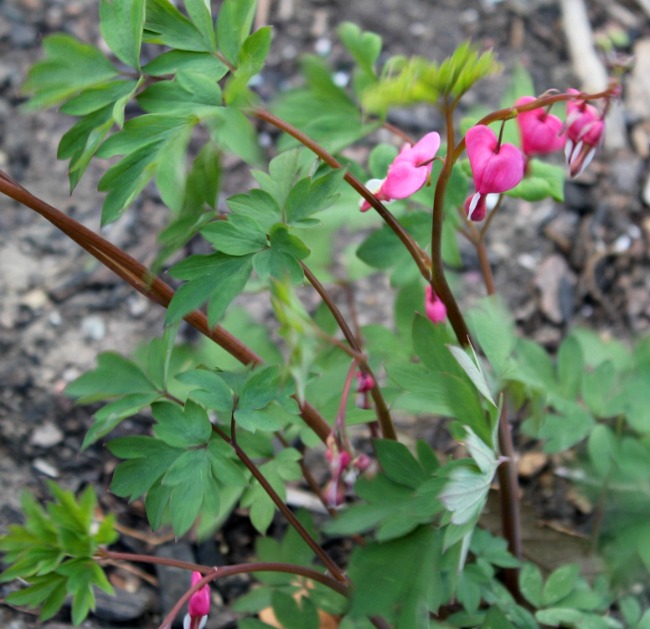 Bee, my sister,  gave me a start from the bleeding heart she'd moved from mom's garden.  It survived the travails of last summer — the only plant on that side of the walk to make it!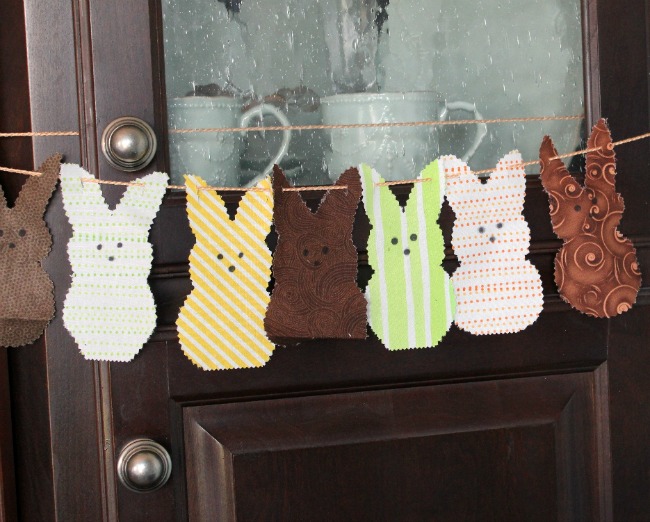 The Easter Peep and Chocolate Bunny garland my sister Kay gave each of us at the big Easter potluck and celebration Bee hosts each year.  Kay included the chocolate ones for chocoholic me . . .  knows me well.  It's good to be part of family celebrations!  And to add these gifts to our home.   Moving across country was hard — but it was the right decision that is confirmed with laughter and joy at each gathering.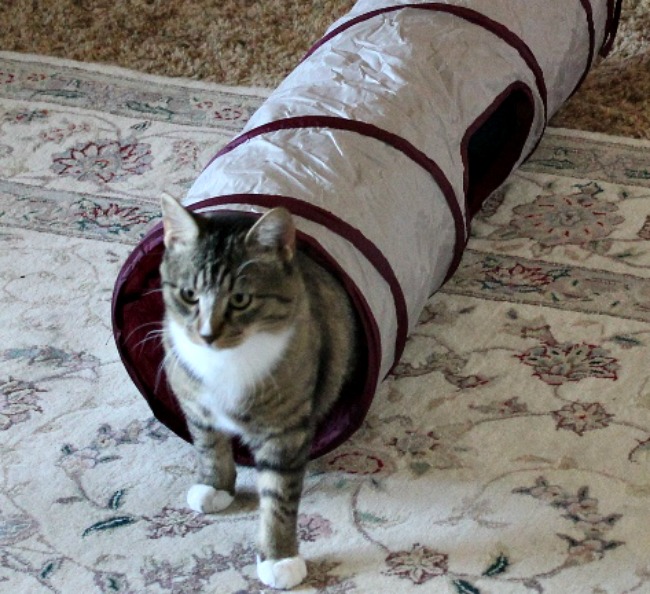 Rocky Cat was put on probation last Saturday.  He fanged me three times before noon.  With no provocation.  The last time, he was just hanging on my lap, almost asleep while Wheels and I were talking, and suddenly leaned over and put his open mouth on my upper arm.  Didn't actually bite but there was pressure enough to hurt.  I told him, if he did that again he was gone.   Wheels picked up the lamp Rocky smashed as he fled and told him the same thing.   Perfect angel since.   When we picked up kitty litter later, we also brought home a new challenge for him — a place to hide himself, to hunt for toys and treats and make crinkly noises.  Notice how the "kitty cave" matches the rug!   So totally planned – ha!
New Home updates:  Changing colors      Solar tubes    Painting Progress     Home Update Week 7    Home Update Week 11    Week 19 Painter's Progress   New Home Update Week 22    New Home Update Week 40    How to Choose Pendant Lighting      Front Door Makeover  and the 5 stages of a DIY project  
I'm so glad you stopped by today!   Be sure to follow A Pinch of Joy so you don't miss a thing!    If you found this helpful or inspiring, please share!  Your support of A Pinch of Joy is appreciated!
Save
Save
Save
Save