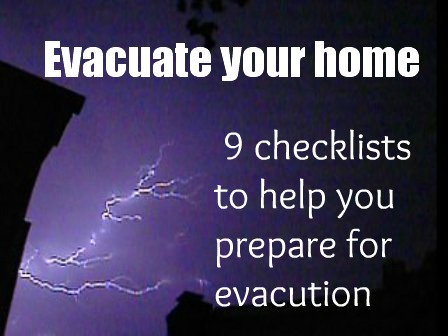 Colorado is one of my favorite states.  I've lived there twice and love the mountains, the breathtaking scenery and the endless list of recreational possibilities.  We've hiked trails, climbed mountains and waded streams–Wheels even panned for gold in some of them.  Now some of those beautiful places we enjoyed have been ravaged by fire.  Yes, trees may grow back – but it is a loss for years to come. As sad as that may be, even sadder is the loss of so many homes in areas that had never seen a burn before. Thousands of people left their home, some with very little notice,  not knowing whether or not the home would be still standing when they returned.  And hundreds of them found only ashes when they returned.
Evacuations happen more frequently than we realize.   Wildfires, floods and hurricanes were all in the national news during early summer of 2012.  Transportation and industrial accidents often only make the local news and may involve fewer people – but to those involved the size of the group does not matter.   We think it will never happen to us.  So did most folks who have been through an evacuation and the disaster that caused it.  We don't need to dwell on possibilities or worry needlessly.  However, a little planning and preparation in advance is an excellent investment of time and energy — just in case!  And for peace of mind!
Before an emergency happens, make several decisions on what you need to do.  Fill out the Advance Emergency Plan form —  like tonight or this weekend. Take a look at the other checklists, choose what apply to you, decide who will follow through on which advance preparations. The entire discussion should take about fifteen minutes.  Within the next two weeks gather all the items on the Go Packet List and follow through on other checklists you decide fit your situation. You may not be able to access information stored online or on your phone. Assume you will not have cellphone service or electricity, so plan for a written record of all contacts you may need. Place all paperwork in zipper plastic bags and store in easily accessible place.  Pack any other emergency items in watertight container and store conveniently.
Having to leave home unexpectedly can rattle anyone, even if with a day or two advance warning.  However, many disasters offer no time for people to gather even the most basic necessities, a good reason to prepare now.  By planning ahead, you will be able to use your time and energy wisely, making things a little easier to handle successfully.   If this information helps even one family, it will be well worth it!!
Checklists to download:
Click on the editable tables below  to open  in Microsoft Word
EMERGENCY CONTACT INFORMATION – numbers for health, repairs, insurance
FAMILY INFORMATION  – numbers and information you may need concerning your family
CONTACTS  – numbers of family, friends and others you may need to contact
Alternate Printable Contact List form  OR  Contact list in Excel.
Some of these forms come from previous posts. Invest a little more time and organize your entire financial life!  Check out A Pinch of Joy series on Organizing Your Financial Papers.   This method uses the financial papers gathered for income taxes as the basis for several other purposes.  Part 1 deals with filing taxes,   Part 2 prepares for emergency where someone else needs to handle your affairs, (I.C.E.),   Part 3 uses the information to set financial goals and plan ahead while  Part 4  helps you  build a budget by adding only a little more information.  This post is an expansion of Part 5 which introduced the Go Packet.
If you found this post helpful, please give it a Stumble, Tweet, Pin, or Facebook Like. Your support of A Pinch of Joy is greatly appreciated!
Don't miss a thing —  subscribe by email or RSS feed, follow on facebook or twitter to catch the latest post!
Linking up to these awesome parties here and   , Sundae Scoop, Linky Party Sunday, Nifty Thrifty Sunday,  Sunday's Best Party, Creative Blogger's Party and Hop, Sunday Showcase,  Mix It Up Monday, Make It Monday,  .Manic Monday,  .Make it Great,  ,  Market Yourself Monday,. Made By You Monday , Motivate Me Monday , Gunny Sack ,   More The Merrier, Polly Want a Crafter Inspire Me Monday, Show It Off, . . Tutorials and Tips    , Tasty Tuesday ,  Gathering Spot,  Totally Tasty Tuesday , Tuesday Talent Show,  Cowgirl Up, Wow Me Wednesday. . .  Cast Party Wednesday,  Anything Goes,  Mrs. Hines' Class,   Wow Me Wednesday, We Did It!, Home Décor and Organizing  . .   Full Plate Thursday , Show Off Your Stuff, Hookin' Up, , Share Your Creation,  Thrifty Thursday,   Chic and Crafty,    Catch a Glimpse  , Tasty Thursday ,   Crafty Blog Stalker . . . Flaunt It Friday,  Fridays Unfolded,    Inspiration Friday ,  Delicately Constructed , Simply Link Party,   Foodie Friday, Home and Family,  Weekend Wrap Up ,  Whatcha Got Weekend , Addicted2Decorating, Kitchen Fun,  The Grant Life , Shine on Fridays . . .. Strut Your Stuff Saturday , Serenity Saturday, Check Me Out,  Saturday Night Special,  Saturday Seven, Show and Tell Saturday,

Related posts: