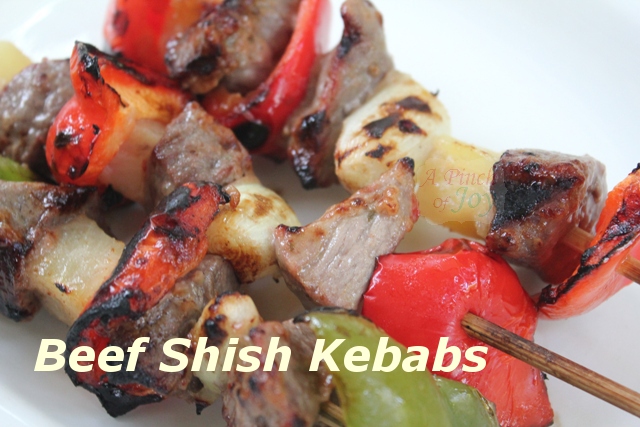 Dinner on a stick! Fun and colorful, shish kebabs make a nice change of pace for summertime grilling. They look and sound so glamorous for such a little bit of effort! Even the name is fun to say. Shish refers to the skewer and kebab means grilled meat in Turkish. The original Turkish recipes used lamb. With typical American adaptability, just about anything that will stay on a stick is "shished" and then "kebabed".
It is best not to mix the kind of meat used on one skewer. Chicken or pork need to be cooked well, but beef can be grilled to your desired doneness. Cut the meat into one inch squares and marinate for several hours, overnight is best. Cut the vegetables you choose into pieces larger than the meat, about one and a half inch square. Pineapple is often added to a kebab because it will stay on the stick and grill nicely and it offers a complementary taste. Sweet or hot peppers make good ends for your skewered meal as they tend to stay put. Leave just a bit of space between the items so they can cook thoroughly. Place the item to be skewered on a cutting board to pierce it and then push it into place, avoiding the sharp end. Bamboo skewers work well, but if you are concerned about doneness metal skewers will transfer heat to the interior of the meat. If the meat wants to "spin" insert a second skewer so you can turn the kebab on the grill and cook both sides. Lightly drizzle, or spray, the entire skewer full with oil before putting on the grill. Remember to discard any unused marinade.
Beef Shish Kebabs
Fun and colorful, dinner on a stick.
Author:
Charlene -- A Pinch of Joy
Ingredients
1 – 1 ½ pounds of steak or tender beef
1 large pepper, any color OR 2 small peppers of different color
Onion, either 8-12 green onions OR 1 large onion
1 8oz can pineapple chunks OR fresh pineapple, optional
Other vegetables: choose one or more
Button Mushrooms, zucchini, summer squash, firm fleshed tomato as Roma
Marinade – use your favorite recipe, your favorite store purchased marinade or Italian dressing.
Instructions
Cut meat into 1 inch cubes and marinate several hours, overnight is best.
Vegetables may also be prepped ahead of time by cleaning and cutting into pieces larger than the meat, one and a half inch squares or cubes, and storing covered in refrigerator, until needed.
If using bamboo skewers, soak in water 30-60 minutes before using.
Lightly oil grill rack. Preheat grill on high for 10 minutes.
Skewer meat and vegetables alternately in any order, beginning and ending with peppers. Spray finished kebab with oil.
Grill on medium high for 10-15 minutes, turning every five minutes until meat reaches desired doneness.
About 6 kebabs.
Please Pin! 
I'm so glad you stopped by today!   Follow A Pinch of Joy using the icons on the teal bar at the top of the page so you don't miss a thing!   I'd love to have your company on this venture!!  Share: if you found this helpful or inspiring please click one of the sharing buttons below!  Your support of A Pinch of Joy is appreciated!
Shared with these awesome link parties here