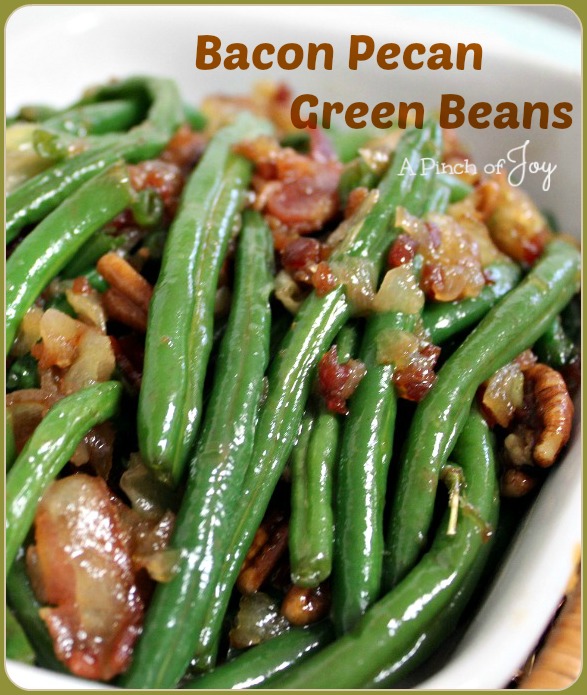 Bacon Pecan Green Beans are sensational!   Bacon!  Brown Sugar! Pecans!  Fresh Green Beans! Flavored with caramelized onions!  Oh my great goodness!    Forget the creamy bean casserole with the crushed onion topping that has graced the table since grandma started cooking.  It was – and still is – good -but this . . . . This is a game changing green bean dish!

A tableful of talkative adults turns into a very silent and focused "can't eat this stuff fast enough" bunch.  Forget the turkey or steak and whatever else is on the table.  Don't bother to breath until the last little bit of sugared bacon flavored pecan is gone.  It's that good!  Maybe not so good for socializing – but a treat for the taste buds! 
Use whole fresh beans, cleaned and tips broken off, if you can find them out of season.  Otherwise look for the steam bags in the produce section.  I'm not a fan of frozen green beans and don't ever think to buy them, so I haven't tried them in this recipe.   I have tried canned green beans.  It works okay.  But for color, texture and flavor to make the most of the whole experience – go for the fresh beans. 
This is not a hard recipe, but it can keep you busy for about 20-25 minutes right up to table time.  Cooking other things – like a holiday meal!—that will need your attention at the last minute? Toast pecans and brown the bacon up to a week ahead of time and store in tightly covered containers.  Use precut or frozen diced onion and cook the day before.  Then while the beans are cooking the day of the feast, all you need to do is bring the refrigerated items up to temperature, add the brown sugar and pecans and stir in the beans when they are done. 
For a holiday dinner you might also consider: Orange Glazed Cornish hens , Moist and Tender Turkey , Struesel Topped Sweet Potato Casserole , Fruity Cranberry Relish ,   Snickers Surprise Salad, Cheesecake Bars , Pumpkin Bars    Honey Banana Bread ,   Lemon Poppyseed Zucchini Bread
Featured at Miz Helen's Country Cottage on Full Plate Thursday.

Bacon Pecan Green Beans
Green beans served with a lip smacking combination of brown sugar, bacon and pecans.
Author:
Charlene - A Pinch of Joy
Recipe type:
Vegetable Side
Ingredients
2 pounds green beans, trimmed
½ cup pecan pieces
2 Tablespoons butter
1 medium onion chopped
¼ cup brown sugar
8 pieces bacon
Instructions
Before beginning to cook, snip bacon into one inch pieces and chop onion.
In dry non-stick 10 inch skillet toast pecans over medium heat until lightly browned. It will take 2-3 minutes. Stir frequently. Remove from skillet and set aside.
Add butter to 10 inch skillet in which you browned the pecans. When nearly melted add chopped onion. Cook, stirring occasionally until tender and translucent, about 10 minutes.
Place bacon pieces in second skillet on low/ medium heat until done and beginning to crisp. Remove from skillet and drain on paper towel.
As bacon and onions cook, steam beans in microwavable bag according to directions, OR bring water to boil in large pot, add beans and cook until crisp tender, about 5 minutes. Drain immediately when done.
When onions are done, add brown sugar, pecans and bacon. Stir gently until well mixed and coated.
Add beans and heat thoroughly.
Serve hot.

Welcome to A Pinch of Joy!  I'm so glad you stopped by today!   Follow A Pinch of Joy using the icons on the teal bar at the top of the page so you don't miss a thing!   I'd love to have your company on this venture!!  Share: if you found this helpful or inspiring please click one of the buttons below!  Your support of A Pinch of Joy is appreciated!
Shared with these awesome link parties here  
Save