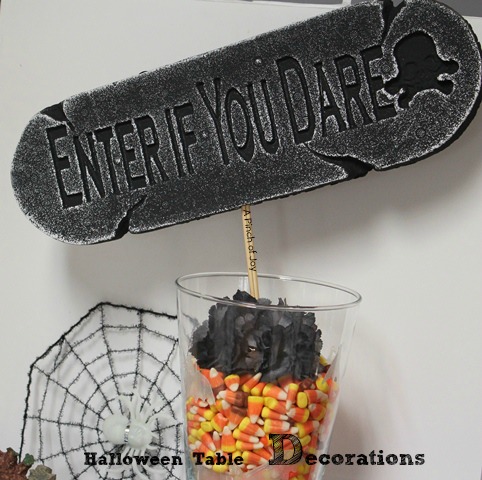 I needed table decorations for a quick little do planned for guests who are grade school age.  You could also use these decorations for any age group from grade schoolers to adult.  My main criteria was  inexpensive (aka CHEAP!).    I already had the large vase on hand and plan to put the candy corn to another use so they were the starters for my  table.  I added the candy corn to the vase, using an empty pint jar in the center  and pouring the candy corn around it.  That's still five cups of candy corn!
A trip to the dollar store and seven dollars later . . . . I added the white bats to the side of the vase by wiggling them in with a table knife.  It would have been easier to have put them in as I poured in the candy corn!  The foam sign needed a mounting stick so I scoured the garage and found paint sticks would not go into the foam, but the pointed end of two skewers slid right in.  Add that to the vase. Still needs something more —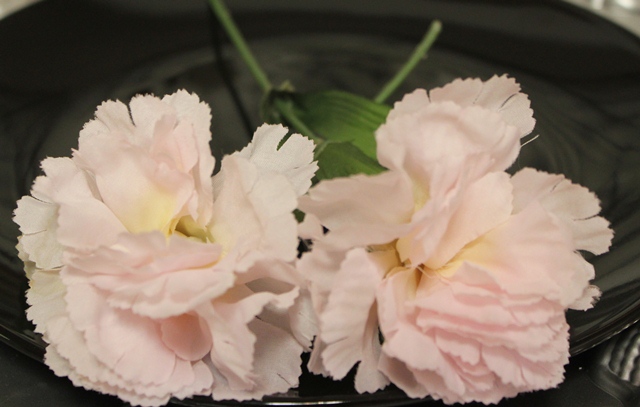 and my eye fell on these innocents  – remnants of another crafty project that hadn't made it back to the basement storeroom, yet. Hmmmmm . . .I reached into the garage cupboard.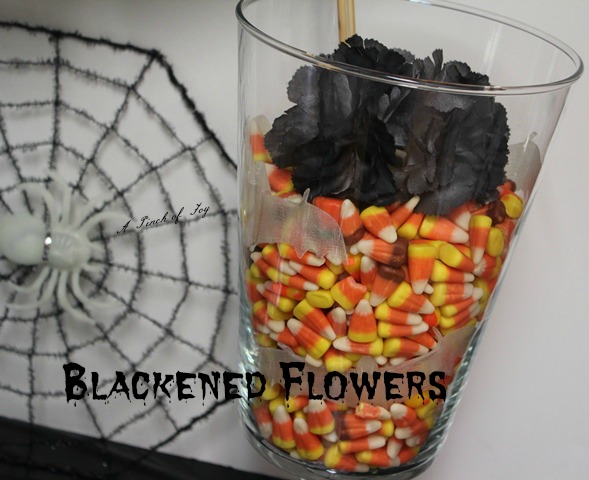 . . . and came up with a can of black spray paint.  Apply to the flowers lightly in a couple of coats, shaking the petals by holding the stem end so they don't stick together.  Don't try to completely coat the flower — just blacken it.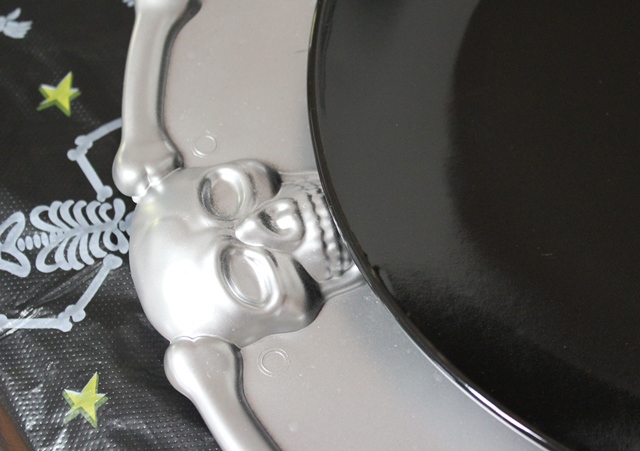 While rooting around in the spray paint cupboard, I spotted some matte nickel paint (left over from my venture in painting switchplates).   The skull charger from the dollar store was originally a see through smoky glass cheap looking plastic.  Don't you think it is classier now???  The black  plate is also from the dollar store — it remains unpainted.  Check back next time to see what snacks go on it!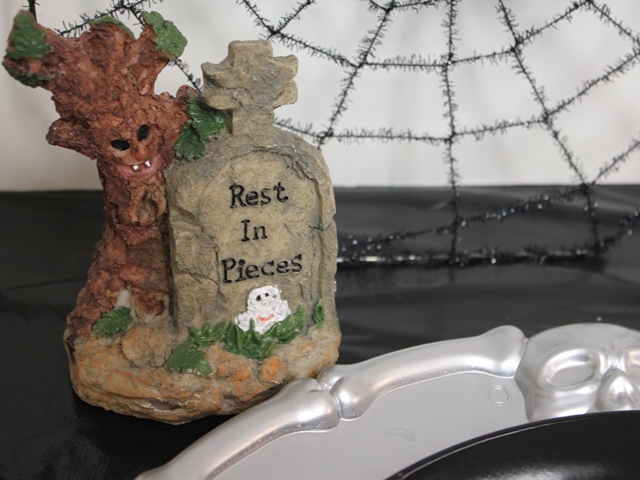 Also courtesy of the dollar store . . an ugly haunted figurine, the spider web and glow in the dark huge spider and the black tablecloth.  Don't have a dollar store available??  Check out grocery stores, drug stores and other stores for inexpensive tableclothes and dishes.  Choose items that can be spraypainted — including faux flowers!  Make your own spooky sign from cardboard, an old piece of wood or cardstock.  Use what you have around the house . . . an old jar filled with wads of black paper  or old newspaper can hold your sign.  Get inspired and have fun!
Shared with these awesome link parties here 
Need more Halloween ideas?  Check these links:    How to Make Pom Pom Spider   How to Make a Halloween Wreath  Elegant Halloween    Fun Foods for Kids Halloween Party   Preschool Party Snacks   Grasshopper Guts     Smashed Frogs    Zombie Brains   Candy Corn Fudge   Dirty Bones    Witch's Brew    Halloween Fudge  Halloween Games for Preschoolers
Don't miss a thing — subscribe by email or RSS feed, follow on facebook or twitter to catch the latest post! If you found this post helpful, please share.  Your support of A Pinch of Joy is greatly appreciated!