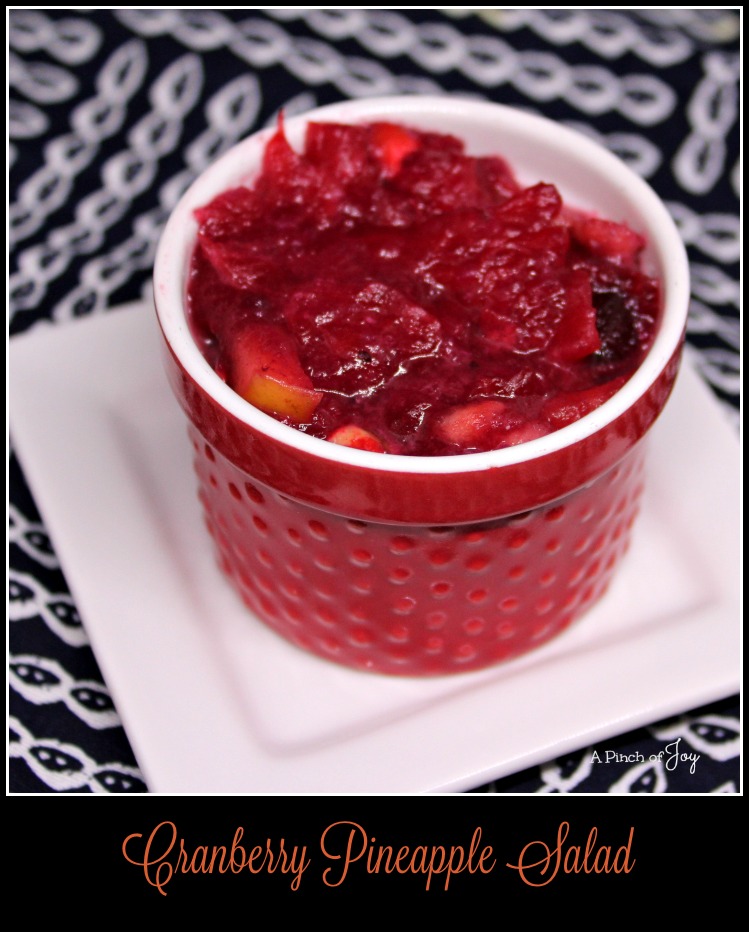 Cranberry Pineapple Salad is a kid friendly addition to holiday dinners.  The addition of crushed pineapple and diced apples in raspberry gelatin take away the signature tartness of the cranberry.  Easier for kids and people who aren't into tart – like me – to eat.  I have a tart reflex.  One bite and my face just folds – no way to hide it.   On the other hand this is not overly sweet either – but just right.  Cranberries are also healthy.  Cranberries are one of the top antioxidant-rich foods, containing more than other superfoods – including pears, grapes, apples and strawberries.  Antioxidants help prevent or stop cell damage.   For this reason,  you can serve them any time of year – don't wait for holidays!
This salad is also versatile in the ways you can serve it.  I like the minis as shown above  for buffet serving because you can pick up a single serving.  It's faster, neater and portion controlled.  The cupcake liners are a little less formal when served in the liner and have the same advantages.   Removing them and keeping a whole mold can sometimes be tricky, but if you can pull it off you can make a very pretty display.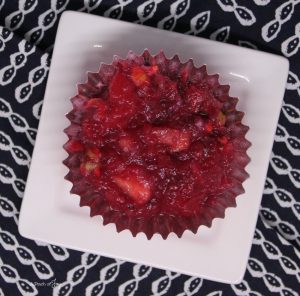 A large mold on a plate or or cake stand is spectacular.  (But I wouldn't have first hand knowledge of that since I don't own a large mold.)    I do however have a collection of ramekins and  collection of small molded salads also makes a statement dish, either on individual small plates or on a platter.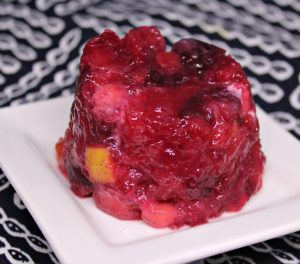 Or you can serve it in any pan that will hold 6 cups liquid.   This works well if you are transporting some distance to the meal.  I took this last Thanksgiving to a dinner for 40 odd people – yeah, odd meaning plus some in numbers and odd meaning odd! 🙂  But that's okay since we share the same sense of humor!  They are a lot of fun and I love them all dearly.    You can leave off the dollops of whipped cream cheese — they didn't add anything to the appearance or the taste.  Learn from my mistakes — you're welcome!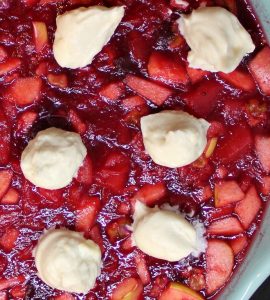 Use crushed pineapple, well drained, and sugar free jello.  I'm not usually brand specific but Ocean Spray Whole Cranberry Sauce seems to me to be somewhat thicker than other brands so makes a firmer mold.  Dice the apple so the pieces are fairly small so they are easily eaten.  I don't bother to peel the apples.  I used Gala, as that is usually what we have on hand, but really any apple will work.  I love nuts, but if you have someone with a nut allergy the walnuts can be optional.  Make ahead so the gelatin has time to firm – a perfect candidate for making the night before the Big Dinner.

Cranberry Pineapple Salad
A pretty, not too sweet and not tart, cranberry pineapple salad that also features apples and nuts! Easy to make and feeds a crowd.
Author:
A Pinch of Joy by Charlene Vance
Ingredients
1 20 oz. can crushed pineapple in juice, undrained
2 3 oz packages raspberry gelatin, sugar free
1 16 oz.can whole berry cranberry sauce
⅔ cup chopped Walnuts
1 apple, chopped
Instructions
Drain pineapple, reserving juice. Add enough water to reserved juice to measure 2-1/2 cups; pour into small saucepan. Bring to boil.
Add to dry gelatin mixes in large bowl; stir until completely dissolved.
Stir in pineapple, cranberry sauce, nuts and apples.
Spoon into mold, 24 cupcake liners or small ramekins, 8x8 pan other serving bowl.
Refrigerate 2-1/2 hours or until firm.
Nutrition Information
Calories:
90
Carbohydrates:
18 grams
Welcome to A Pinch of Joy!  I'm so glad you stopped by today!
Follow A Pinch of Joy using the icons on the teal bar at the top of the page so you don't miss a thing!   I'd love to have your company on this venture!!  Share: if you found this helpful or inspiring please click one of the buttons below!  Your support of A Pinch of Joy is appreciated!
Shared with these awesome link parties here