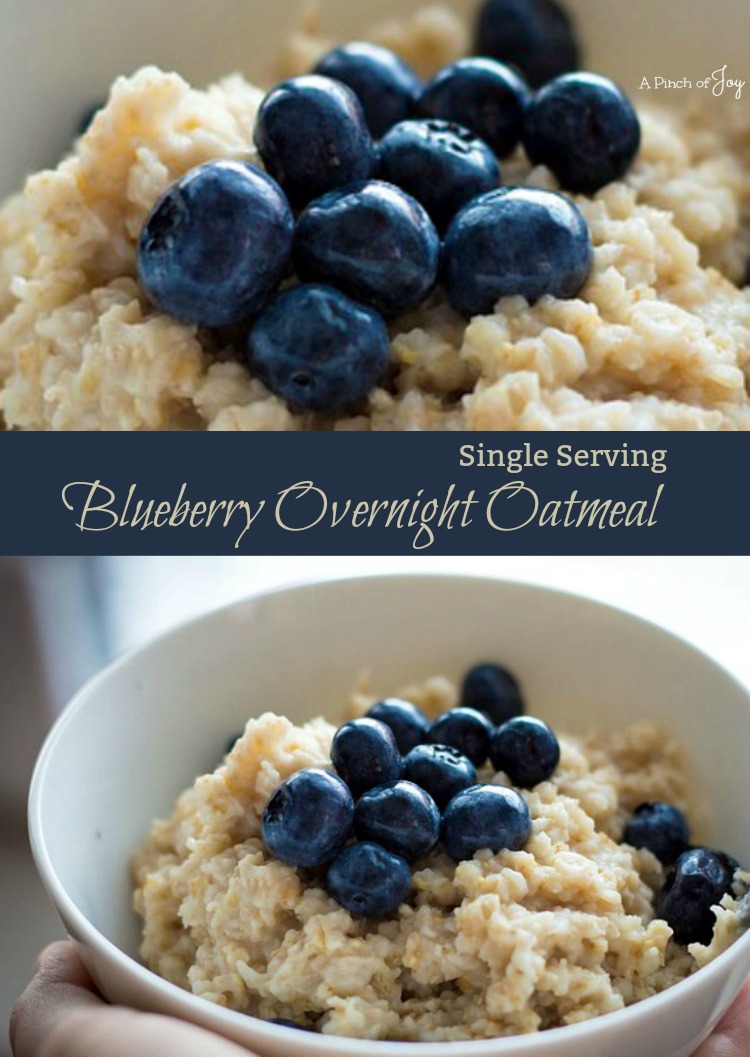 This single serving of blueberry overnight oatmeal is delicious and a nutritional powerhouse.   I like to use coconut, vanilla or blueberry yogurt instead of plain to give a little extra boost to the flavor.  I use Light and Fit Greek yogurt, but any low carb brand can be used. I also use almond milk, but you could use your favorite dairy milk instead.    Mix in a covered refrigerator dish or pint jar to store overnight.  Add blueberries before serving. Eat at home or throw (tightly covered!)  in your back pack to eat at your destination.
Blueberries are an excellent source of antioxidants, which protect body cells from free radicals.  Free radicals are the villians that damage cells,  contributing to aging and diseases, such as cancer.  Blueberries are believed to have one of the highest antioxidant levels of all common fruits and vegetables  and have been shown to increase antioxidant levels in your body.  Blueberries can contribute to lowered blood pressure, positively effect  cholesterol, have beneficial effects on insulin sensitivity, and  improve brain health and memory.  Blueberries are nutrient-dense. One cup of blueberries has 4 grams of fiber, 25% of recommended daily vitamin C and manganese, 36% of the daily requirement of vitamin K with only 84 calories and 15 grams of carbohydrates.  Pretty impressive!  Plus they are colorful, sweet and delicious!

Blueberry Overnight Oatmeal Single Serving
This single serving of overnight oatmeal is delicious and a nutritional powerhouse.
Author:
A Pinch of Joy by Charlene Vance
Ingredients
⅓ cup oatmeal, old-fashioned
⅓ cup Greek yogurt
⅓ cup almond milk, unsweetened
1 tablespoon chia seeds
½ tablespoon honey
1 teaspoon vanilla extract
¼ teaspoon cinnamon
¼ cup blueberries
Instructions
In medium cereal bowl, measure milk, yogurt, honey and vanilla and stir together.
Add oatmeal, cinnamon and chia to the bowl and stir until well mixed.
Cover the bowl with cling wrap and place refrigerator overnight.
Add blueberries just before serving.
Notes
Nutritional values will vary with different brands, preparation methods, etc. and are offered merely as a guide. They are not a substitute for information from medical professionals.
Nutrition Information
Carbohydrates:
31 grams,
Protein:
16 grams,
Welcome to A Pinch of Joy!  I'm so glad you stopped by today!   Follow A Pinch of Joy using the icons on the teal bar at the top of the page so you don't miss a thing!   I'd love to have your company on this venture!!  Share: if you found this helpful or inspiring please click one of the buttons below!  Your support of A Pinch of Joy is appreciated!
Shared with these awesome link parties here