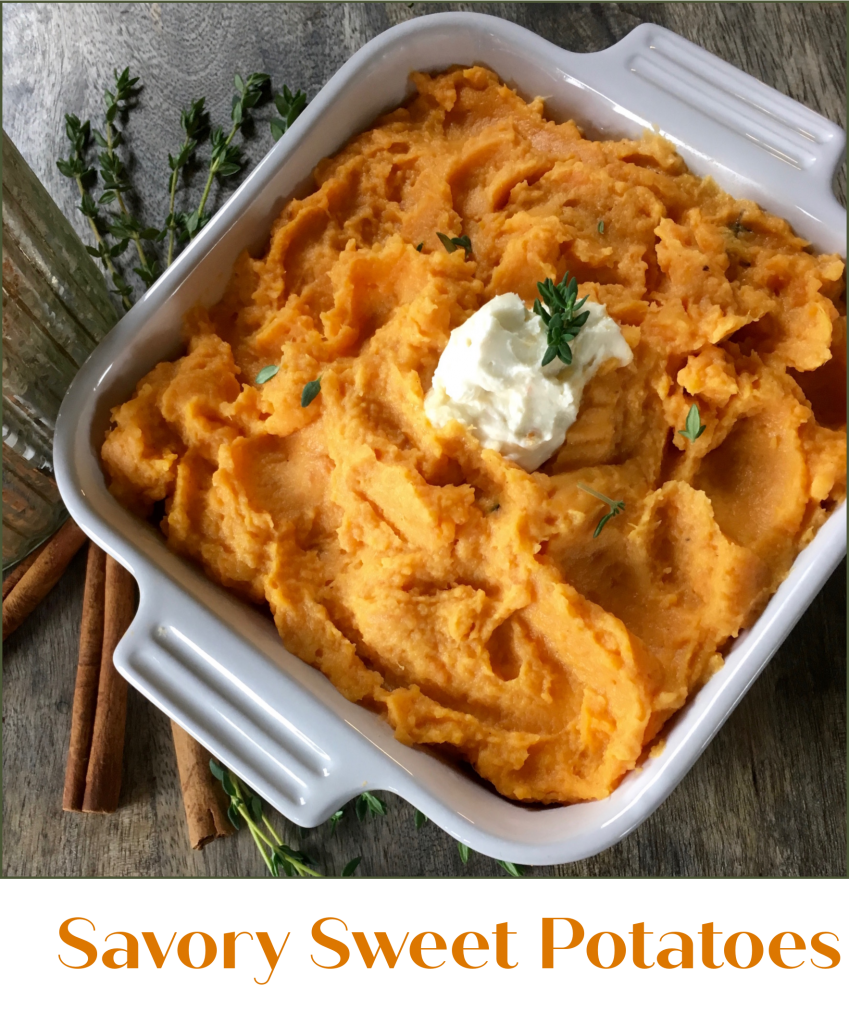 Rich, creamy mashed sweet potatoes are the perfect side dish for any holiday meal. They are so quick and easy , you'll want to enjoy them throughout the year.  Sweet potatoes are as nutritious as they are delicious. They contain fewer calories and are higher in fiber, Vitamin A, and Vitamin C than their white counterparts.  See the infographic from Cleveland Clinic below for a quick comparison.
You can peel and cut the sweet potatoes in small, uniform cubes before adding to water for boiling. Cook until sweet potatoes are soft enough to pierce with a fork.  Remove from heat and drain.  OR you can put whole, and thoroughly washed, sweet potatoes in a medium to large pot, cover with water and bring to a boil.  Cook until sweet potatoes are soft enough to pierce with a fork. Remove from heat and drain.  Let sweet potatoes cool until you can comfortably handle them, for about 5 minutes, and then pull the skins off with a knife or your fingers.
I don't like to take time to peel before cooking,  especially if the sweet potatoes are irregular in shape and sizes.  So I usually use the second method.  Either way, when ready to mash the sweet potatoes, return them to the pot or a large mixing bowl.  Use a hand held mixer or an immersion blender to break up the potatoes somewhat and then add cream cheese, butter and half and half.  Whip until light and somewhat fluffy.  If you want a thinner consistency add more half and half and beat until it is "just right" to quote that famous housebreaker, Goldilocks.  Stir in seasonings, top with whipped cream cheese.  Beautiful and savory dish for your family!
For your holiday menu, you might also like Fruity Cranberry Relish, Blushing Peach Pie, or Spiced Pineapple Carrot Cake.   For the main dish see Tender Turkey  or Fruity Pork Roast. Here are some Thanksgiving games for the kids  and check out Thanksgiving Tablesetting with some more menu suggestions!

Savory Sweet Potatoes
Creamy and savory mashed sweet potatoes are a great side dish for any holiday meal. However, They're so quick and easy to make, and so nutritious, you'll want to have them anytime.
Author:
A Pinch of Joy by Charlene Vance
Ingredients
4 large sweet potatoes, peeled and cubed (*see above)
3 Tablespoons butter, room temperature
4 ounces cream cheese, softened
2-3 T ablespoons half and half
2 Tablespoons thyme leaves, minced (fresh, if available)
2 teaspoons cinnamon
1 teaspoons ground all-spice
Salt and pepper, to taste
Whipped Cream Cheese Topping (optional)
Blend 4 oz. softened cream cheese, 3 tablespoons half & half, and a dash of cinnamon with an immersion blender or hand-held mixer until light and fluffy. Store any leftovers, covered, in the refrigerator.
Instructions
Place sweet potatoes in a large pot and cover with cold water. Bring the water to a boil and cook until potatoes are fork tender, approximately 15-20 minutes. When potatoes are cooked, drain and return to the pot. OR drain and peel, as above.
Add butter, cream cheese, and half & half to sweet potatoes. Mash with immersion blender or hand-held mixer. For a thinner consistency, add more half & half as needed.
Once the potatoes are smooth and light, stir in thyme leaves, cinnamon, and allspice until well blended. Season with salt and pepper, to taste.
Serve immediately topped with a spoonful of whipped cream cheese and/or toasted walnuts (optional).
Nutrition Information
Serving size:
5 oz
Calories:
154,
Carbohydrates:
27 grams,
Protein:
4 grams,
I'm so glad you stopped by today!   Follow A Pinch of Joy using the icons on the teal bar at the top of the page so you don't miss a thing!   I'd love to have your company on this venture!!  Share: if you found this helpful or inspiring please click one of the buttons below!  Your support of A Pinch of Joy is appreciated!
Shared with these awesome link parties here