Pin It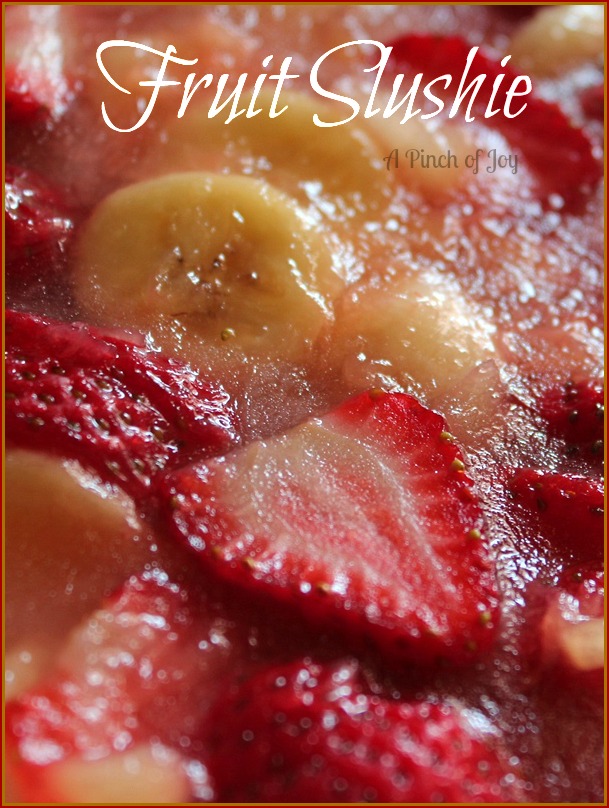 Last summer we visited my sister Vee.  They were preparing to repair a storm damaged roof and she had a crew of family coming in for the task.  When I asked what I could do to help prepare food for them, she told me to use the bananas on the counter and make a fruit slushie.  As if I knew what that was and made it all the time.  She seemed to think that since I grew up in the same household, I would immediately know what that was and how to do it.  Ummm – noooo.  That's why the six of us are always teasing about growing up with the "other" family.  Even as brothers and sisters growing up with the same adults at the same address, we don't have the same experiences.   Once we had ascertained my complete ignorance

, she provided me with a recipe card (which looked like she had referred to it frequently!). 
I used hot water to dissolve the sugar.  The concentrate juices were thawed to the point they were soft, but still a bit crystalline.  A quick peel of the bananas  and cut evenly into not quite a quarter inch thick slices.  A can of crushed pineapple with juice.  Crystalline not fully thawed frozen strawberries. Mix, pour into a 9x 13 pan and freeze.   Just that quick!  Vee noted some substitutions their family liked using different fruit or freezing in a different shape.  This is a regular part of their summer rotation for summer meals and snacks.  Kids love the refreshing cold and the fruity flavor.

The roofing crew arrived and swarmed over the roof.  When time to serve, the Fruit Slushie was quickly scooped on to plates and vanished in very short order.   The roof was completed in almost record time.  Had to have been the Fruit Slushie . . . . it IS pretty darn good!  And full of healthy goodness. 
To save this recipe to your ZipList Recipe Box, click the blue button.  To find out more about ZipList, click here
A fruit filled healthy and refreshing summer treat
Ingredients
½ cup sugar
2 cups water
1 6oz can frozen orange juice concentrate, thawed
1 6oz can frozen lemonade concentrate, thawed
4 bananas sliced
1 20 oz can crushed pineapple with juice
1 10 ounce package frozen strawberries, thawed
Instructions
Dissolve sugar in water. Add orange juice and lemonade.
Mix in sliced bananas, crushed pineapple with juice, and strawberries.
*Alternatively you can add or substitute other fruit such as blueberries and/or mandarin oranges
Pour into 9/13 inch glass pan.
Freeze until solid, at least two hours.
When ready to serve, let it set out for 10-15 minutes before attempting to cut.
*Alternatively you can freeze as popsicles. Use paper cupcake liners, a silicone muffin pan or 3 oz paper cups.
Notes
Charlene @ A Pinch of Joy
http://www.apinchofjoy.com/2013/07/fruit-slushie/
I'm so glad you stopped by today!   Be sure to follow A Pinch of Joy so you don't miss a thing! 
Subscribe by email  on the sidebar or follow on Facebook, RSS feed, bloglovin' or twitter   using the links here or the blue buttons on the header!   Follow  my pinterest boards here.    If you found this helpful, please share on your favorite network by clicking one of the buttons on the bottom of this post.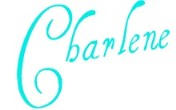 ~~~~~~~~~~~~~~~~~~~~~~~~~~~~~~~~~~~~~~~~~~~~~~~~~~~~~~~~~
Linking up to these awesome parties here and, Nifty Thrifty Sunday, Sunday Showcase, Let's Get Social,  Mix It Up Monday,.Manic Monday, ., Masterpiece Monday , Market Yourself Monday,. Made By You Monday , Motivate Me Monday ,  Marvelous Mondays,  Time to Sparkle More The Merrier, Motivating Mondays,  In and Out of the Kitchen,  Inspire Me Monday,. . Tasteful Tuesdays,  One Project at a Time,   Tutorials and Tips , Tasty Tuesday , Titus 2 Tuesday, Tuesdays Treasures , The Scoop,  Gathering Spot, Melt In Your Mouth Monday, Totally Tasty Tuesday , Tuesday Talent Show, Tried and True, Back for Seconds Social,  Wow Me Wednesday. . . Cast Party Wednesday,  Wow Me Wednesday, The Creative Spark, Whatever Goes, Show and Share, We Did It!, , 36th Avenue, Tutorials tips and tidbits,  Wonderful Wednesdays, Wednesday Extravaganza, Wildly Original  . .  . Centerpiece Wednesday, Full Plate Thursday , Show Off Your Stuff, Hookin' Up, , Share Your Creation, Chic and Crafty, Showcase Your Talent, Catch a Glimpse , Crafty Blog Stalker , Pin Inspiration Thursday, Grace at Home,  Kitchen Fun, Tasty Thursday    Thrifty Thursday. . .I'm Lovin' It,  Flaunt It Friday,  What's Shakin   .Foodie Friends Friday, ,  Inspiration Friday ,  Delicately Constructed , Simply Link Party, Foodie Friday, Weekend Wrap Up , Whatcha Got Weekend , The Grant Life , Shine on Fridays, Create and Inspire, Anything Goes. Simple and Sweet Fridays,   Show and Tell Friday,Be Inspired Friday,       Pinworthy Projects,   Thrifty Things Friday . .Saturday Spotlight,  What's Shakin .  Totally Overflowing,  Sundae Scoop,   Strut Your Stuff Saturday , Pinterest Blitz, Serenity Saturday,  Check Me Out, Saturday Night Special, Saturday Seven, Show and Tell Saturday, Saturday Dishes, Pinterest Blitz,    A Bouquet of Talent,