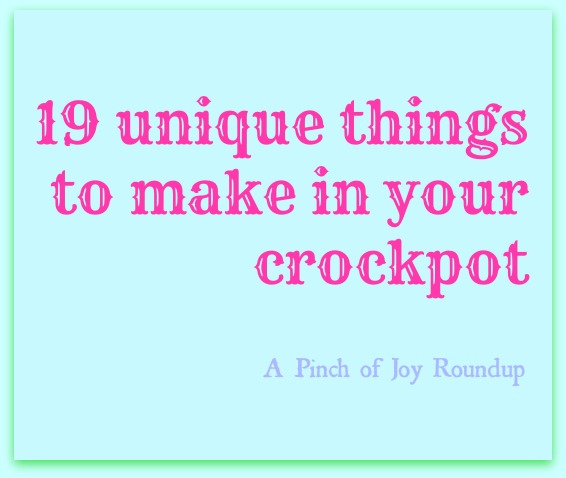 Sharing with you  unique things to make in a crockpot I found while I was looking for ideas to use during my two weeks without a kitchen stove.   I didn't have time to experiment with these ideas — way too busy running to home improvement stores, wielding a broom and trying to keep projects sorted out and equipped.   Let me know if which is your favorite idea and how it turned out when you experimented with it!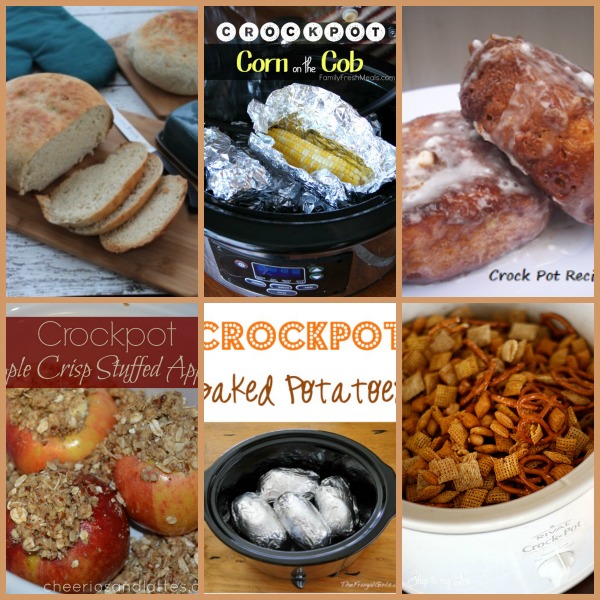 Bargains and Values —  Basic Crockpot Bread     Family Fresh Meals — Crockpot Corn on the Cob      Crockpot Recipe Exchange —    Iced Cinnamon Biscuits      Cheerios and Lattes — Crockpot Apple Crisp Stuffed Apples    The Frugal Girls —  Crockpot Baked Potatoes     Skip to My Lou — Crockpot Chex Mix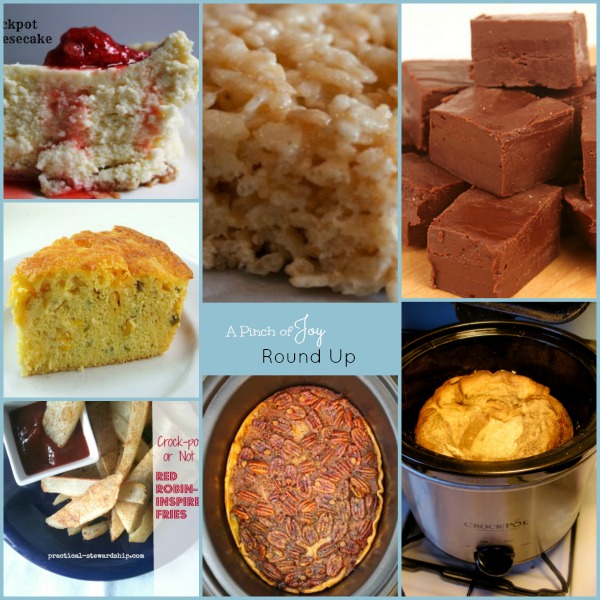 A Pinch of Joy — Crockpot Cheesecake     Get Crocked — Crockpot Rice Krispy Treats     Skinny Slow Cooker  — Fudge   Moms with Crockpots — Crockpot Mexican Cornbread   Practical-Stewardship — Red Robin Inspired Fries in Crockpot   Jaime's Recipes — Crockpot Pecan Pie   The Cake Eccentric — Crockpot French Toast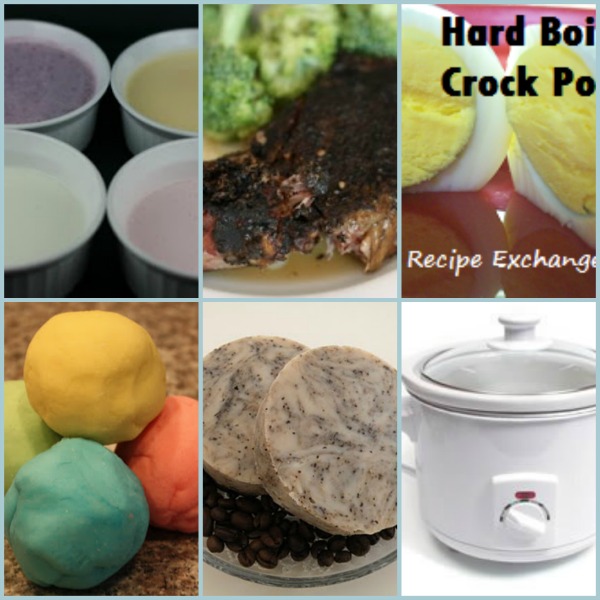 Stephanie Dea: A Year of Slow Cooking  You Can Make Yogurt in Your Crockpot   and  You Can Use Your Crockpot as a Smoker   Crockpot Recipe Exchange — Hard Boiled Eggs    Repeat Crafter Me — Crockpot Play Dough    Heart, Hands, Home — Crockpot Coffee Kitchen Soap    Apartment Therapy —  How to Slow Cook Paint Off Hardware
Follow my Crockpot Cooking Board on Pinterest! 
You might also  like some of these crockpot recipes I have posted:
Crockpot Lasagna
Creamy Italian Ranch Crockpot Chicken
Crockpot Chicken and Dressing
Crockpot Calico Beans
Aloha Chicken with Pineapple  and Honey
I'm so glad you stopped by today!   Be sure to follow A Pinch of Joy so you don't miss a thing! 
Subscribe by email  on the sidebar  or follow on Facebook, RSS feed, bloglovin'  twitter  and check out my  pinterest boards.   If you found this helpful or inspiring please share below!  Your support of A Pinch of Joy is  appreciated!