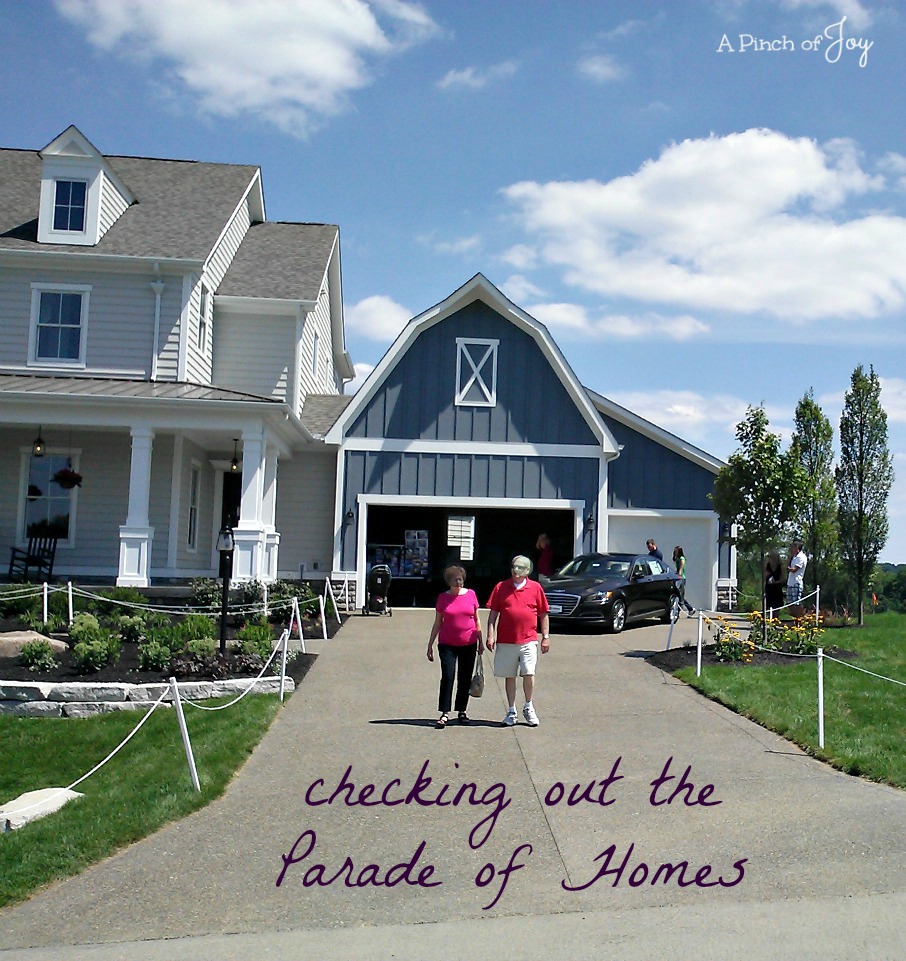 Wheels and I toured the local Parade of Homes recently, along with hundreds of others like the couple above. The general theme was horse country so there were lots of visual references to rural life, like the barn looking garage.   Of course, the homes were beautiful, showed off the builders best and were in the not quite a million dollar price range. Three car garages were the standard and there were a couple of four car garages. Six bedrooms, each with a bathroom. Some had main floor master suites as well as a second floor master, a couple also had a mother in law suite on the lower level.   A couple of bathrooms on the main level and more on the lower level gave each house between 5 and 8 bathrooms. Half had full movie theaters with room sized screens and theater seating. In each of those houses, the adjacent bar space also had a very large screen. And another very large screen in the family space next to that. (Think open concept. Think Frozen in the family area, action film in the theater and chick flick in the bar all at once!) All had multiple decks/patios, including one roof top deck and several that opened into the master suite. Several had doggie showers, and one had a small doggie suite,  near the main floor laundry. Quite a lifestyle statement overall!
We went for ideas and found them everywhere. The ones that appealed to us and made the time worthwhile were the affordable ones. Like color. I was delighted to see the turquoise and gray colors in our house well represented in the show homes. Trend setters, we are! The accent colors most often used with that combination were yellow and coral. Loved both of them! 
Beautiful molding in one house gave an idea for a little problem corner in our new kitchen and helped refine the concept for our master bedroom (see the photo above. I won't be using the emerald green color scheme, though.) In another house, curtains fastened to a piece of one x four inch pine and mounted like shelves above the eight foot windows drew a lot of attention from DIYers, who peeked behind to see why there were no rods. We clustered around and named off the parts needed from the hardware store and speculated as to how curtains were fastened on top to maintain the pleats. Sorry the picture didn't work! Next time I will take the camera and plan to take pictures,  not just decide to use a cell phone halfway through the tour!
Another house had the solution for a tiny bathroom window treatment I've been puzzling over. The corrugated tin roofing used as wainscoting looked cool in the teen guy's bedroom – but I won't be using that idea.  Or the hundreds of individual one inch crystals nailed individually to the bathroom wall. Or some other concepts that were equally intriguing, arty and just weird. But there are lots of other little ideas that will find their way into use!  
One not quite teen girl was walking with her mother ahead of us as we were leaving. "I can't wait to get home", she said, "and repaint my room and start doing things around the house!"   I'm with her! Can't wait!
I'm so glad you stopped by today!   Be sure to follow A Pinch of Joy so you don't miss a thing! 
Subscribe by email  on the sidebar  or follow on Facebook, RSS feed, bloglovin'  twitter  and check out my  pinterest boards.   If you found this helpful or inspiring please share below!  Your support of A Pinch of Joy is  appreciated!