Pin It
Sneak peek!  Coming soon!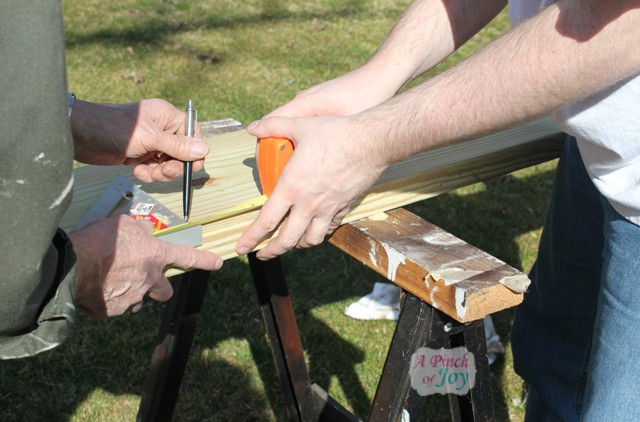 The weather has been summery – astounding for March!  The weather people are crowing about  record highs in the 80's for the last three days.  And we've taken advantage of it, with long walks and lots of time in the garden.  In fact, we are trying something new this year and having good weather  to work on it is wonderful.  Above is a sneak peek – I can't wait to share more as it all comes together.  Meals when we are concentrating on a project are usually do ahead.  Last night I reached back in the archives from the very first days of A Pinch of Joy.  One of our long time favorites and a great make ahead main dish  –Fruit and Curry Chicken Salad.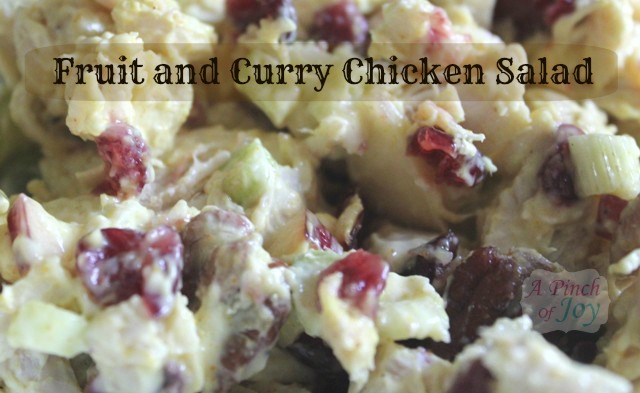 This is a festive, flavorful salad perfect that is so versatile. It is not spicy, but is uniquely and wonderfully flavored.  A party on the tongue!   It is the first thing I think of when I need something for a luncheon because it can be served so many different ways. Great by itself it also goes well with croissants or any delicately flavored quick bread.  It works well for a Christmas brunch or late dinner.   With crackers or toasted rounds, it makes a delightful appetizer.  We love it for cool summer suppers with a salad and corn on the cob or a light dessert. Last night I served it with crusty Italian bread on the side, a huge tossed salad and ice cream for dessert.  Great change from the wintry fare we would usually be eating this time of year!
Did you know that curry is a combination of spices?  Families in southern Asia have their own "secret" blends that can contain up to 20 different herbs and spices, depending on the region and traditions.  Many blends include cumin, mustard, chili powder, cinnamon, coriander, and tumeric.  It is the tumeric that gives curry the signature color. The chili powder gives heat according to the quantity used.  Americans often associate curry with Indian cuisine.  The only association with India is that the British army adopted a version of  for use in rations during British colonial days in India.  The British are responsible for the Western world's version of curry powder and the dishes prepared with it, while people from India do not use the term at all.   The word curry most likely comes from the Tamil region of India, where the word "kari"  refers to a sauce, cooked vegetables or meat.
Fruit and Curry Chicken Salad
Ingredients
2 cups, cooked and diced chicken breast (3 large or 4 medium breasts)
1 stalk of celery, cut
4 green onions, chopped
1 apple, cored and diced (preferably sweet as Delicious or Gala)
1/3 cup golden raisins or original craisins
1/3 cup seedless green or purple grapes, halved
½ cup pecan pieces
½ tsp curry powder
¾ cup mayonnaise
Pepper to taste
Instructions
Mix together mayonnaise and curry.
Add all other ingredients, except the chicken, and stir well.
Add chicken. Folding in gently will keep it chunky for a stand alone dish. Stirring vigorously will break chunks apart for a more uniform texture to serve on a croissant or other bread.
Chill several hours, overnight is even better, to develop the full fruity flavor.
11 carbs, 15 grams protein per serving
http://www.apinchofjoy.com/2012/03/chicken-curry-and-fruit-salad/
Be sure to check out Busy Monday Link party for great ideas from around the web!  Previous parties are archived under the Connecting button on the tool bar at the top — just waiting to inspire you anew!
Don't miss a thing!  Subscribe to get new posts by email,  follow on facebook, twitter or by RSS.  If you see something you like, use the Pin button on the top or one of those cute little share buttons down below!
Have a joyful day!
Linking to these awesome parties:   Sundae Scoop, Linky Party Sunday, Nifty Thrifty Sunday,  Sunday's Best Party, Creative Blogger's Party and Hop, . .. Make it Great  Melt In Your Mouth  , Mouth Watering Monday,  Market Yourself Monday,. Made By You Monday , Motivate Me Monday , Gunny Sack ,  Just Something I Whipped Up,  More The Merrier, Show Me How, Polly Want a Crafter  . .    , Tasty Tuesday , Delicious Dishes,  Tea Party Tuesday, Crazy Sweet Tuesday, Totally Tasty Tuesday , Tuesday Talent Show, Topsy Turvy Tuesday,  Show Me What You Got,  Tuesday To Do,   Tutorial Tuesday,    Wow Me Wednesday. . .  Whatever Goes Wednesday ,    Rock 'n Share .the Sasse Life  ,  This Chick Cooks , Cast Party Wednesday, Anything Goes, Chatty Chics,  Wow Me Wednesday,  Show and Tell . . .   Full Plate Thursday , Show Off Your Stuff,  Creative Juice,  Crafty Soiree,     Hookin' Up, , Share Your Creation,  Thrifty Thursday,  Saved By Love,     Catch a Glimpse  , Tasty Thursday , Craftionary  . . Flaunt It Friday,  Fridays Unfolded,    Inspiration Friday ,  Everybody's Creative Endeavor,  Delicately Constructed , Simply Link Party,   Foodie Friday,  Weekend Wrap Up ,  Whatcha Got Weekend , Addicted2Decorating, Kitchen Fun, Toys in the Dryer, Spunky Diva, The Grant Life,   Farm Girl Friday . . .. Strut Your Stuff Saturday , Serenity Saturday, Check Me Out,  Saturday Night Special,  Saturday Seven, Show and Tell Saturday,