Pin It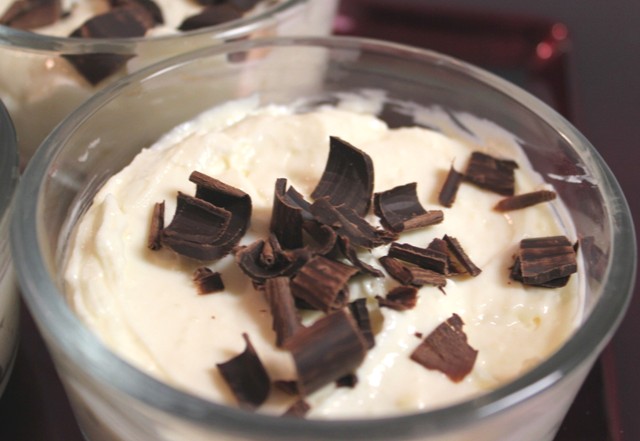 Today is National Cheesecake Day!  At least according to the Kraft people – who may or may not have a vested interest in such a day.  But any excuse for a cheesecake, I say!
People often think that dessert is the first thing to go for those who are watching carbs, calories or otherwise eating healthy.  The old "if it is fun, tasty, or pleasurable  then it must be bad for you" theory.  Not true.  The occasional indulgence in a truly decadent dessert will not hurt if you fill your plate with healthy food the rest of the time.   Nor is it true that desserts are to be ignored on a regular basis.   Some decadent looking desserts use ingredients that have reduced carbs, calories or whatever else you are watching.  Some desserts are healthy on their own and others bring a spark of taste that makes a meal complete.     Didn't know that the dessert issue was so complex, did you?
Here is a cheesecake dessert that is not complex.  Very simple with three ingredients.  A blank slate for whatever garnish you choose.  Or not.  You can put it into a graham cracker crust.  Or not.  You can see I chose the chocolate garnish, no crust option.  I like to divide this cheesecake into ramekins shown because they come with lids and I can save half the dessert for another meal very easily.  Dividing it into individual containers also provides automatic portion control.  The chocolate garnish is simply a Dove Dark or Hershey's Dark Bliss shaved with a sharp knife over the top of the cheesecake.  This dessert does need to be made a couple of hours ahead of time, but it is quick and easy.   It's been in my computer recipe file for a long time with no attribution — may have even come from Kraft.
This recipe was featured on Chatty Chics.
If you'd like another basic cheesecake take a look at this Crockpot Cheesecake.
Happy Cheesecake Day!
Ingredients
1 8 ounce package of cream cheese
1 1/2 cups milk
1 package sugar free pudding mix, cheesecake or vanilla flavor
1 ready made graham cracker crust OR make graham cracker crust using favorite recipe
Garnish, as chocolate, fresh strawberries or raspberries
Instructions
Whip cream cheese in medium mixing bowl with mixer until there are no lumps.
Add milk, about a quarter cup at a time, and beat until milk is incorporated. Mixture will be liquid.
Add pudding and beat until mixture begins to thicken well.
Turn into crust or serving container and chill for at least two hours.
Garnish before serving.
Makes 6 servings. Approximately 9 carbs per serving.
http://www.apinchofjoy.com/2012/03/no-bake-easy-cheesecake/
Be sure to check out Busy Monday Link party for great ideas from around the web!  Previous parties are archived under the Connecting button on the tool bar at the top — just waiting to inspire you anew!
Don't miss a thing!  Subscribe to get new posts by email,  follow on facebook, twitter or by RSS.  If you see something you like, use the Pin button on the top or one of those cute little share buttons down below!
Have a joyful day!
Linking up to these awesome parties here and   , Sundae Scoop, Linky Party Sunday, Nifty Thrifty Sunday,  Sunday's Best Party, Creative Blogger's Party and Hop, . .. Make it Great  Melt In Your Mouth  , Mouth Watering Monday,  Market Yourself Monday,. Made By You Monday , Motivate Me Monday , Gunny Sack ,  Just Something I Whipped Up,  More The Merrier, Show Me How, Polly Want a Crafter  . .    , Tasty Tuesday , Delicious Dishes,  Tea Party Tuesday, Crazy Sweet Tuesday, Totally Tasty Tuesday , Tuesday Talent Show, Topsy Turvy Tuesdays Wow Me Wednesday. . .  Whatever Goes Wednesday ,    Rock 'n Share .the Sasse Life  ,  This Chick Cooks , Cast Party Wednesday, Anything Goes, Chatty Chics,  Wow Me Wednesday,  Show and Tell . . .   Full Plate Thursday , Show Off Your Stuff, Hookin' Up, , Share Your Creation,  Thrifty Thursday,      Catch a Glimpse  , Tasty Thursday , Craftionary  . . Flaunt It Friday,  Fridays Unfolded,    Inspiration Friday ,  Everybody's Creative Endeavor,  Delicately Constructed , Simply Link Party,   Foodie Friday,  Weekend Wrap Up ,  Whatcha Got Weekend , Addicted2Decorating, Kitchen Fun, Toys in the Dryer, Spunky Diva . . .. Strut Your Stuff Saturday , Serenity Saturday, Check Me Out,  Saturday Night Special,  Saturday Seven, Show and Tell Saturday,