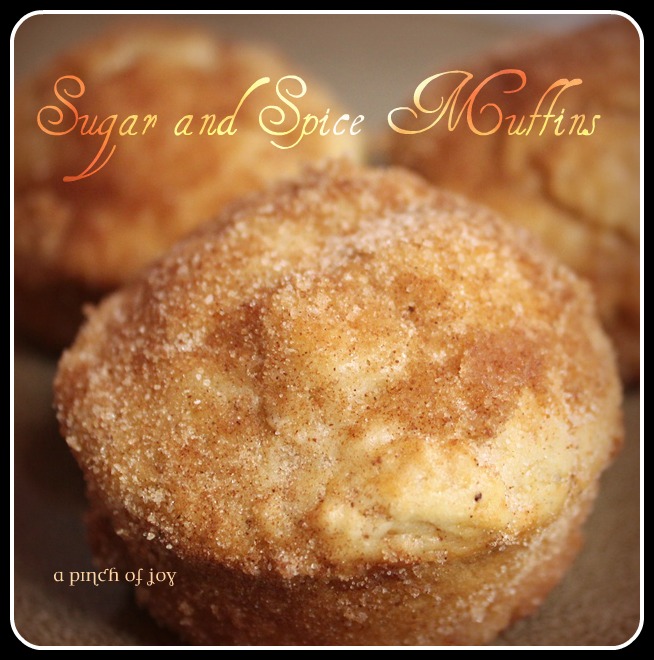 French Breakfast Puffs, Sugar and Spice Muffins, Donut Muffins, Baked Sugar Donut, The. Best. Breakfast. Muffin. Ever!   Many names, but only one description:  "Oh wow – this is good!"
This is truly a time honored favorite, no matter what name it has.  Everyone love, love, loves this tender muffin with a crunchy spicy coating.  Time honored because I first made it in college.  I was a member of a women's housing co-op where we shared the household duties in exchange for reduced housing costs.  Work was set up on a two week rotating basis and included a stint as assistant cook and then chief cook.  The chief cook planned the meals and could include anything she wanted as long as it was within the budget and reasonably nutritious.
Except!  French Breakfast Puffs.  It was  house tradition that each head cook had to have French Puffs for one breakfast during her two week command of the kitchen.  Everyone checked the menu to see when the Puffs were slated and no one missed that breakfast.  Some cooks would serve it with a double or triple batch and nothing else but a serving of fruit.  Others would make it a side for a more elaborate breakfast.  Either way the muffins were always the star!
Sugar and Spice Muffins have always been a treat at our house.  Whenever I serve it to overnight guests, at a tea party or bring it to a breakfast pot luck, the recipe is always requested.  In fact, I have two recipes for the same muffin.  One uses biscuit mix as the base (the French Puff version)  and the other is totally from scratch (Sugar and Spice Muffin or Sugar Donut Muffin).  They are both good – some prefer one recipe over the other, but at our house they disappear with equal dispatch.   I'm going to share both below.   (Yes, two recipes in one post!  Take your pick according to what you keep on hand!)
Remember that muffin batter is a tender batter and should have as little mixing as possible.  Stir until all ingredients are just mixed.  Too much stirring and you will have tough muffins. Treat with tenderness and your love will show great returns  – now there's a post in a whole different direction!  Mixing butter evenly into muffin batter is a challenge, so it works best to cut it into the dry ingredients before adding the liquids or to melt it and add it with the liquids.   Have your cinnamon sugar mixed and the butter melted while the muffins are baking.  I roll the whole muffin in butter and then cinnamon sugar according to house tradition, but you can just coat the muffin top.   You can freeze the muffins and thaw at room temperature the night before or a few seconds in the microwave while gathering your "gone for the day" things.  But for a real treat,  schedule them when you have time to enjoy them with good friends and family.
Sugar and Spice Muffins – Best Breakfast Muffins Ever
Serves:
Approximately 10 muffins
Ingredients
2 cups all purpose flour
¼ cup sugar
2 teaspoons baking powder
1 teaspoon salt
½ teaspoon nutmeg
1 cup milk
1 egg
¼ cup melted butter
Topping
½ cup butter, melted
¾ cup sugar
½ teaspoon ground nutmeg
½ teaspoon cinnamon
Instructions
Preheat oven to 375.
Spray or grease 12 cup muffin pan.
In medium bowl, mix dry ingredients well.
Thoroughly combine milk, egg and ¼ cup melted butter in a small bowl.
Add liquid to dry ingredients stirring just until all are mixed. Batter will have lumps.
Fill muffins cups just under ⅔ full. You may not use all 12 cups, depending on size.
Bake at 375 degrees for 15 minutes until toothpick inserted into middle comes out dry and muffins are turning golden.
While muffins are baking, melt ½ cup butter in microwave. Mix sugar and spices in small bowl..
When muffins are done, remove from pan to cooling rack and immediately roll muffins in butter and then sugar spice mix.
Serve immediately.
9-12 muffins.
Notes
Charlene @ A Pinch of Joy
French Puff – Best Breakfast Muffins Ever
Ingredients
2 cups biscuit mix such as Bisquick
¼ c sugar
¼ tsp nutmeg
2 Tablespoons butter, softened
¾ cup milk
1 egg
Topping
½ cup butter or margarine, melted
1 teaspoon cinnamon (or more to taste)
⅛ teaspoon nutmeg
¾ cup sugar
Instructions
Preheat oven to 375 degrees.
Spray or grease 12 cup muffin pan.
Combine biscuit mix, ¼ cup sugar, and nutmeg.
Cut in 2 tablespoons of butter with fork or pastry cutter.
Add milk and egg; mix until all ingredients are just combined. Batter will be lumpy.
Fill muffin cups ⅔ full.
Bake at 375 degrees for 15 minutes or until golden.
Melt butter and mix topping while muffins bake.
Remove muffins from oven when done and immediately roll in melted butter and then cinnamon sugar.
Serve immediately
Follow A Pinch of Joy so you don't miss a thing!  Subscribe by email  on the sidebar  or follow on Facebook / RSS feed  / bloglovin' / twitter  and check out my  pinterest boards. Share with others by  giving this post a Stumble, Tweet, Pin, or Facebook Like by clicking the buttons on the bottom of this post.  Your support of A Pinch of Joy is  appreciated!

Related posts: