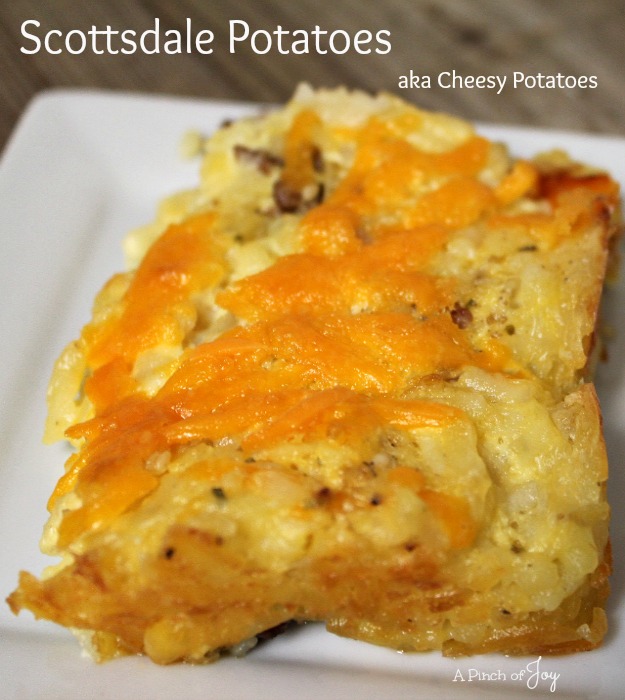 My  mother discovered these creamy, cheesy potatoes while visiting family in Arizona.  Apparently that's why they are called Scottsdale Potatoes!  Here in Ohio, they are known as Cheesy Potatoes or Cheesy Hashbrown Casserole.   Recently I've seen points further south that labeled them Funeral Potatoes – a name which belies their yumminess but apparently takes into account the fact that the recipe can be boosted to satisfy large numbers.  The recipe can be assembled ahead of time and held in the refrigerator for a day, then baked while other foods are being prepared.
If you want a holiday or family dinner dish that travels well – this is it.  Bake it at home and carry it hot or let it cool and warm it when you arrive.  Or assemble it at home and bake when you arrive, depending on your schedule and the hostess's oven space.
It also makes a comforting addition to any meal –especially when the weather is cold outside.  I make it and we will eat two or three meals from it because the "leftovers" are almost as good as the first time fresh out of the oven.  You can also add around 2 cups of browned ground beef or 1 – 2 cups of diced ham to make this a main dish.   And you can enforce portion control by baking the potatoes in serving size baking dishes.  You can also put them in tart pans and bake them crispy to make an appetizer.   Love these 'taters!

I prefer the shredded hash browns because I like the texture of them in the finished dish over the diced hash browns. I spread half the frozen potatoes in the greased 9×13 pan and, if I am using meat, layer it on top followed by a layer of half of the shredded cheese.  I then mix the rest in my large mixing bowl and spread it over the plain potatoes in the pan.  Easier to mix and it all melds together in the pan just fine!   Either cream of chicken (lighter flavor) or cream of mushroom soup (deeper flavor) will work.  I also like to buy the cream of chicken with garlic and herbs for a nice flavor change.  Add all the remaining ingredients to the shredded hash browns in the mixing bowl – EXCEPT the melted butter.   Melt butter in microwave.  Timing may vary according to your microwave – mine takes about 30 seconds at 75% power.  Pour melted butter evenly over casserole.  I like to leave the top plain, but the original recipe called for 2 cups of finely crushed cornflakes spread over the top.

If feeding large quantities meets your requirements,  here's a Scottsdale Cheesy Potato recipe to feed one hundred people from my mother's church cookbook (so you know it is good!)
Scottsdale Cheesy Potatoes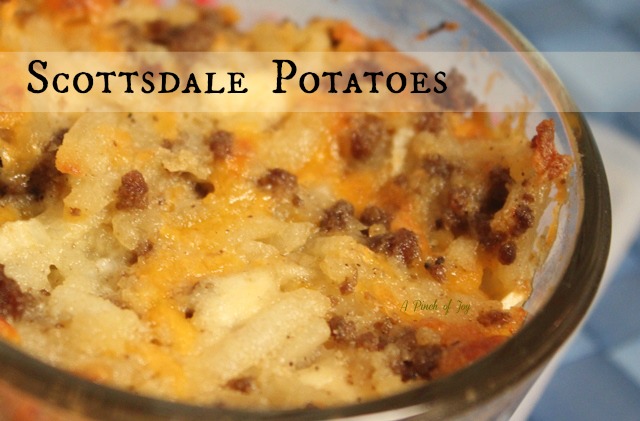 Creamy, cheesy and comforting -- a delicious accompaniment to any meal.
Ingredients
1 32 ounce bag frozen hash brown potatoes
1 can cream of chicken or cream of mushroom soup
1 16 ounce container sour cream
2 cup shredded cheddar cheese
¼ cup chopped onion
¼ teaspoon pepper
1 tsp salt
½ cup butter or margarine melted
2 cups finely crushed cornflakes -optional
Instructions
Mix all ingredients except melted butter.
Spray 9x13 baking pan with cooking spray.
Spread casserole evenly into pan.
Melt butter in microwave and pour evenly over casserole.
Bake at 350 degrees for 40-45 minutes.
Sprinkle the 2 cups of finely crushed cornflakes evenly over the top, if desired.
Nutrition Information
Serving size: 9 servings
~~~~~~~~~~~~~~~~~~~~~~~~~~~~~~~~~~~~~~~~~~~~~~~~~~~~~~~~~~~~~~

I'm so glad you stopped by today!   Be sure to follow A Pinch of Joy so you don't miss a thing!  I'd love to have your company on this venture!!

Subscribe:  email  on the sidebar  or follow on Facebook /  RSS feed  / bloglovin' /   twitter  and check out my  pinterest boards.   Share: if you found this helpful or inspiring please click one of the buttons below!  Your support of A Pinch of Joy is appreciated!
Linking up to these awesome parties here and   Inspiration Monday