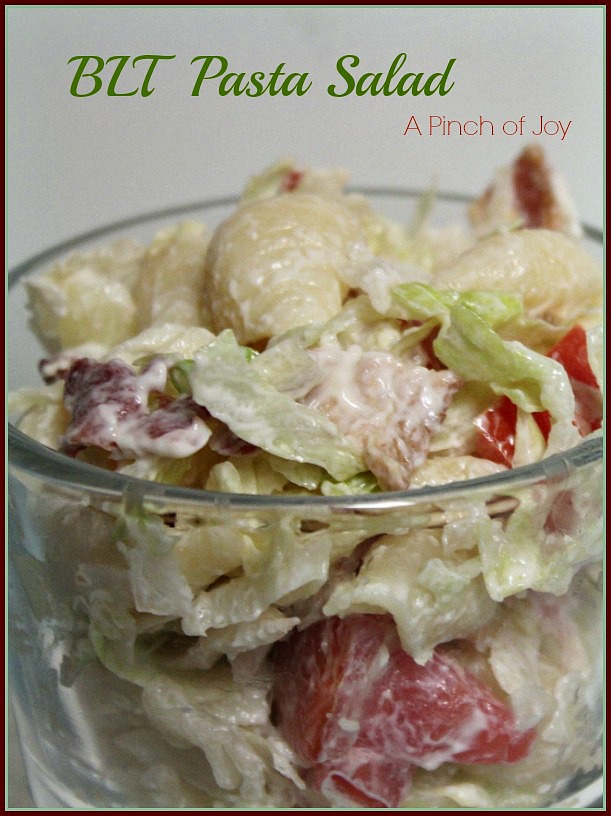 Five star, family approved.   One serving is all it took.  Wheels and Bytes both rated it  five stars and suggested demanded it be added to our menu frequently.   On our recent trip, I made and served this for several family gatherings.  It was a hit each time! 
The whole thing can be assembled in about twenty minutes. I like to make this salad in the summer because I know I can get two meals out of one short cooking session.  I divide the pasta salad in half and only add the lettuce to the half we are going to eat.  Hide the keeper half in the bottom right hand corner of the refrigerator where tall left handed people never look, if you want it to survive for that second meal.  Add another teaspoon of lemon juice if you like a little zing in the dressing.  I have also made dressing using half sour cream and half mayo, giving a  slightly "softer" flavor (and saving an emergency trip to the grocery).   We grow cherry tomatoes so I  use them instead of seeding and dicing a large tomato.    Cut  larger grape or cherry tomatoes in half to keep them bite sized.   I also like that this uses shredded lettuce.  You hardly know that it is there but it adds volume and therefore reduces  carb and calorie count quite a bit.  Be sure to cook the pasta only until it is al dente – still rather firm when you bite it.  I used shell pasta here because that was what was in the cupboard, but most of the time use bowtie pasta.  Rotini or penne also work with this recipe.

 I have purchased two packages of turkey bacon in my life.  On sale as a buy one get one deal not too long ago.  I don't remember what I made with the first package but decided there are certain expectations  that can't be met when you send a turkey to do a pig's job!  Earlier this summer, I ran across the second package in the freezer with this salad in mind.  The "can't waste a thing" gene kicked in so I brought the bacon upstairs, thawed it, then  browned it in the skillet.  This wonderful salad surrounded it with all the other good flavors and made it part of the family.  It was  good.  
BLT Pasta Salad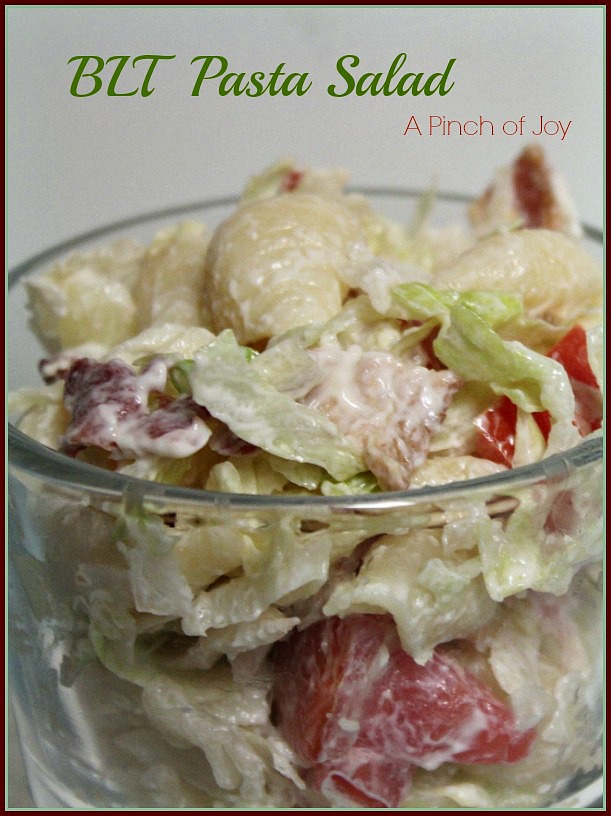 Five star family approved. The perfect accompaniment or use as a summer meal. Recipe can be easily doubled for pot luck dish or serving a large group.
Ingredients
2 ¼ cups uncooked pasta, such as rotini, shell or bowtie (half of a 1 pound package)
8 slices bacon cooked and cut in ½ inch pieces (half of a 12 ounce package)
1 cup mayonnaise
1 tablespoon lemon juice
2 teaspoons sugar
1 large tomato, seeded and cut into small pieces to equal 1 –1 ½ cups
6 green onions, sliced thinly
16 ounce package of shredded iceberg lettuce OR 6 -7 cups packed shredded lettuce.
Instructions
Cook pasta al dente, as directed on package. Drain and rinse with cold water to cool, leave to drain thoroughly.
Meanwhile, in 10 inch skillet, cook bacon over medium heat for 8-10 minutes until crisp. Remove and place on paper towel to drain.
Slice, seed and dice tomato. Slice green onions very thinly. Set aside both.
In large bowl, stir together mayonnaise, lemon juice and sugar until smooth.
Add pasta and stir, then gently add bacon, tomato and onions.
Cover tightly and refrigerate for at least an hour up to overnight.
Stir in lettuce just before serving.
Notes
Charlene @ A Pinch of Joy
Nutrition Information
Serving size: ½ cup
I'm so glad you stopped by today!   Be sure to follow A Pinch of Joy so you don't miss a thing! 
Subscribe by email  on the sidebar or follow on Facebook, RSS feed, bloglovin' or twitter   using the links here or the blue buttons on the header!   Follow  my pinterest boards here.    If you found this helpful, please share on your favorite network by clicking one of the buttons on the bottom of this post.
~~~~~~~~~~~~~~~~~~~~~~~~~~~~~~~~~~~~~~~~~~~~~~~~~~~~~~~~~~~~~~~~~
Linking up to these awesome parties here 
Save