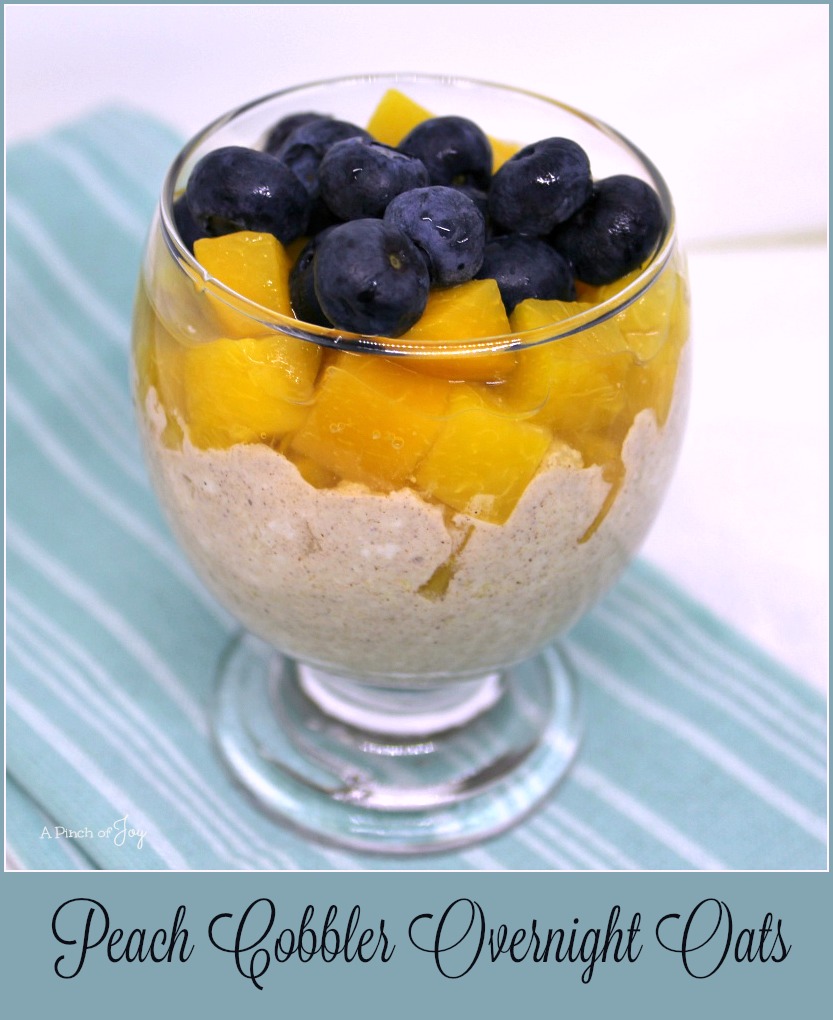 Quick and simple to make. One batch = 8 breakfasts.  Easy to grab from the refrigerator.  You can just as easily take it with you to eat later.  A super delicious nutritional powerhouse.   What could be better for breakfast than Peach Cobbler Overnight Oatmeal?
Chia seeds are relatively new in our pantry.  I was surprised to learn they are in the mint family as the seed of Salvia hispanica,  found in Mexico and Guatemala.  They were a staple of Mayan and Aztec diets, so they've been eaten for a long time! The tiny black and white seeds can expand to hold about 10 times their weight in liquid.  They also contain all nine essential amino acids, which are the muscle-building protein building blocks our bodies need but we get them only through our food.   Chia seeds provide antioxidants, resulting in younger looking skin, healthier hair, and can reduce the risk of cancer. They are also one of the very few foods that provide Omega-3s , good for fighting depression,  improving sleep, reducing the risk of heart disease. Chia seeds have more calcium ounce for ounce than most dairy products. If you don't eat dairy, this is super important.
To make assembly even quicker, I use 2 containers of Light and Fit Greek yogurt for a total of 9 grams of protein.  We like the coconut flavor as well as the vanilla.  Each container has only 9 carbs, considerably less than regular Greek yogurt and friendlier to diabetic diets.   Be sure to use only old fashioned or rolled oats.  I use almond milk with 1 carb/cup.  You can use frozen, canned or fresh peaches, diced or sliced.  Stir into the oatmeal mixture or add on top just before serving (pictured).   I use two lunch cups of no-sugar added diced peaches, totaling 1 cups. No leftover amounts to store in fridge or freezer!  Drain juice and stir into to oatmeal mixture before refrigerating.  The oatmeal mixture will just fit into a wide mouthed quart jar.  We are working toward more fruit in our daily meals so I also add a handful of fresh blueberries before serving.
Hot breakfast tomorrow?  Try Overnight Cinnamon Coffee Cake!

Peach Cobbler Overnight Oats
Quick and easy, a nutritional powerhouse for breakfast.
Author:
A Pinch of Joy by Charlene Vance
Ingredients
12 ounces Greek yogurt
1⅓ cups old fashioned oats
1⅓ cups milk
1 teaspoon vanilla
½ teaspoon salt
1 tablespoon chia seeds
1 teaspoon ground cinnamon
1 (15 ounce) can sliced peaches, drained and diced
Fresh blueberries, walnuts, other toppings of choice, optional
Instructions
In a medium bowl stir together yogurt, oats, milk, vanilla, salt, seeds, peaches and cinnamon.
Transfer into one quart jar or into eight covered half cup containers.
Cover and chill overnight. Will keep in refrigerator about four days.
Add toppings before serving, if desired.
Notes
Nutritional values are estimates and will vary with type of yogurt and milk used. Additional toppings are not included.
Nutrition Information
Serving size:
½ cup
Calories:
124,
Carbohydrates:
21 grams,
Protein:
9 grams,

Welcome to A Pinch of Joy!  I'm so glad you stopped by today!   Follow A Pinch of Joy using the icons on the teal bar at the top of the page so you don't miss a thing!   I'd love to have your company on this venture!!  Share: if you found this helpful or inspiring please click one of the buttons below!  Your support of A Pinch of Joy is appreciated!
Shared with these awesome link parties here