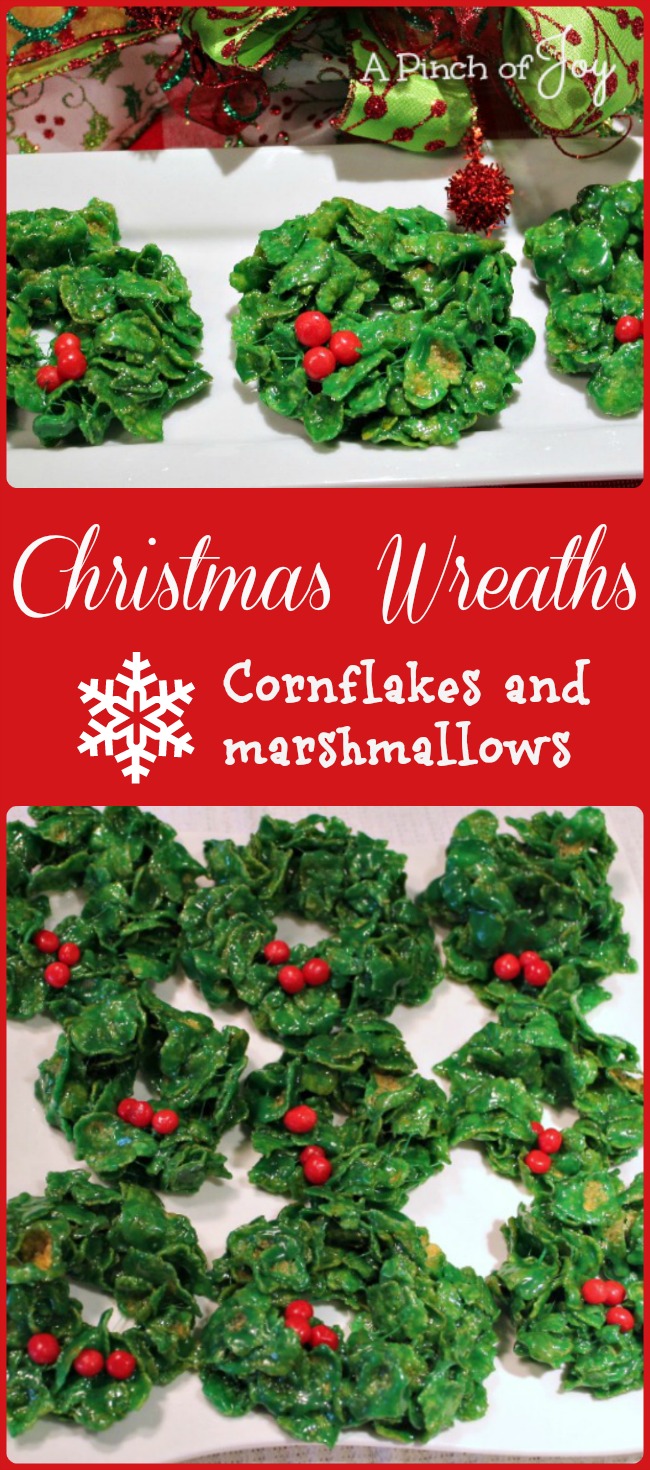 Cornflake Marshmallow Christmas Wreaths are a huge tradition in our family.  Grandma used to make these every year and hide them in her closet.  Because  she knew if she left them anywhere else the early arrivers would sniff them out and every piece would be gone when she was ready to serve them.  Everybody liked them – crispy, chewy and bright green.  That was THE most requested recipe when we compiled a book of Grandma's recipes one year.    I made a batch  for Thanksgiving this year.  The wreaths were noted the minute they came in the house.  Everyone was grown up until dessert time . . . . and then they were gone in a flash.  No chance of this tradition making it to the next generation.  They do not have a whisper of hope in ever getting a taste.
Using the handle of a wooden spoon to make the center of the wreath is much easier than trying to shape the wreaths by hand.  Rub the end of the handle over the end of a stick of butter and plunge it into the middle of the mound of marshmallow and cornflakes.  Rotate it slightly to enlarge the hole.  Repeat for the next wreath.  You can work with the candy while it is still warm this way and it will shape easier.  Lightly butter your hands to shape the outside of each wreath, forming and pushing the whole together enough that it will retain the shape.  Adding three imperials – red hots, we call them – was more tricky.  The marshmallow needs to be warm enough to hold them – but is still sticky at that point so the redhots tend to stick to your hands instead of the wreaths.  I did get better at the shape and embellish process by the time I finished.   But I understand why Grandma's looked like this more than they looked like wreaths: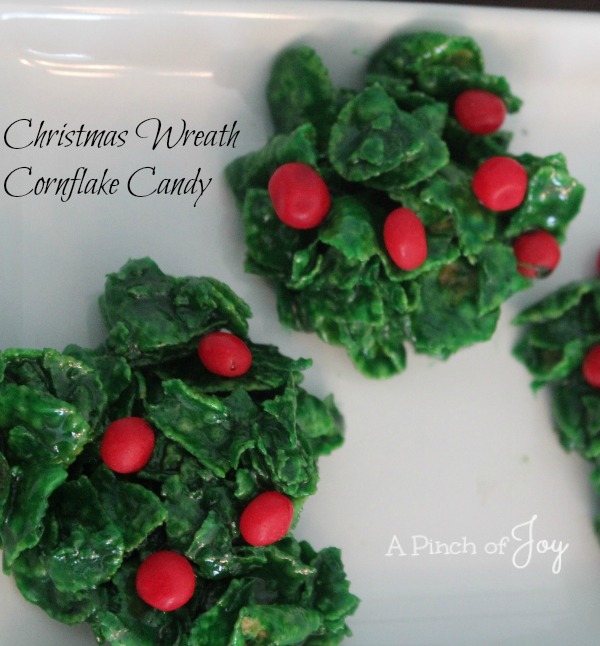 Christmas Wreath Candy - Cornflakes and Marshmallows
Crispy, chewy and festive -- The most requested recipe from Grandma's recipe box!
Author:
A Pinch of Joy by Charlene Vance
Ingredients
½ cup butter
1 10 ounce bag of marshmallows OR 45 marshmallows
5 cup Corn Flakes cereal
½ teaspoon vanilla
2 teaspoons green food coloring
one small bag cinnamon Imperials
Instructions
Measure corn flakes in large bowl and set aside
Lay no-stick foil with no-stick side up on flat surface in preparation for hot candy
Melt butter in large saucepan over low heat. When butter is melted, add vanilla and food coloring stir quickly
Add marshmallows and cook over low heat, stirring constantly until marshmallows are just melted,
Remove from heat. Add corn flakes and mix until corn flakes are thoroughly coated, being careful not to crush the flakes. Let cool just enough to handle safely.
Drop by spoonfuls onto no-stick aluminum foil for holly bunches or heap two spoonfuls together for wreaths.
Use the rounded tip of a wooden spoon coated in butter to make center opening in wreath. Lightly butter hands to quickly shape the outside of each wreath.
Add 3 Imperials to each wreath while still slightly warm and sticky.
Yield: about 16 wreaths or 30 "holly bunches" like Grandma made
For other no-bake recipes in this series:      
Potato Chip Clusters
Cherry Mash Bars
Pistachio Fudge
Cinnamon Swirl Cream Cheese Mints
Classic Oreo Truffles
Cranberry Pistachio Chocolate Bark
Ritz Turtles
Gooey Golden Chex Mix 
Fabulous Fudge
No-Bake Chocolate Cookies 
Eggnog Fudge
12 Day of Christmas Cookies:    Fruitcake cookies   Almond Coconut Crunch Cookies      Pineapple Walnut Cookies       Maple Caramel Swirl Cookies           Peppermint Chocolate Thumbprints         Cherry Almond Chews        Polka Dot Macaroons         Red Velvet Cookies with white chocolate and walnuts       Butterscotch Pecan Softies – no bake        Toffee Crisps       Crescent Mini Chip Cookies    Minty Christmas Cookies
I'm so glad you stopped by today!   Be sure to follow A Pinch of Joy so you don't miss a thing!  I'd love to have your company on this venture!!   Follow:    Facebook /  RSS feed  / bloglovin' /   twitter  and   pinterest.   Share: if you found this helpful or inspiring please click one of the buttons below!  Your support of A Pinch of Joy is appreciated!
Save
Save
Save