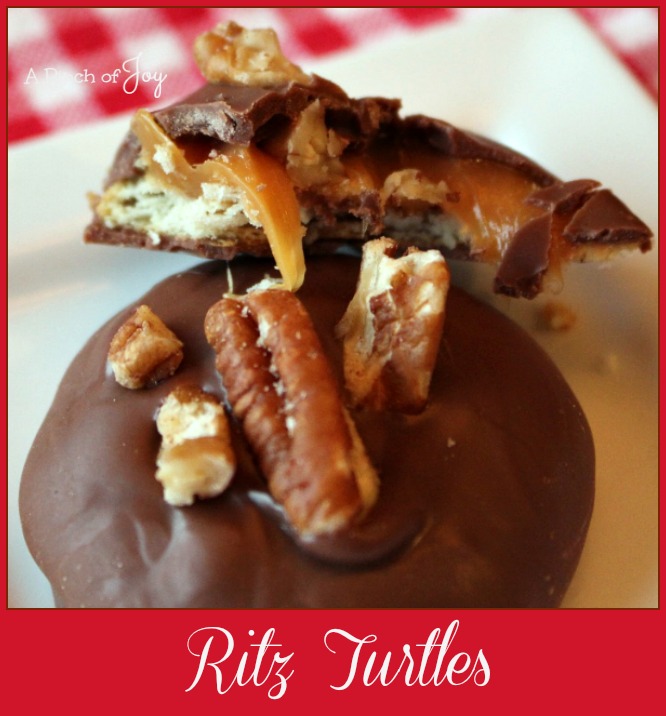 Ritz turtles – caramel and pecans atop a Ritz cracker and smothered in chocolate.  Crispy, salty, smooth sweetness with the crunch of pecans – all covered in chocolate deliciousness.
These yummy bites are so easy to make you won't believe it.  You will want to double this recipe.  Don't.  Make two, or even three or four, batches.  By the time you get to the last cracker, the caramel is beginning to set up in the bowl.  So repeat the recipe instead of doubling it.  Because you will want more.   For the same reason, divide the chocolate and only melt half of it at one time.  The chocolate begins to set up by the time you get to the 16th or 17th cracker.  Use a candy chocolate like almond bark or candiquik for best results.   I don't know how long you can store them in the refrigerator,    to be honest.  None have lasted past the second day around here so storage is not even on the radar.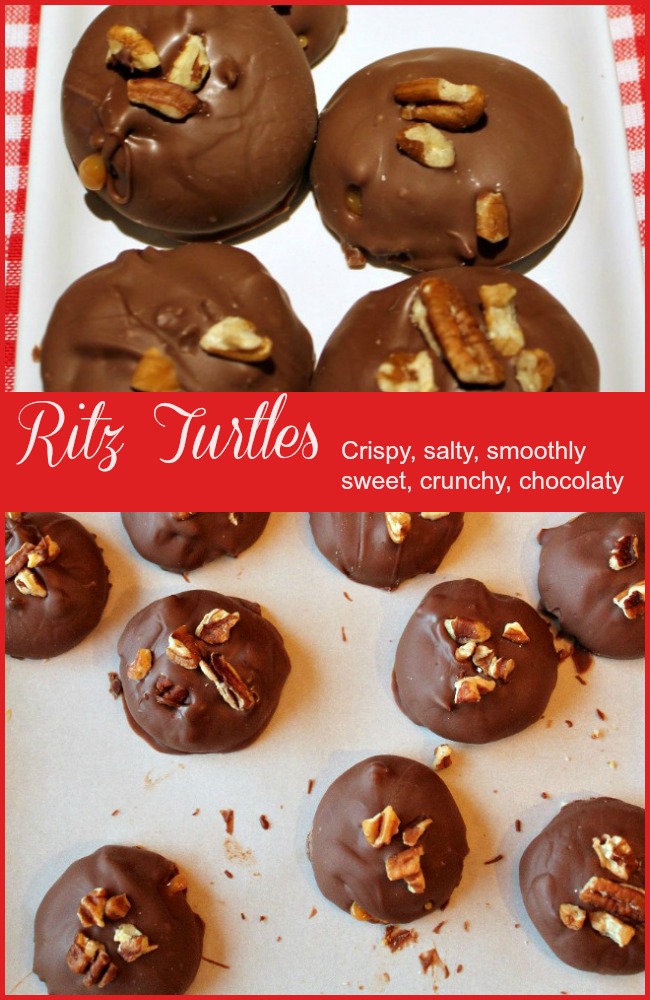 Ritz Turtles
caramel and pecans atop a Ritz cracker and smothered in chocolate.
Author:
A Pinch of Joy by Charlene Vance
Ingredients
18 caramels, unwrapped
1 tablespoon heavy whipping cream
30 Ritz crackers
6 squares chocolate almond bark
½ cup chopped pecans
Instructions
Place caramels and whipping cream in a microwave safe bowl. Microwave for 30 seconds and stir. Microwave an additional 15 seconds and stir. Caramel mixture should be smooth. if necessary repeat until caramels are smooth. Let cool a few minutes.
Place parchment or waxed paper on a baking sheet and lay out 30 Ritz crackers.
Scoop about 1 teaspoon of the caramel mixture in the center of each Ritz cracker, carefully spreading with the back of the spoon to cover the cracker. Leave slightly mounded in the center. Top warm caramel with pecan pieces.
Place baking sheet in the refrigerator for about an hour
Melt 3 half almond bark in the microwave, according to package directions. Dip the cracker and caramel in the chocolate and spoon chocolate to cover. Lift cracker with a fork, scraping off excess from the bottom. Place chocolate-covered cracker and caramel back on the parchment or wax paper. Sprinkle the top with a few additional chopped pecans while the chocolate is still warm.
Repeat process with the remaining chocolate. Allow the chocolate to harden at room temperature
Store in airtight container in the refrigerator.
For other no-bake recipes in this series:    
Christmas Wreath 
Potato Chip Clusters
Cherry Mash Bars
Pistachio Fudge
Cinnamon Swirl Cream Cheese Mints
Classic Oreo Truffles
Cranberry Pistachio Chocolate Bark
Ritz Turtles
Gooey Golden Chex Mix 
Fabulous Fudge
No-Bake Chocolate Cookies
Eggnog Fudge
12 Day of Christmas Cookies:    Fruitcake cookies   Almond Coconut Crunch Cookies      Pineapple Walnut Cookies       Maple Caramel Swirl Cookies           Peppermint Chocolate Thumbprints         Cherry Almond Chews        Polka Dot Macaroons         Red Velvet Cookies with white chocolate and walnuts       Butterscotch Pecan Softies – no bake        Toffee Crisps       Crescent Mini Chip Cookies    Minty Christmas Cookies
I'm so glad you stopped by today!   Be sure to follow A Pinch of Joy so you don't miss a thing!  I'd love to have your company on this venture!!   Follow:    Facebook /  RSS feed  / bloglovin' /   twitter  and   pinterest.   Share: if you found this helpful or inspiring please click one of the buttons below!  Your support of A Pinch of Joy is appreciated!
Save
Save
Save