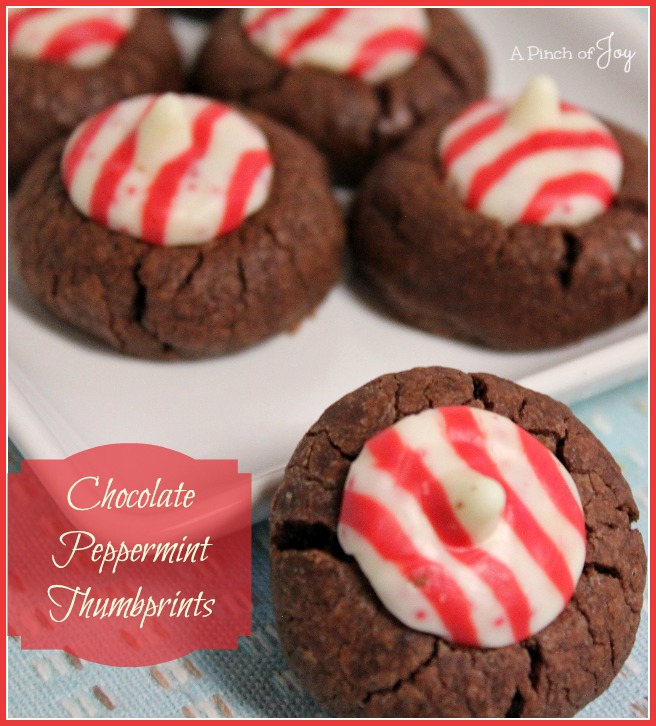 Chocolate and peppermint – the flavor combination is perfect! The red and white stripe lends a bright note for both Christmas and Valentine's Day! Peppermint Chocolate Thumbprints lend themselves to a variety of "fancies". A hardworking, versatile cookie, some might say. Others just say "YUM!"
I omitted rolling the cookies in sugar when I made this batch to save a few carbs. You could substitute powdered sugar for the ½ cup sugar for a frosted look. Or use ½ cup sanding sugar with its larger granules for a festive look. Or small sprinkles for a colorful look. This is a good recipe to make with young helpers. They can unwrap kisses, roll the cookie dough into balls and then in the sugar. It's a fun cookie to make and fun to eat. This visitor would certainly agree with the last part of that sentence!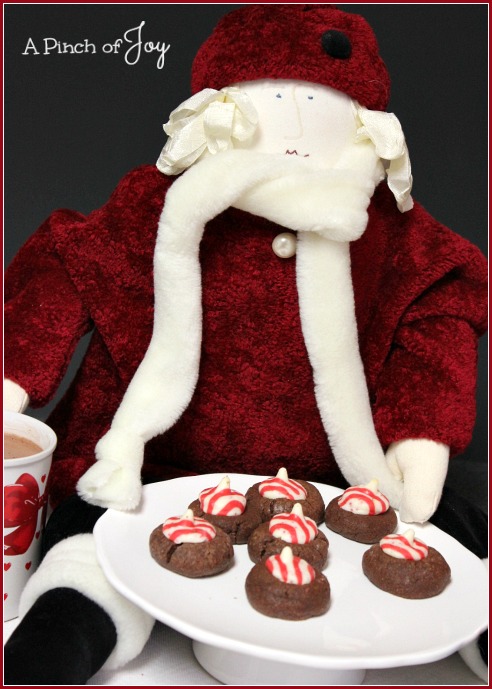 Peppermint Chocolate Thumbprints
Author:
A Pinch of Joy by Charlene Vance
Ingredients
1 cup butter, softened
1 cup sugar
1 egg
2 teaspoons vanilla
2 cups flour
⅔ cocoa powder
¼ teaspoon salt
1 14 ounce bag Peppermint Kisses
½ cup sugar for rolling cookies
Instructions
Preheat oven to 350 degrees.
In a large bowl, mix together butter and 1 cup sugar until fluffy. Add egg and vanilla.
Mix together flour, cocoa and salt in small bowl, then add gradually to sugar/butter mixture. Mix until combined.
If dough is sticky, refrigerate for 20 minutes or until dough is easy to handle.
Place ½ cup sugar in small bowl.
Roll heaping teaspoons of dough into balls about 1 inch in diameter. Roll each ball in the sugar and place about an inch apart on parchment lined cookie sheet.
Bake for 9 minutes, remove from oven then press peppermint kiss into each cookie.
Return to oven for 1-2 minutes until cookie is set and kiss slightly melted.
Let cookies stand on baking sheet for 1-2 minutes before removing to rack to cool thoroughly.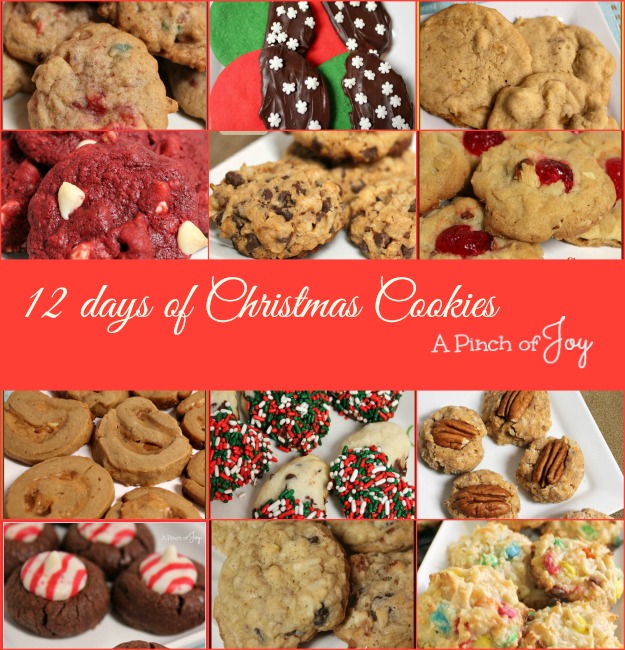 12 Day of Christmas Cookies:    Fruitcake cookies   Almond Coconut Crunch Cookies      Pineapple Walnut Cookies       Maple Caramel Swirl Cookies           Peppermint Chocolate Thumbprints         Cherry Almond Chews        Polka Dot Macaroons         Red Velvet Cookies with white chocolate and walnuts       Butterscotch Pecan Softies – no bake        Toffee Crisps       Crescent Mini Chip Cookies    Minty Christmas Cookies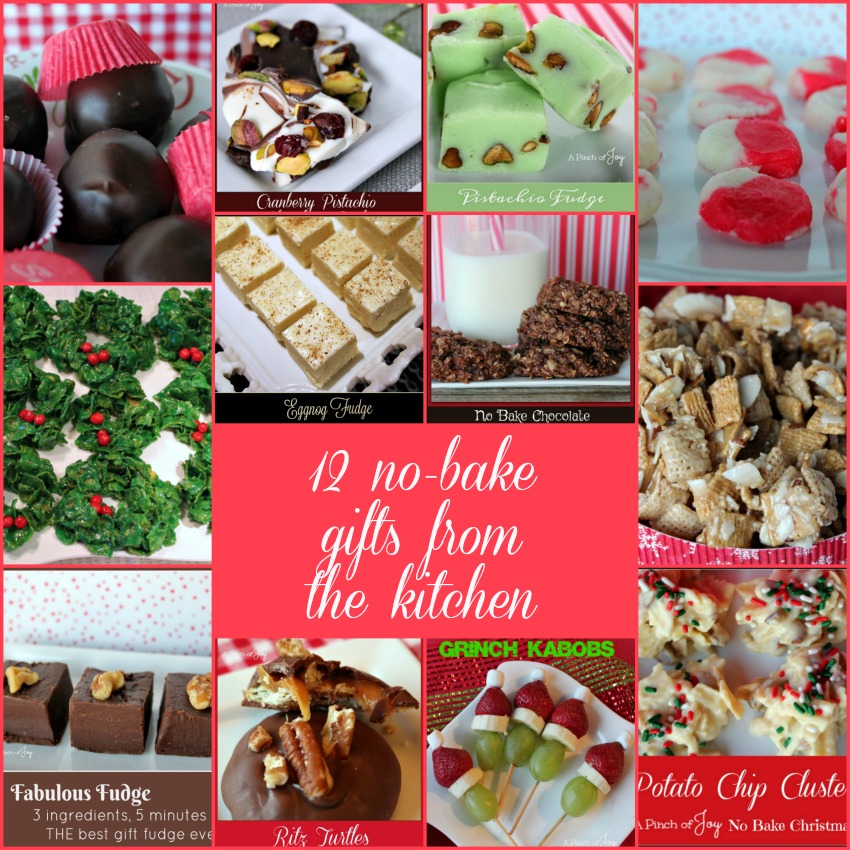 12 Days of Christmas candy and no-bake recipes:     Christmas Wreath        Potato Chip Clusters    Cherry Mash Bars  Pistachio Fudge      Cinnamon Swirl Cream Cheese Mints      Classic Oreo Truffles  Cranberry Pistachio Chocolate Bark    Ritz Turtles   Gooey Golden Chex Mix     Fabulous Fudge     No-Bake Chocolate Cookies
Gifts in a Jar and free printables:  Savory Chicken Noodle Soup Mix       Hot Chocolate Mix        Chocolate Andes Mint Cookies       Apple Butter Crumb Cake Mix     Potato Soup Mix  Hot Chocolate Mix         Toffee Blondies Mix     Chocolate Andes Mint Cookie Mix   Chai Tea Mix  Chocolate Chip Snickerdoole Pancake Mix
no bake and no stress treats in small batches.  For when you want to have a variety of treats without a lot of leftovers. 
A Dozen Awesome Appetizer and Delicious Dips from a Pinch of Joy
Bonus!!
Super Delicious Big Batch Cookies   A unique, crispy shortbread type cookie textured with oatmeal, coconut and chocolate chips.
Macaroons and Chocolate — Chewy Coconut macaroons dipped in smooth chocolate
Peanut Butter Chocolate Bars —  tastes just like the peanut butter cups in the bright orange wrapper

Welcome to A Pinch of Joy!  I'm so glad you stopped by today!   Follow A Pinch of Joy using the icons on the teal bar at the top of the page so you don't miss a thing!   I'd love to have your company on this venture!!  Share: if you found this helpful or inspiring please click one of the buttons below!  Your support of A Pinch of Joy is appreciated!
Shared with these awesome link parties here  
Bonus!!
Super Delicious Big Batch Cookies   A unique, crispy shortbread type cookie textured with oatmeal, coconut and chocolate chips.
Macaroons and Chocolate — Chewy Coconut macaroons dipped in smooth chocolate
Peanut Butter Chocolate Bars —  tastes just like the peanut butter cups in the bright orange wrapper
Save
Save
Save
Save