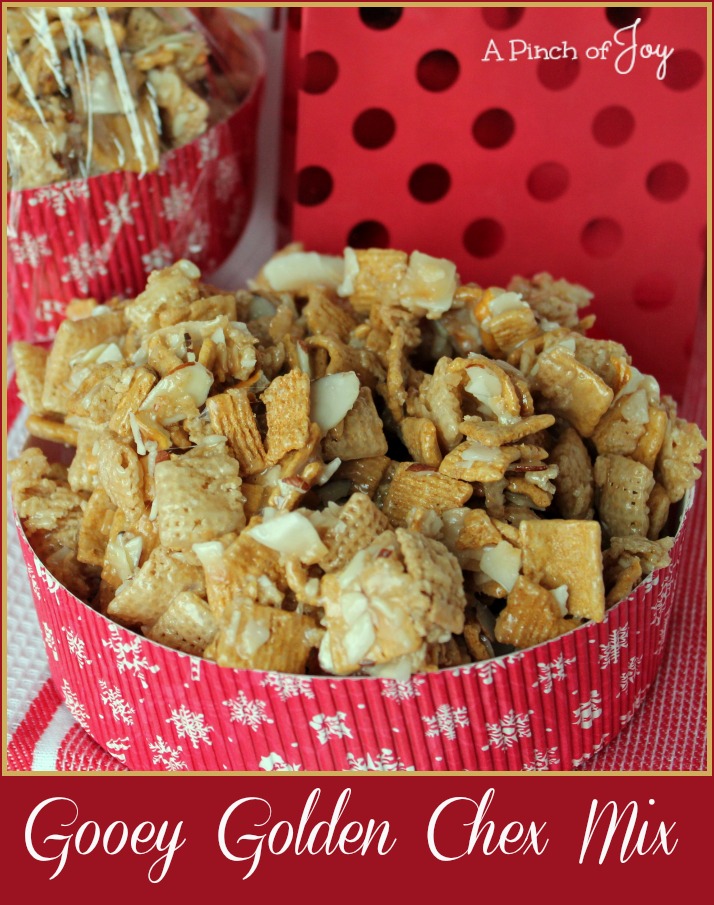 Gooey Golden Chex Mix.  You can't just have one taste.  Once you start eating, it is "just one more handful" until the bowl is empty.  Great  stuff to package for neighbor gifts.  Perfect addition to a snack buffet for any occasion.  Just don't make it too far ahead.  Because — it will disappear before it becomes a gift.   Just try resisting temptation by sealing this mix in gallon zip bags and putting it away. Somehow a bag always ends up back onto the counter with less in it.  Cereal – that should count for breakfast, right?  Trip to the kitchen for coffee – need a go with snack. Lunch time – dessert.  Out the dining room door to feed the birds – just a small handful as a reward for helping little creatures.  Back to the office – a small bowl won't hurt.  No wonder some folks call this Christmas Crack.   You've been warned.  And I'm going to have to make another batch for Christmas Eve.  And New Year's Eve . . .
One of the difficulties I have with a recipe that starts with two full boxes of cereal is what container to mix it in.  After some ventures that were a bit messy — I hit on the idea of using a soup / pasta pot.  Once I mix all the dry ingredients together, I dump about half of it into a mixing bowl.  Then I pour – very carefully – half of the hot syrup into the remaining cereal mix in the soup pot.  Stir to coat.  Pour the other half of the cereal mix back into the soup pot, top with the remainder of the syrup mix and stir again.  This lets you distribute the syrup a little more evenly without over stirring and crushing the cereal to crumbs.  Works well.
You can vary the ingredients and add others.  I think this would be great with nuts added– about a cup of cashews or peanuts.  I found the shaved coconut on the shelf and have also seen it in the bulk section of the grocery.  It's bigger pieces than the usual shredded coconut and that lends itself well to a mix.  Substitute shredded coconut, if you can't find shaved.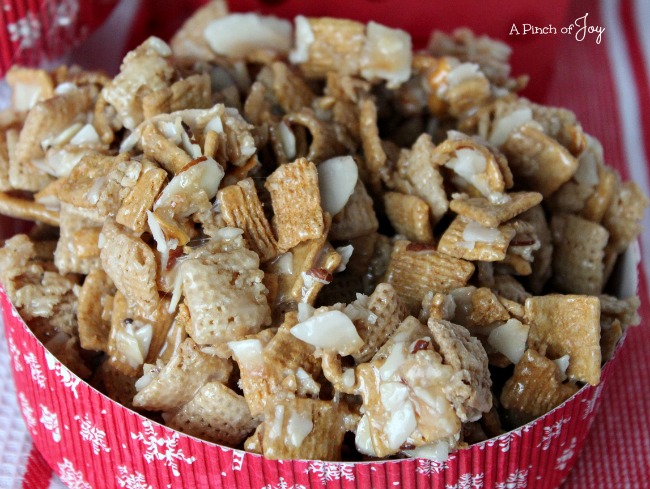 Gooey Golden Chex Mix
Chex and Golden Grahams with a few friends, coated in a not too sweet syrup. You can't eat just one bite!
Author:
A Pinch of Joy by Charlene Vance
Ingredients
1 13 ounce box rice Chex cereal
1 12 ounce box Golden Grahams cereal
1 Cup broken pretzel pieces
1 7 ounce package shaved coconut
1 4 ounce package slivered almonds
1 cup butter
1¾ cup sugar
1¾ cup corn syrup
Instructions
Combine cereal, pretzel, almonds, and coconut in a large mixing bowl.
in large saucepan combine butter, sugar, and corn syrup and stir well. Bring to rolling boil and cook to soft ball stage OR 234 degrees on a candy thermometer.
Let cool slightly. Pour mixture over cereal mix. Stir until it is well coated.
Pour mixture out onto two large cookie sheets, lined with parchment paper, to cool. Stir occasionally to prevent clumping.
For other no-bake recipes in this series:    
Christmas Wreath 
Potato Chip Clusters
Cherry Mash Bars
Pistachio Fudge
Cinnamon Swirl Cream Cheese Mints
Classic Oreo Truffles
Cranberry Pistachio Chocolate Bark 
Ritz Turtles
Fabulous Fudge
No-Bake Chocolate Cookies
Eggnog Fudge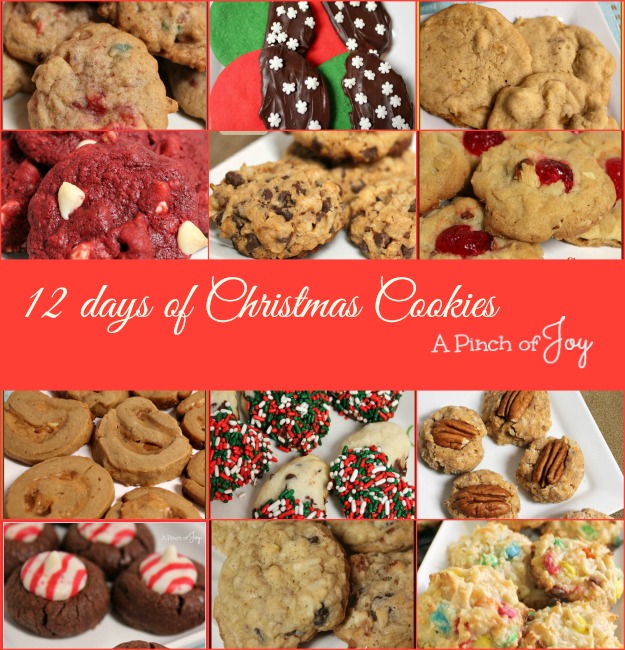 12 Days of Christmas Cookies:    Fruitcake cookies   Almond Coconut Crunch Cookies      Pineapple Walnut Cookies       Maple Caramel Swirl Cookies           Peppermint Chocolate Thumbprints         Cherry Almond Chews        Polka Dot Macaroons         Red Velvet Cookies with white chocolate and walnuts       Butterscotch Pecan Softies – no bake        Toffee Crisps       Crescent Mini Chip Cookies    Minty Christmas Cookies

Welcome to A Pinch of Joy!  I'm so glad you stopped by today!   Follow A Pinch of Joy using the icons on the teal bar at the top of the page so you don't miss a thing!   I'd love to have your company on this venture!!  Share: if you found this helpful or inspiring please click one of the buttons below!  Your support of A Pinch of Joy is appreciated!
Shared with these awesome link parties here  
Save
Save