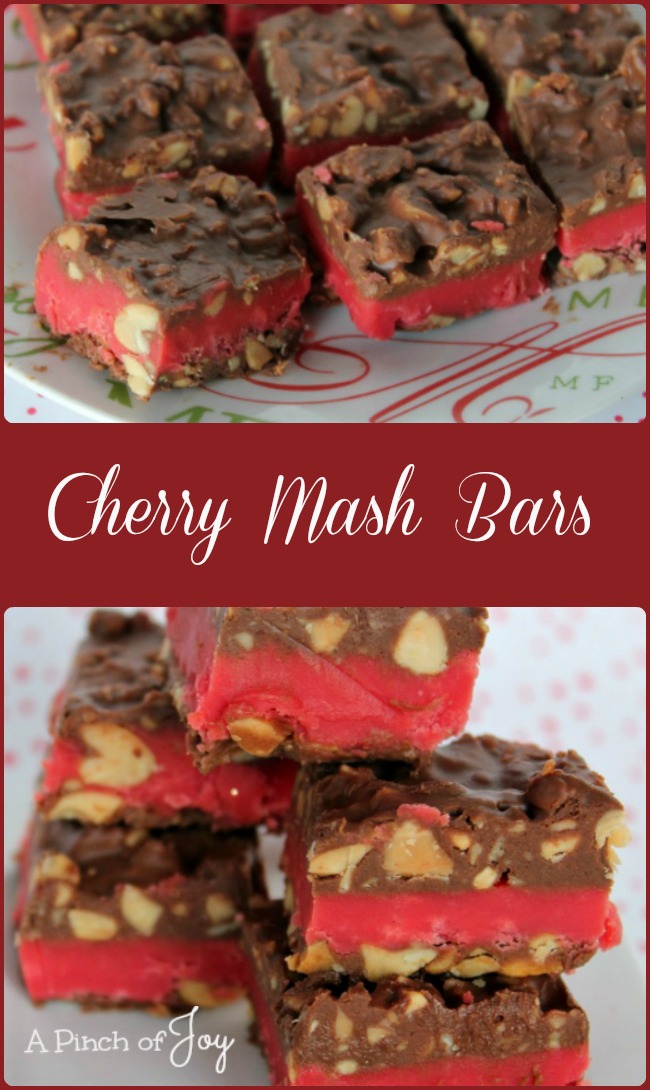 Wheel's mother made these a couple of Christmases in a row.  And then cherry chips disappeared from the store shelves.  Maybe it was a regional thing.  But when I saw the package on the shelf a few weeks ago, I knew it was time for Cherry Mash Bars – Yay!!!
You can make Cherry Mash Bars with a layer of chocolate on the bottom AND on the top.  To do this, divide the chocolate chips, peanut butter and nuts in half.  Melt 1 cup chocolate chips, 1/3 cup peanut butter for 45 seconds in the microwave, add half the  chopped nuts.  Spread in foil lined pan.  When cherry layer is completed,  repeat for the second layer of chocolate.   OR    Alternatively, you can put the entire mixture of chocolate, peanut butter and nuts on top of the cherry layer just by following the instructions in the recipe above.   Time wise, making one layer might be more efficient and quicker.  Taste wise the chocolate envelopes the cherry with two layers.  Take your pick.  This time I was in a two layer mood, so that's what you see.
Note:  This is intentionally a lower sugar version than the usual recipes, including the one on the back of the cherry chip package,  in case you are comparing.  I often automatically reduce the amount of sugar used, especially in recipes that have been around for a while.   Many of the older dessert recipes  list more sugar than we use today.  They also specify smaller serving pieces.  The recommended size for this recipe is 1 ½ inches by 1 ½ inches.   Which is a good thing!
Featured on Meal Plan Monday

Cherry Mash Bars
Sweet cherry layer paired with chocolate and peanut butter with crunchy chopped peanuts -- mmmm!
Author:
A Pinch of Joy by Charlene Vance
Ingredients
1¾ cup sugar
⅔ cup evaporated milk
¼ teaspoon salt
12 large marshmallows
½ cup butter
1 cup cherry chips
1 teaspoon vanilla
1 12 ounce package milk chocolate chips
⅔ cup creamy peanut butter
2 cups salted peanuts, chopped
Instructions
Line 9 by 13 pan with non-stick foil non stick side up and leaving a three inch overhang for a "handle" on each end. Spray with cooking spray, too.
Combine sugar milk marshmallows salt and butter
Bring to boil and boil stirring constantly for 5 minutes
Add half the cherry chips and stir. Add vanilla and remaining chips. Beat until chips are fully melted and mixture is smooth.
Pour into 9 by 13 pan
Chop peanuts.
Measure chocolate chips and peanut butter into medium microwave bowl. Heat on high for 45 seconds. Remove from microwave and stir until chips and peanut butter are melted and smooth. Pour over chopped peanuts and stir until thoroughly mixed. Spread peanut mixture over the cherry layer.
Chill candy overnight in refrigerator. Lift from pan by aluminum foil handles to cutting board. Slice in 1½ inch pieces with sharp knife and serve.
Can be stored in airtight container and refrigerated or frozen.
For other no-bake recipes in this series:    
Christmas Wreath 
Potato Chip Clusters
Cherry Mash Bars
Pistachio Fudge
Cinnamon Swirl Cream Cheese Mints
Classic Oreo Truffles
Cranberry Pistachio Chocolate Bark
Ritz Turtles
Gooey Golden Chex Mix 
Fabulous Fudge
No-Bake Chocolate Cookies
Eggnog Fudge
12 Day of Christmas Cookies:    Fruitcake cookies   Almond Coconut Crunch Cookies      Pineapple Walnut Cookies       Maple Caramel Swirl Cookies           Peppermint Chocolate Thumbprints         Cherry Almond Chews        Polka Dot Macaroons         Red Velvet Cookies with white chocolate and walnuts       Butterscotch Pecan Softies – no bake        Toffee Crisps       Crescent Mini Chip Cookies    Minty Christmas Cookies
Linking up to these awesome parties
I'm so glad you stopped by today!   Be sure to follow A Pinch of Joy so you don't miss a thing!  I'd love to have your company on this venture!!   Follow:    Facebook /  RSS feed  / bloglovin' /   twitter  and   pinterest.   Share: if you found this helpful or inspiring please click one of the buttons below!  Your support of A Pinch of Joy is appreciated!
Save
Save
Save
Save
Save