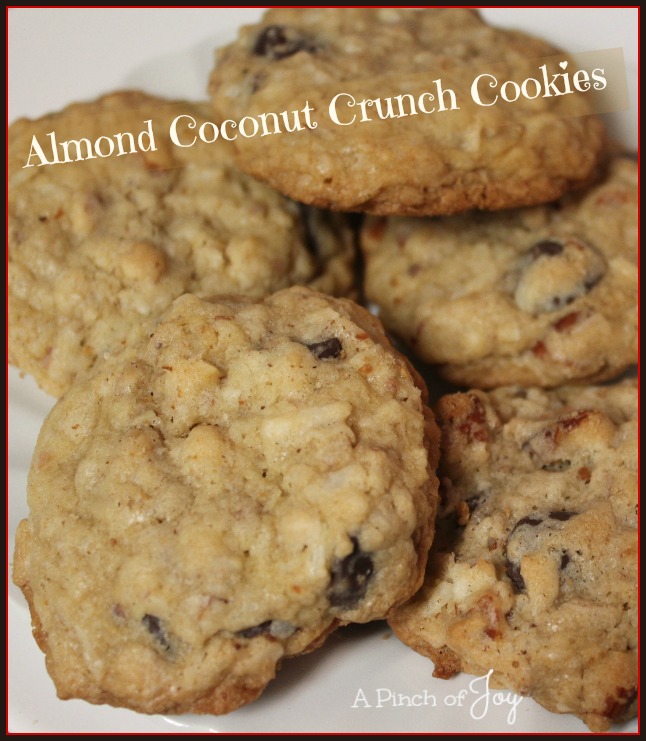 Crispy, crunchy cookies made with coconut, almonds and chocolate chips are a delightful treat any time of year!  We always have almonds on hand to make Almond Coconut Crunch Cookies because we eat a handful every day with yogurt for an afternoon snack. I coarsely chop the almonds for this recipe in a mini processor. The measurement seems to come out about the same whether I measure before or after chopping. I would think that slivered or sliced almonds sold in stores could be used for this recipe to save time as well.   Chocolate chips – use your favorite. The original recipe called for milk chocolate but the first time I made the recipe, there was only semisweet chips available.   So I've always used them ever since – until the time there was only dark chocolate chips available on the cupboard shelf. The cookies disappeared at the same rapid rate so no harm done with that substitution either!

Almond Coconut Crunch Cookies
Author:
A Pinch of Joy by Charlene Vance
Ingredients
1 cup butter softened
¾ cup sugar
¾ cup brown sugar, packed
2 eggs
2 Teaspoons vanilla extract
1 teaspoon almond extract
2 cups flour
1 teaspoon baking soda
34 teaspoon salt
2 cups flaked coconut
1 package (11 – 12 ounces) chocolate chips
1 ½ cups chopped almonds
Instructions
In large bowl, cream butter and sugars until fluffy.
Beat in eggs and flavorings.
Add flour 1 cup at a time. Add baking soda and salt with the last cup. Mix well.
Stir in coconut, chocolate chips and chopped almonds.
Drop by round spoonful 2 inches apart onto ungreased baking sheets.
Bake at 375 degrees for 9-11 minutes until lightly browned.
Cool slightly before removing to wire racks to cool completely.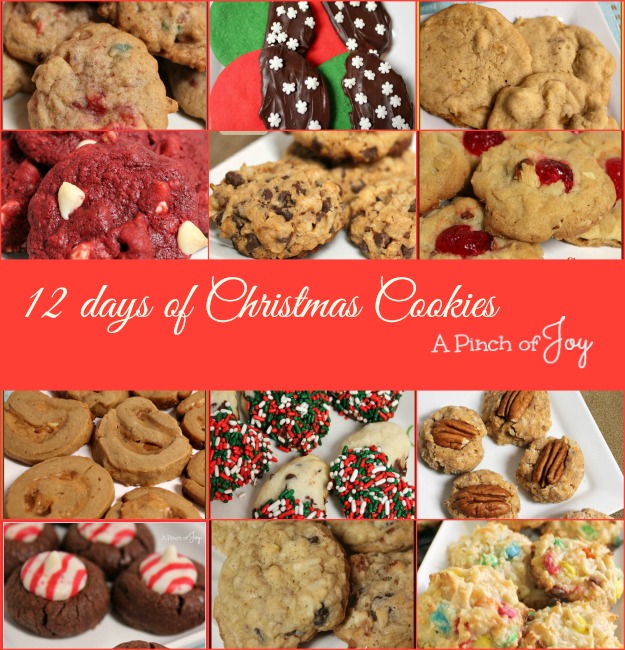 1.  Fruitcake cookies  2.  Almond Coconut Crunch Cookies    3.  Pineapple Walnut Cookies   4.  Maple Caramel Swirl Cookies      5.  Peppermint Chocolate Thumbprints        6.  Cherry Almond Chews     7.  Polka Dot Macaroons     8.  Red Velvet Cookies with white chocolate and walnuts     9.  Butterscotch Pecan Softies – no bake      10.   Toffee Crisps   11. Crescent Mini Chip Cookies      12. Minty Christmas Cookies
Bonus!!
Super Delicious Big Batch Cookies   A unique, crispy shortbread type cookie textured with oatmeal, coconut and chocolate chips.
Macaroons and Chocolate — Chewy Coconut macaroons dipped in smooth chocolate
Peanut Butter Chocolate Bars —  tastes just like the peanut butter cups in the bright orange wrapper
Of course, Elegant Eggnog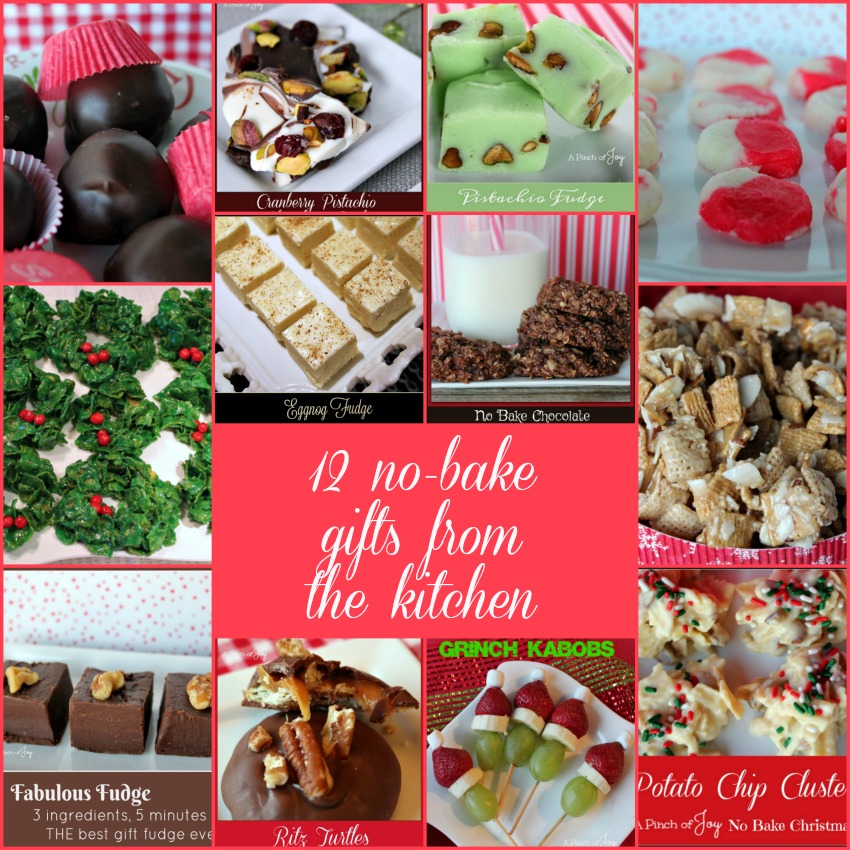 A dozen candy and no-bake recipes:     Christmas Wreath        Potato Chip Clusters    Cherry Mash Bars  Pistachio Fudge      Cinnamon Swirl Cream Cheese Mints      Classic Oreo Truffles  Cranberry Pistachio Chocolate Bark    Ritz Turtles   Fabulous Fudge    Gooey Golden Chex Mix    No-Bake Chocolate Cookies      Eggnog Fudge
Gifts in a Jar and free printables:  Savory Chicken Noodle Soup Mix       Hot Chocolate Mix        Chocolate Andes Mint Cookies       Apple Butter Crumb Cake Mix     Potato Soup Mix  Hot Chocolate Mix         Toffee Blondies Mix     Chocolate Andes Mint Cookie Mix   Chai Tea Mix  Chocolate Chip Snickerdoole Pancake Mix
no bake and no stress treats in small batches.  For when you want to have a variety of treats without a lot of leftovers. 
A Dozen Awesome Appetizer and Delicious Dips from a Pinch of Joy

Welcome to A Pinch of Joy!  I'm so glad you stopped by today!   Follow A Pinch of Joy using the icons on the teal bar at the top of the page so you don't miss a thing!   I'd love to have your company on this venture!!  Share: if you found this helpful or inspiring please click one of the buttons below!  Your support of A Pinch of Joy is appreciated!
Shared with these awesome link parties here  
Save
Save
Save
Save