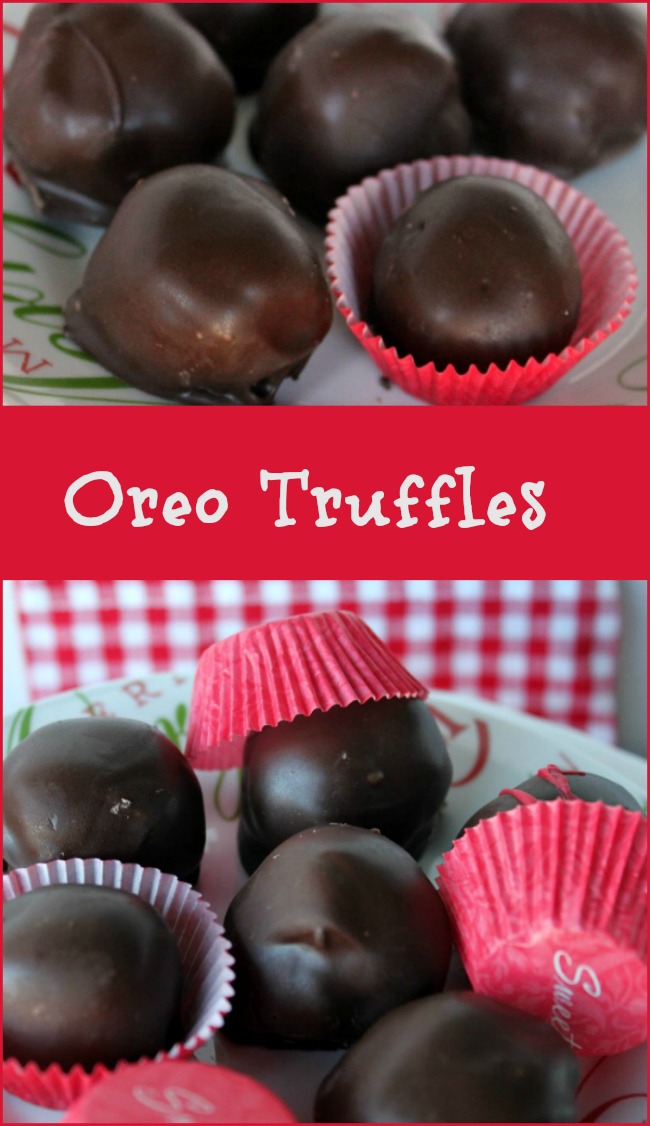 Oreo Truffles can be made from plain chocolate Oreos, golden oreos or a flavored filling Oreo.  My favorite is a mint filled Oreo Truffle dipped in chocolate.  This was a special request so it is a Peanut Butter Chocolate Oreo dipped in chocolate.  Pretty darn good!
Be sure to use original Oreos — not the Double Stuff filling.  And yes, any brand you like is okay.  (But would you have looked again if the title was Sandwich Cookie Truffles???)   If you want to add sprinkles or chopped nuts to the top of the dipped balls, do it while the chocolate is still warm so they will stay in place. The time needed for chilling means you need to plan ahead a bit to make these. I prefer to chill the mixture for about an hour before using a cookie dip to measure out the individual balls.  To me it is less messy and faster that way.    Having the balls almost frozen makes them easier to cover with chocolate.  Don't skip that part — even leave most of the batch in the freezer while you are dipping the others.  This is important.  Trust me!    One other problem is keeping a full package of Oreos for the time between purchase and making the truffles.  Fortunately, a cookie  less  is not a problem.  You can trust me on that one too.  😉

Classic Oreo Truffles
Classic Oreo Truffle
Author:
A Pinch of Joy by Charlene Vance
Ingredients
one package peanut butter Oreos, crushed
1 8 ounce package cream cheese, softened
16 ounces chocolate almond bark
Instructions
Put half of the package of Oreos in the food processor and pulse to make fine crumbs. Add the other half of the Oreos and pulse again. OR place cookies in gallon sized zipper plastic bag and crush with rolling pin.
In large bowl, mix Oreo crumbs and softened cream cheese together thoroughly. Chill for about an hour.
Scoop out about a tablespoon of the Oreo / cream cheese mixture and quickly form it into a ball approximately one inch or slightly smaller.
Place each ball on a baking sheet lined with wax paper. Place in the freezer for about an hour. Leave half in the refrigerator when you are ready to dip in chocolate.
Melt the chocolate according to directions on the package. Dip each frozen ball into the chocolate, Let excess chocolate drain slightly and place dipped truffle again on the wax paper lined baking sheet. Allow to harden at room temperature.
Store in airtight container in refrigerator.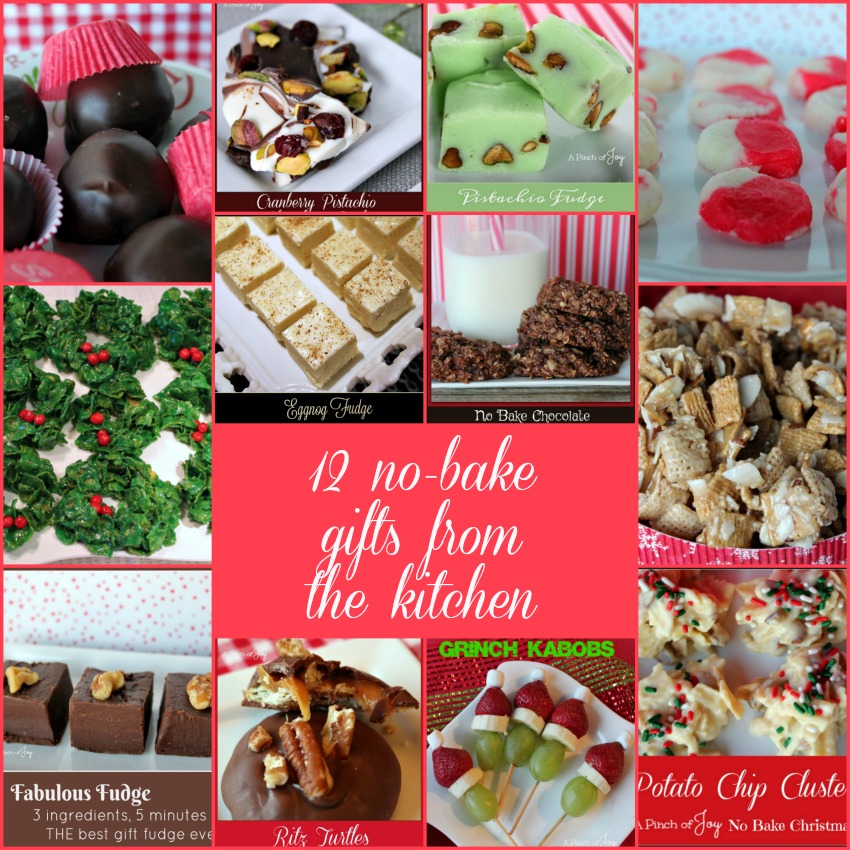 For other no-bake recipes in this series:     Christmas Wreath        Potato Chip Clusters    Cherry Mash Bars  Pistachio Fudge      Cinnamon Swirl Cream Cheese Mints      Classic Oreo Truffles    Cranberry Pistachio Chocolate Bark    Ritz Turtles   Gooey Golden Chex Mix     Fabulous Fudge     No-Bake Chocolate Cookies      Eggnog Fudge    Grinch Kabobs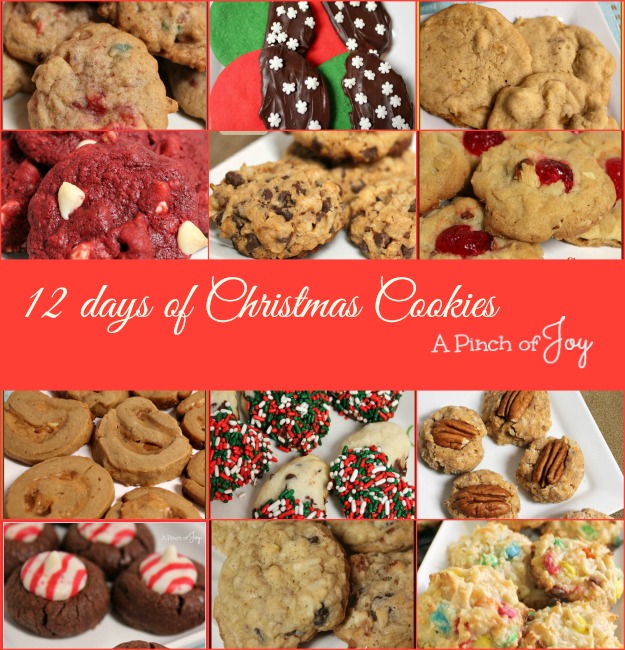 12 Day of Christmas Cookies:    Fruitcake cookies   Almond Coconut Crunch Cookies      Pineapple Walnut Cookies       Maple Caramel Swirl Cookies           Peppermint Chocolate Thumbprints         Cherry Almond Chews        Polka Dot Macaroons         Red Velvet Cookies with white chocolate and walnuts       Butterscotch Pecan Softies – no bake        Toffee Crisps       Crescent Mini Chip Cookies    Minty Christmas Cookies
Gifts in a Jar and free printables:  Savory Chicken Noodle Soup Mix       Hot Chocolate Mix        Chocolate Andes Mint Cookies       Apple Butter Crumb Cake Mix     Potato Soup Mix  Hot Chocolate Mix         Toffee Blondies Mix     Chocolate Andes Mint Cookie Mix   Chai Tea Mix  Chocolate Chip Snickerdoole Pancake Mix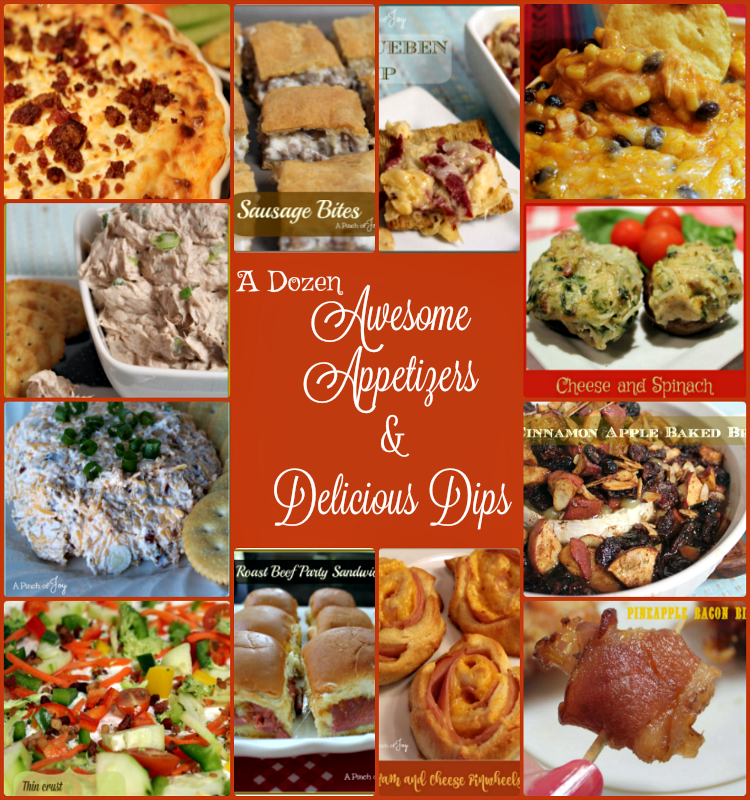 A dozen Awesome Appetizers and Delicious Dips from A Pinch of Joy 
Welcome to A Pinch of Joy!  I'm so glad you stopped by today!   Follow A Pinch of Joy using the icons on the teal bar at the top of the page so you don't miss a thing!   I'd love to have your company on this venture!!  Share: if you found this helpful or inspiring please click one of the buttons below!  Your support of A Pinch of Joy is appreciated!
Shared with these awesome link parties here  
Save
Save
Save
Save