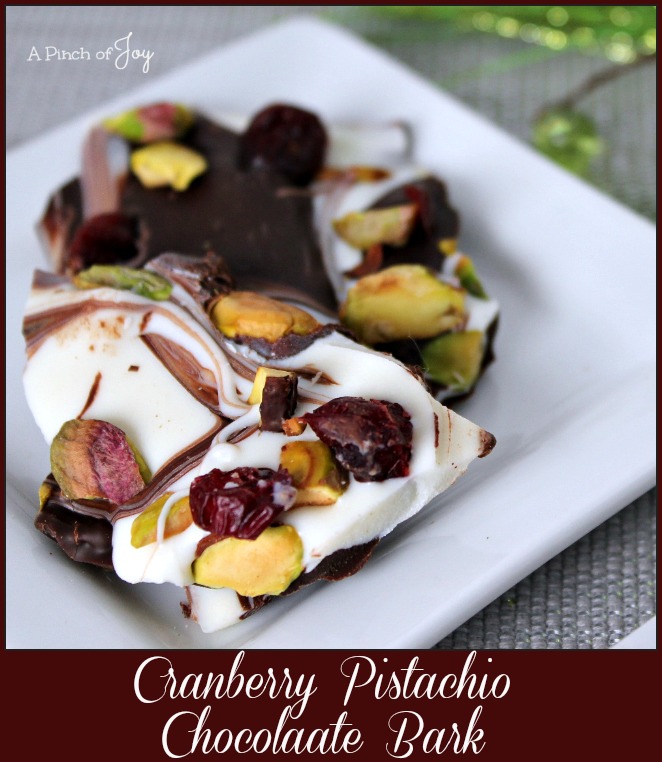 Cranberry Pistachio Chocolate Swirl Bark could start a new holiday tradition in your family.  Warning:  It's addictive and tends to disappear quickly!
You can substitute chocolate chips for either or both of the white or dark chocolate.  My preference is to use a candy chocolate (Wilton, CandiQuik, almond bark) since it melts better and is easier to work with, especially the white chocolate.  Follow the package directions for melting in the microwave.  Use a narrow utensil to create the swirls– the point of a knife, a chopstick, the handle of wooden spoon – and move slowly to allow the chocolate time to flow.  Stop when you have a design you like.  When you add the cranberries and pistachios, it helps to press them into the chocolate just slightly.   I've become a fan of  non-stick aluminum foil since starting this series.  I usually used waxed paper for candy making, but ran out and substituted the foil.  Works great!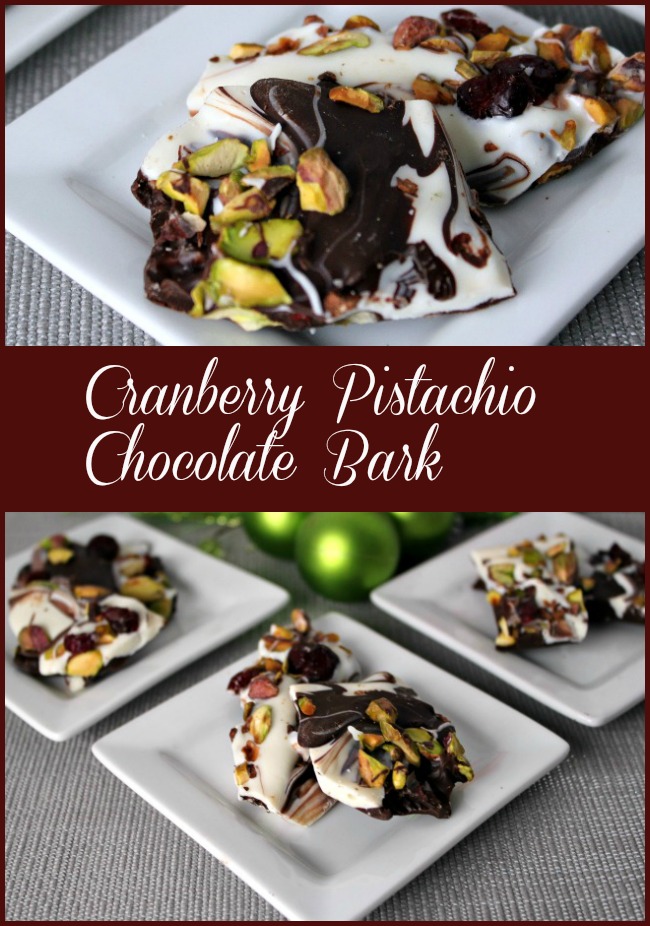 Cranberry Pistachio Chocolate Bark
Super quick and easy, looks fabulous and tastes great!
Author:
A Pinch of Joy by Charlene Vance
Ingredients
8 oz dark chocolate
4 oz white chocolate
½ cup pistachios, coarsely chopped
⅓ cup dried cranberries
Instructions
Line a baking sheet with non stick aluminum foil (non stick side up) or waxed / parchment paper.
Melt dark chocolate in microwave according to package directions stirring in between until completely melted. Spread the dark chocolate onto the prepared baking sheet to desired thickness.
Melt white chocolate in microwave according to package directions and drop over the dark chocolate. Use a knife to give it a marble effect by swirling slowly from one end to the other and occasionally reaching deep into the dark chocolate. Sprinkle the pistachios and cranberries over the chocolate.
Let set on counter to firm or hurry the process by sliding the baking sheet into the refrigerator for 30 minutes. Once the chocolate has firmed, carefully break into pieces.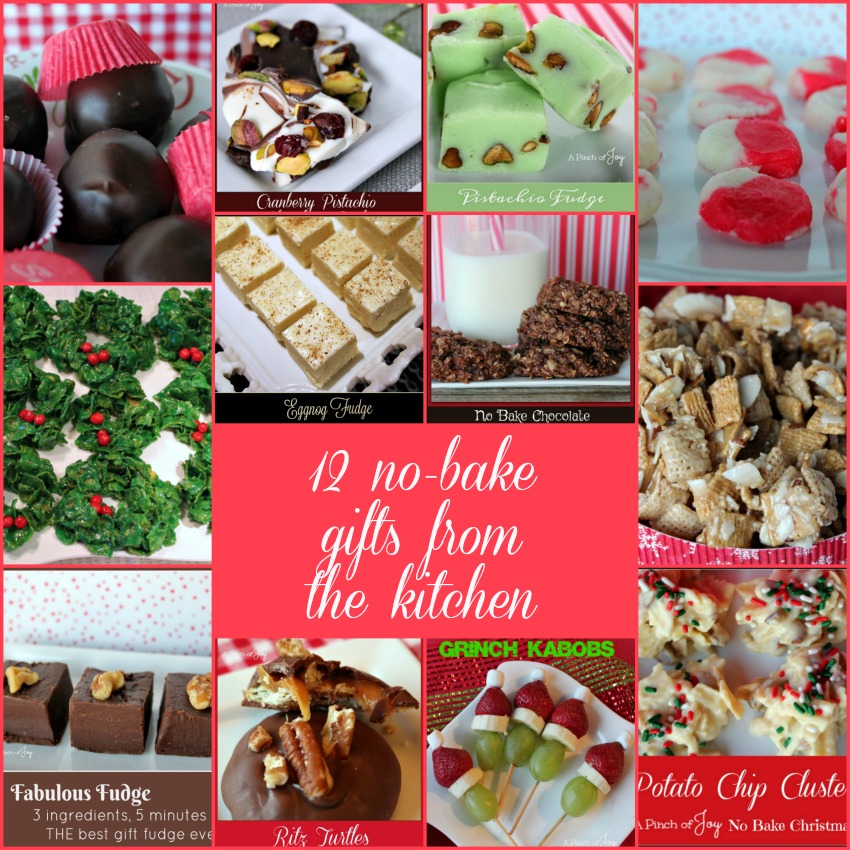 For other no-bake recipes in this series:     Christmas Wreath        Potato Chip Clusters    Cherry Mash Bars  Pistachio Fudge      Cinnamon Swirl Cream Cheese Mints  Classic Oreo Truffles     Ritz Turtles   Gooey Golden Chex Mix     Fabulous Fudge     No-Bake Chocolate Cookies    Eggnog Fudge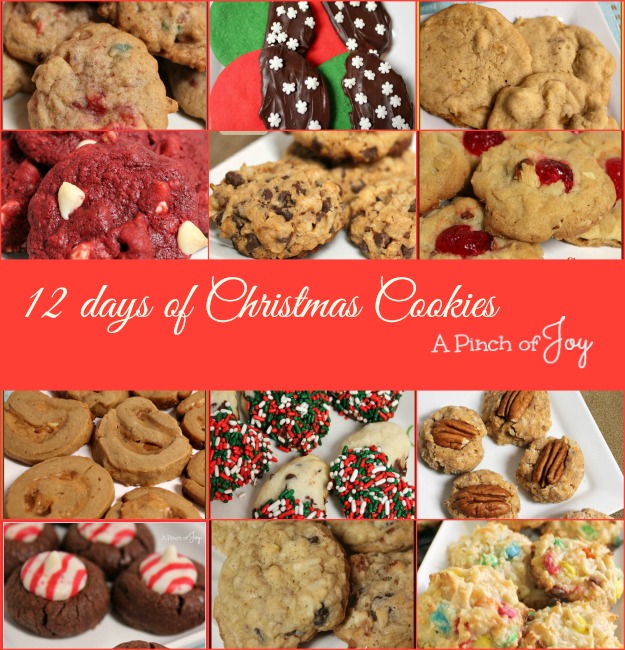 12 Day of Christmas Cookies:    Fruitcake cookies   Almond Coconut Crunch Cookies      Pineapple Walnut Cookies       Maple Caramel Swirl Cookies           Peppermint Chocolate Thumbprints         Cherry Almond Chews        Polka Dot Macaroons         Red Velvet Cookies with white chocolate and walnuts       Butterscotch Pecan Softies – no bake        Toffee Crisps       Crescent Mini Chip Cookies    Minty Christmas Cookies
no bake and no stress treats in small batches.  For when you want to have a variety of treats without a lot of leftovers. 
A Dozen Awesome Appetizer and Delicious Dips from a Pinch of Joy

Welcome to A Pinch of Joy!  I'm so glad you stopped by today!   Follow A Pinch of Joy using the icons on the teal bar at the top of the page so you don't miss a thing!   I'd love to have your company on this venture!!  Share: if you found this helpful or inspiring please click one of the buttons below!  Your support of A Pinch of Joy is appreciated!
Shared with these awesome link parties here  
Save
Save