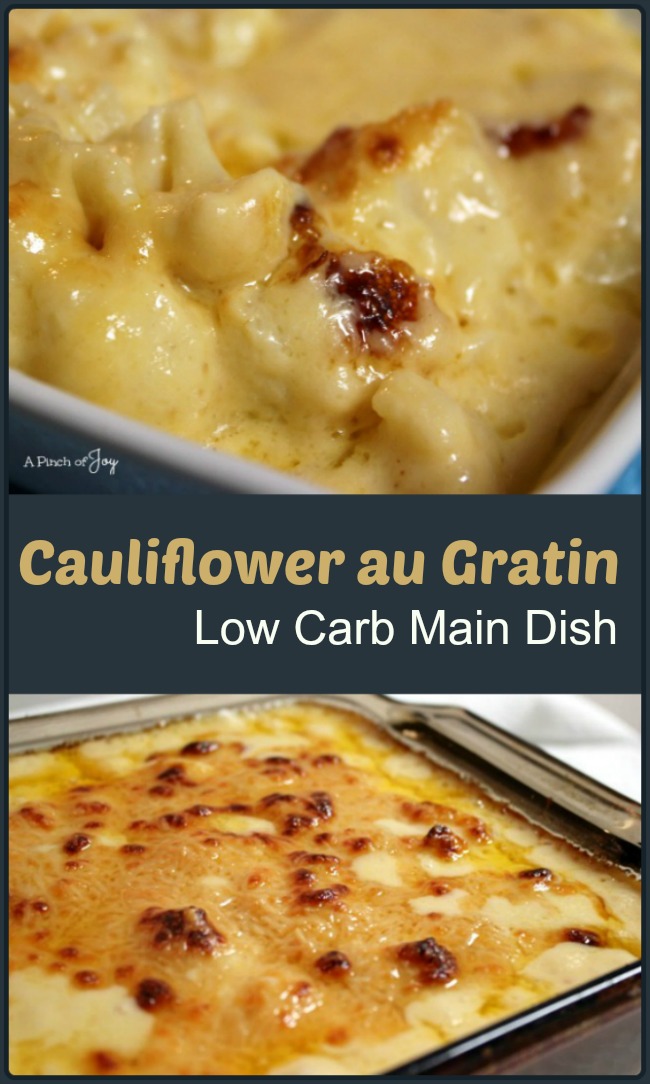 Cauliflower au Gratin — cheesy goodness as a main dish or a side dish.  Cauliflower, Mark Twain once sniffed, was nothing but cabbage with a college education. Boiled and buttered, the way grandma used to do it, cauliflower was nothing to write home about.  Now it is on restaurant menus and is a sought after addition to meals.  Cauliflower began to appear on vegetable trays, in snack packs and anywhere a crunch was needed. Cooks everywhere took a closer look when low carb dining became important to a large part of the population.   Cauliflower is only 5 carbs per serving and it's somewhat bland flavor and good texture makes it an acceptable substitute for potatoes, pasta and rice.   This classi au gratin recipe makes a substitute for Mac n Cheese.  Mock N Cheese! My sister, Vee, told me it was not a good name if I had to explain it.  First she hinted ever so diplomatically with a laugh and a hmmmm — or maybe it was a snort like a hmmmm.  Was she right?
Precook the cauliflower in the microwave, covered, just enough to make it crispy soft – you can  put a fork in it, but it retains some of its crispness.  While it is microwaving,  begin to make the roux in a large pan.  The onion and garlic aren't enough to jump out, but they give a depth to the dish.  Same with the nutmeg – although you can smell it during baking, you can't really taste it.  The cheese does play a part in the flavor, but you can adjust to what you have on hand and what your tastes are. The milk and cream can vary, as well.  If you have only whole milk on hand, use 2 cups.  Two cups of half and half work or if you want a richer flavor use all cream. You can leave the cauliflower in sections, just as you placed them in the baking dish and pour the cheese sauce over it.   You will have a proper cauliflower au gratin then –especially  if you also sprinkle a couple tablespoons of seasoned bread crumbs over the top before baking. To make it a substitute for macaroni and cheese,  run a sharp knife through the partially cooked cauliflower in the pan until the texture is somewhat reminiscent of large elbow macaroni.  Pour on the cheese sauce and bake for Faux Roni?  Mock N Cheese?  Good stuff!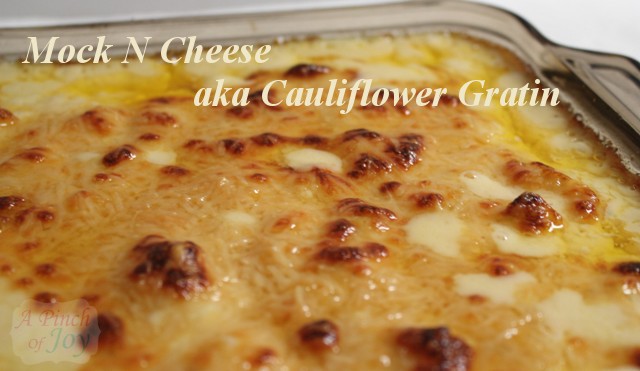 Mock N Cheese aka Cauliflower Gratin
Ingredients
1 head of cauliflower, about 3 pounds
½ small onion, diced
½ teaspoon minced garlic
4 tablespoons butter
3 tablespoons flour
1 cup cream
1 cup milk
2 cups grated cheese (cheddar, Colby Jack, Monterey Jack)
⅔ cup parmesan cheese (or Swiss)
½ teaspoon salt
pepper to taste
Pinch of nutmeg
Instructions
Turn cauliflower upside down and cut all around the stem with sharp knife. Remove tough leafy stems. Do not cut the florets apart.
Spray 8x8 baking dish with cooking spray. Rinse cauliflower sections and place without draining into baking dish. Cover dish with upside plate or piece of waxed paper. Microwave 3 minutes on high.
Turn oven to 400 degrees.
In large pan, melt butter over medium heat.
Add onion and garlic and saute' until fragrant, 1-3 minutes
Add flour and stir to form a roux. Cook, stirring contantly about 1 minute. Lower heat if necessary to avoid browning the roux.
Add cream/milk slowly, whisking to keep the mixture smooth.
Bring mixture to slow boil, and then reduce heat to a simmer and cook until thick, smooth and creamy, about 5 minutes.
Add nutmeg, salt and pepper and grated cheese, stirring until cheese is melted.
Pour evenly over the cauliflower in the 8x8 baking dish and sprinkle grated parmesan evenly over the top.
Bake for 20-30 minutes until golden brown and bubbly.
I'm so glad you stopped by today!   Be sure to follow A Pinch of Joy so you don't miss a thing!   Subscribe by email  on the sidebar  or follow on Facebook, RSS feed, bloglovin'  twitter  or   pinterest   I'd love to have you along on this journey!  If you found this helpful or inspiring please share below!

Save
Save
Save
Save

Related posts: