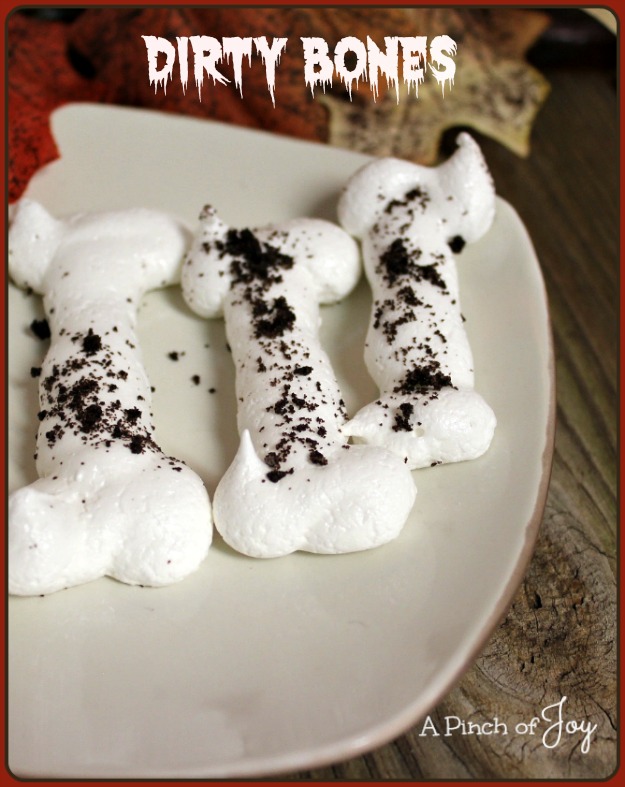 Meringues are really very easy to make. You just need to be aware of a few facts before starting. No big deal, because everything in life is easier when you know a few facts ahead of time.
Room temperature eggs are easier to separate and will whip faster than cold eggs. If you don't have time to let them set – or if like me, you forget to set them out – you can set them in a bowl of warm water to speed up the process.
Separate eggs very carefully one at a time over small bowl. When separation is successful, place yolks in one bowl to set aside for another use. Put egg whites one at a time into larger bowl for whipping. If there is the slightest bit of yolk in a separated white, do not add it to the larger bowl. THROW IT OUT. Or better yet, put it aside for another use. Even the slightest trace of yolk will keep the whole batch from forming peaks.
Soft peaks mean that you can see the tracks of the beater in the beaten egg whites. Egg whites are no longer yellowish and foamy but turn white and more on the fluffy side. If you lift the beater and it makes a little lift that "droops" you have a soft peak. A stiff peak will stand in sharp points when the beater is lifted. Another way to determine stiff peak is to draw the flat of a knife or the handle of a wooden spoon through the beaten egg whites. If they stay separated, stiff peaks. If they run back together, keep beating.
Add sugar slowly, but continuously. It helps the sugar to dissolve for crispy meringues. You can also run the sugar through the food processor to make smaller granules to help it dissolve more thoroughly. It will seem like you are taking forever to get all the sugar in, but the time also counts toward making stiff peaks. Oh yeah, mind games will get you through 🙂
Slip cookies into oven preheated to 225 degrees, bake thirty minutes, turn off oven and go to bed. Do not open oven door from the time you put the cookies in until you get up the next morning. If you must do something, you can check by turning oven light on and peering through the door about 20-25 minutes into baking time to see if meringues are turning brown. If they are, turn the oven off.
H A P P Y   H A U N T I N G

Dirty Bones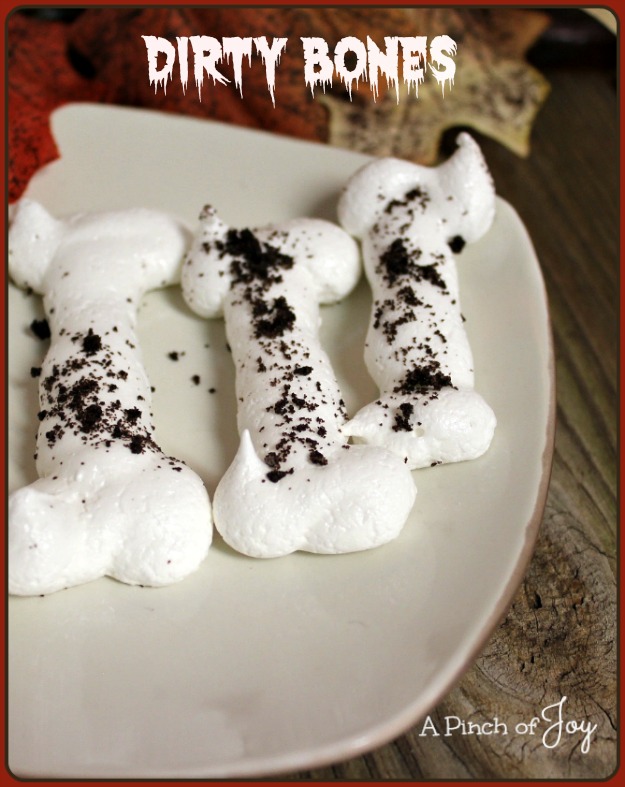 A crunchy, chewy, creepy Halloween treat!
Ingredients
1 ½ cups sugar
⅛ teaspoon salt
½ teaspoon cream of tartar
5 egg whites, room temperature
1 teaspoon almond flavoring
2 chocolate cookies, such as Oreos with middles removed, crushed
Instructions
Let eggs set for 30 minutes to reach room temperature.
Separate white from yolk and set yolks aside for another purpose.
Beat egg whites and cream of tartar in large bowl at medium speed until soft peaks form.
Continue beating at high speed and begin adding sugar very slowly, two or three tablespoons at a time. This may take three minutes or more.
Continue beating at high speed until stiff peaks are formed. This may take 15-20 minutes. Meringue should be shiny and smooth.
While egg whites are beating, preheat oven to 225 degrees and prepare two baking sheets by lining with parchment paper. Prepare pastry bag with #10 or #12 plain tip. (OR zipper bag with corner cut off to make half inch opening.)
When meringue reaches stiff peaks, add extract and beat just until blended.
Fill pastry bag. Pipe a figure eight or s-shape and move tip to form straight line of meringue about 2-3 inches long and finish by moving tip to pipe a second figure eight or s-shape at the bottom. Lift piping bag with swirling motion to break flow at end while keeping meringue fluffy. Repeat until both cookie sheets are filled.
Crush chocolate cookies and sprinkle over "bones" to give illusion of dirt clinging to bones.
Bake for 30 minutes. Turn off oven. DO NOT OPEN OVEN DOOR. Leave cookies in oven overnight.
Nutrition Information
Serving size: 1 cookie
Need more Halloween ideas?  Check these links:  Preschool Party Snacks and Games      How to Make Pom Pom Spider   How to Make a Halloween Wreath  Elegant Halloween    Fun Foods for Kids Halloween Party  Candy Corn Fudge   Grasshopper Guts     Smashed Frogs    Zombie Brains   Dirty Bones   Witch's Brew aka Cider Smoothie   Halloween Fudge
I'm so glad you stopped by today!   Be sure to follow A Pinch of Joy so you don't miss a thing! 
Subscribe by email  on the sidebar  or follow on Facebook, RSS feed, bloglovin'  twitter  and check out my  pinterest boards.   If you found this helpful or inspiring please share below!  Your support of A Pinch of Joy is  appreciated!
Save

Related posts: