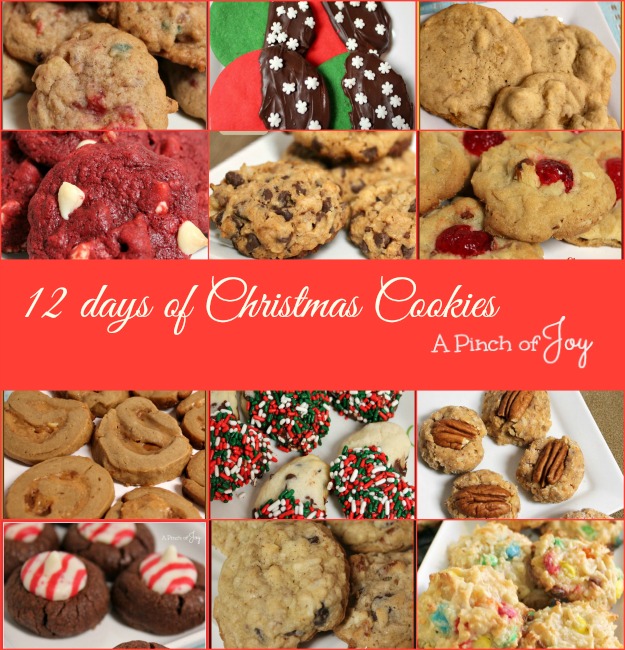 A dozen great cookie recipes to make your holidays merry and bright!
1.  Fruitcake cookies
2.  Minty Christmas Cookies
3.  Pineapple Walnut Cookies
4.  Red Velvet Cookies with white chocolate and walnuts
5. Toffee Crisps
6.  Cherry Almond Chews
7.  Maple Caramel Swirl Cookies
8.  Crescent Mini chip Cookies
9.  Butterscotch Pecan Softies – no bake
10.  Peppermint Chocolate Thumbprints
11. Almond Coconut Crunch Cookies
12.  Polka Dot Macaroons
Bonus!!
Super Delicious Big Batch Cookies   A unique, crispy shortbread type cookie textured with oatmeal, coconut and chocolate chips.
Macaroons and Chocolate — Chewy Coconut macaroons dipped in smooth chocolate
Fabulous Fudge: 5 minutes, 3 ingredients to THE Best Easy Gift Fudge —  It only takes 5 minutes to stir and slice this creamy rich fudge (plus a couple hours in the fridge)
No Bake Chocolate Cookies — a chocolatey, chewy sweet treat that is so easy to make anytime
Peanut Butter Chocolate Bars —  tastes just like the peanut butter cups in the bright orange wrapper
For more sweet recipes check the A Pinch of Joy Desserts and Sweets gallery.
Linking up to these awesome parties 
Save
Save

Related posts: