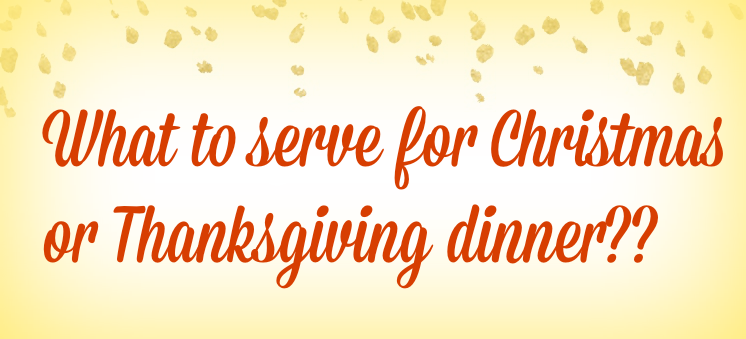 Searching for holiday dinner recipes?  Me too!  We're unexpectedly hosting festivities since the originally scheduled host can't.  If you're in the same boat – vs my usual boat of waiting till the last minute — here's a helpful list of some ideas from past A Pinch of Joy posts.  You can find more ideas in the index above.  Don't forget to pin and share!!!
Main Dish
Cornish hens  serves four
Moist and Tender Turkey for a crowd
Sides
Classic cheesy potatoes  — Everybody loves creamy, cheesy potatoes. Easy to make and transport.
Sweet Potatoes A lower carb alternative recipe
Sweet potato Struesel topped classic   Crunchy struesel topping  ( no marshmallows 🙂 )
Baked Corn Chowder — Bread, casserole, vegetable, delicious, classic  in one dish
Vegetables
Maple Glazed Baby Carrots – -A delightful change from the ordinary
Bacon Pecan Green Beans – Breathtaking good — always a hit
Salads
Cranberry Relish classic – sweet and tangy, Thanksgiving memories in a bowl
Layered salad – always good, a healthier contribution to the feast
Classic sweet coleslaw — crunchy, healthy good
Fruit Salad with Lemonade Dressing — For a crowd since it serves 25-30  –- and healthy
Bacon Broccoli Salad – serves four for the smaller celebration
Frozen Cranberry Salad – creamy pineapple and cranberry delight — make ahead and freeze – serves 12
Breads
Carrot Pineapple Bread — Almost dessert
Lemon Poppyseed Zucchini Bread — A lighter bread
Desserts 
Spiced Carrot Pineapple Cake with Cream Cheese Frosting – yum!
Cheesecake topped Fudgy Brownies  – the perfect marriage
Cheesecake Bars with Struesel topping  – Delightful!
Blushing Peach Pie – Wheel's favorite and one of my very first posts
Pumpkin Bars – classic pumpkin spicy flavor but not a pie, cream cheese frosting a bonus.  Crowd sized
Hummingbird Cake – something different
Turkey Leftovers
Creamy Chicken Noodle Soup – just substitute turkey
Guest Breakfast
Purple Ribbon No-Knead Cinnamon Rolls
Peaches and Cream Baked French Toast
Overnight Cinnamon Coffee Cake
Sugar and Spice Muffins – Best Breakfast Muffins Ever
Beverage
Perfect Punch – lemon, pineapple and snappy

Welcome to A Pinch of Joy!  I'm so glad you stopped by today!   Follow A Pinch of Joy using the icons on the teal bar at the top of the page so you don't miss a thing!   I'd love to have your company on this venture!!  Share: if you found this helpful or inspiring please click one of the buttons below!  Your support of A Pinch of Joy is appreciated!
Shared with these awesome link parties here