Pin It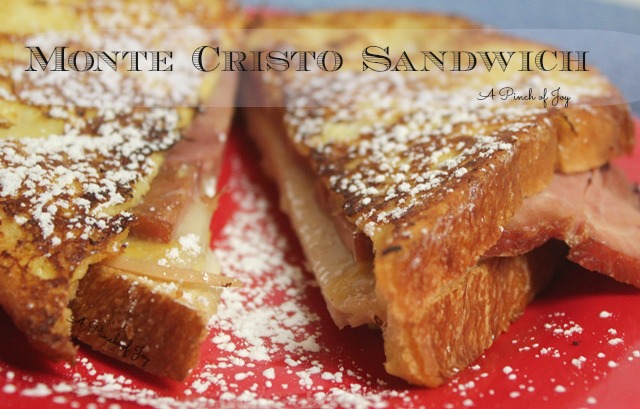 This nifty little sandwich has quite a history.  Apparently it is based on a similar French sandwich called Croque Monsiuer – which started from what is basically a grilled cheese sandwich.  When it appeared in American cookbooks in the 1930's, it was known as French sandwich.  Then someone came up with the idea of combining those two "French" dishes – French sandwich and French toast – into a Cheese Dream Sandwich. Apparently the idea of serving it with jelly came from the French Toast connection.  King's Restaurants in Nebraska carried the idea further by deep frying the sandwich and calling it a Frenchee, which they served with ketchup.  But it's real claim to fame was in the mid Sixties when it appeared in Disney's Cajun (that French connection again!) restaurant where it was called the Monte Cristo.
Now forget that connection to French Toast.  Yes, you dip the completed sandwich into a similar egg mixture.  Unlike French Toast in which bread is allowed to soak up the milk egg mixture, a Monte Cristo gets just a quick dip to coat the bread.  Pick up the sandwich triangles by the tips of the long side, hold firmly and dunk.  Turn over and dunk the other side and place in the skillet waiting with  hot melted butter (or oil).  Adjust the heat so that the sandwich cooks slowly.  It will need about 4 minutes on each side to thoroughly heat the meat and melt the cheese.  You can also prepare this in an oiled grill or Panini maker—I'm told.  The bread is an important part.  It's good on whatever bread you keep on hand, but for best results choose an artisan bread.  The one pictured is Challah bread, light and soft textured with an eggy yellow color, but sour dough bread is also good.  The jelly served as a dipping sauce is a must.  Powdered sugar is optional.  A great hearty supper dish that is also company fare!
Ingredients
6 slices challah bread or sour dough bread
3 slices ham, thick cut
6 slices turkey breast, medium deli cut
3 slices Swiss cheese
3 teaspoons Dijon mustard
1 egg
1/3 cup of milk
Pepper to taste
3 tablespoons butter (or cooking oil)
1 tablespoon powdered sugar for dusting
1/3 cup strawberry or raspberry jam for dipping
Instructions
Break egg into shallow bowl or plate, add milk and pepper and whisk together until egg is incorporated into milk. Set aside.
Lay two slices of bread on work surface and spread thinly with half a teaspoon of mustard.
Add slice of ham, slice of Swiss cheese and 2 slices of turkey breast to one slice of bread and top with second slice with mustard facing center of sandwich.
Cut sandwich diagonally from one corner to another, forming two triangles.
Put about 1 tablespoon of oil into large skillet over medium heat.
Dip one triangle sandwich into egg and milk mixture, just far enough to coat the bread. Turn sandwich over and repeat for the second side. Remove from egg mixture quickly so as not to soak the bread.
Place sandwich into skillet and repeat with the other half.
Cook on one side undisturbed for about 4 - 5 minutes until bottom side is golden brown.
Turn and cook on the second side until it is also golden brown and cheese is melted, another 4-5 minutes.
While first sandwich is cooking prepare second and third sandwiches, but stop when assembled.
After removing first sandwich from skillet, add about 1 tablespoon of oil, coat both sides of one sandwich triangle and place in skillet. Repeat with remaining triangles until all four are in the skillet. Cook as above.
Place sandwiches on plates, dust with powdered sugar.
Serve hot with spoon full of raspberry or strawberry jam for dipping.
http://www.apinchofjoy.com/2013/01/monte-cristo-sandwich/
To save this recipe to your ZipList Recipe Box, click the blue button.  To find out more about ZipList, click here.
Don't miss a thing — subscribe by email or RSS feed, follow on facebook or twitter to catch the latest post!  Share with others by  giving this post a Stumble, Tweet, Pin, or Facebook Like.  Your support of A Pinch of Joy is  appreciated!

Linking up to these awesome parties here and Sundae Scoop, Linky Party Sunday, Nifty Thrifty Sunday, Sunday's Best Party, Creative Blogger's Party and Hop, Sunday Showcase,  CraftOManiac Monday,    Mix It Up Monday, Make It Monday, .Manic Monday, .Make it Great, , Market Yourself Monday,. Made By You Monday , Motivate Me Monday , Gunny Sack , More The Merrier, In and Out of the Kitchen,  Inspire Me Monday, Show It Off, . . Tutorials and Tips , Tasty Tuesday , Titus 2 Tuesday, Tuesdays Treasures , Gathering Spot, Melt In Your Mouth Monday, Totally Tasty Tuesday , Tuesday Talent Show, Tea Time Tuesday, Lil Luna, Cowgirl Up, Wow Me Wednesday. . . Cast Party Wednesday, Anything Goes, Wow Me Wednesday, The Creative Spark, Whatever Goes, Show and Share, We Did It!,,, 36th Avenue,   A Little Bird Told Me Wednesday,  Centerpiece Wednesday, Full Plate Thursday , Show Off Your Stuff, Hookin' Up, , Share Your Creation, Chic and Crafty, Showcase Your Talent, Catch a Glimpse , Crafty Blog Stalker , Pin Inspiration Thursday, . . What's Shakin   .Foodie Friends Friday,  Flaunt It Friday, Fridays Unfolded, Inspiration Friday , Delicately Constructed , Simply Link Party, Foodie Friday, Home and Family, Weekend Wrap Up , Whatcha Got Weekend , Kitchen Fun, The Grant Life , Shine on Fridays, Create and Inspire, Anything Goes.   Lovely Crafty Weekend . ..Totally Overflowing,  Strut Your Stuff Saturday ,  Sweet Saturday,  Serenity Saturday, Check Me Out, Saturday Night Special, Saturday Seven, Show and Tell Saturday,

Related posts: